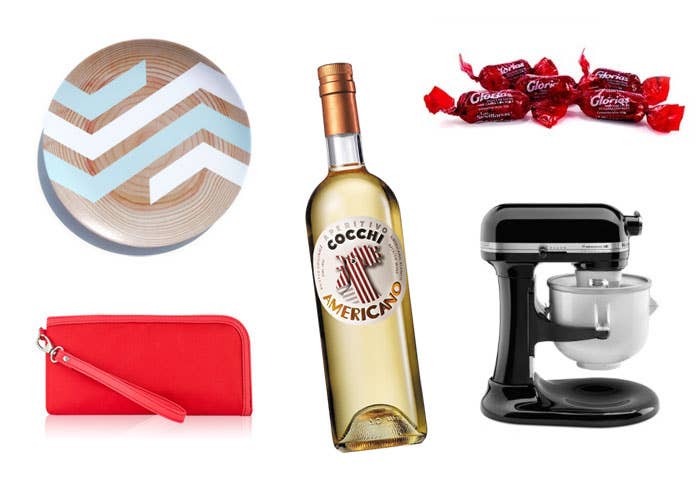 Shopping & Reviews
SAVEUR Selects: June 2014
We come across all sorts of great products in the SAVEUR office. Check out our favorites for June: luscious caramels, the perfect plates for outdoor dining, and more selected by assistant digital editor Laura Sant. Sign up for the monthly SAVEUR SELECTS e-mail newsletter »
Super-stylish melamine plates make great tableware for picnics, outdoor dinner parties, or just a weekend lunch.
Chevron Melamine Plate, $24 at nicoleporter.com
My phone is constantly dying because I take so many photos; a chic purse that contains a portable charger is the perfect solution.
Power Purse, $50 at triplecdesigns.com
Nothing compares to homemade ice cream; I keep this KitchenAid ice cream maker bowl attachment in my freezer so it's always ready to go.
KitchenAid Ice Cream Maker Attachment, $100 at kitchenaid.com
This Italian apéritivo is my go-to summer drink: Just add ice, soda, and an orange twist.
Cocchi Americano, $18 at astorwines.com
If I had to choose just one favorite candy, it would be Gloria's luscious, addictive, chewy Mexican caramels.
Las Sevillanas Glorias Dulce de Leche candies, $7 at mexgrocer.com
I'm clumsy, so I need sturdy glassware. My favorite rocks glasses are hefty but elegant, with clean, simple lines.
Classico DOF glasses, $35 for set of 4 at luigibormioli.com
LAURA SANT, assistant digital editor
Favorite dish to take to a potluck: I always take some sort of dessert or a pitcher of cocktails. In the summer I take care of both by picking up a bottle of prosecco and a pint of sorbet to make boozy floats.
Where you're planning a summer escape: My family has a long tradition of going to North Carolina's Outer Banks every summer. We rent a house, grill out, relax on the beach, and soak up the quiet.
The best meal you've had this year: An impromptu feast of grilled pizza and hazelnut brown butter cake that my friends and I threw together on a beautiful day.