Sites We Love: Call Me Cupcake
Gorgeous photos? Check. Engaging writing? Check. Seriously inspiring recipes, tips, and culinary curiosity? Check, check, and check. The best food blogs all seem to have a lot in common—but what separates them out are the strong personalities behind them. In our Sites We Love series, we sit down with some of our favorite bloggers to find out how they do it—and why it's as much fun for them as it is for us.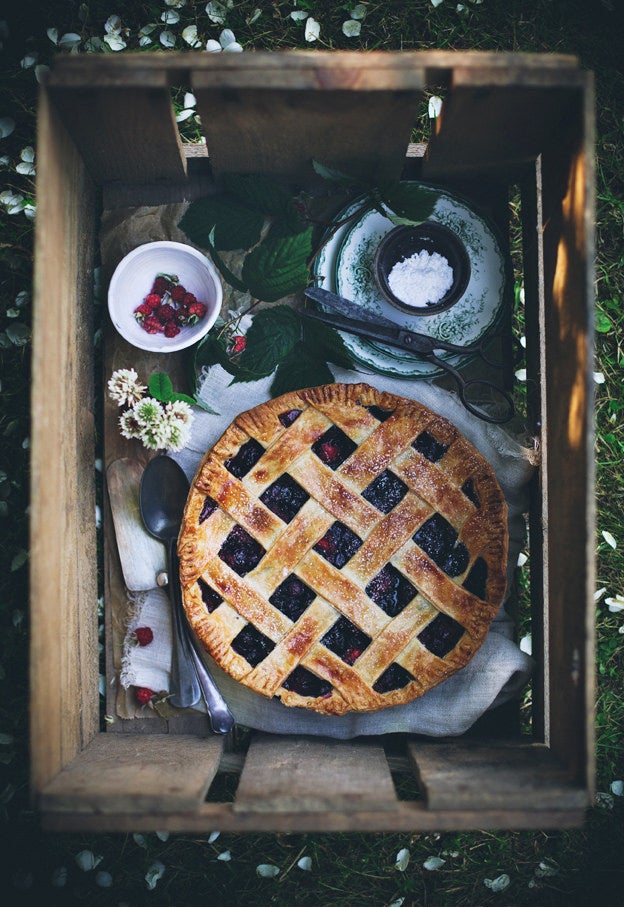 Based out of Sweden, Linda Lomelino couples playful prose with beautiful, ethereal photos on her blog Call Me Cupcake, which features imaginative recipes showcasing seasonal ingredients. What sets her apart and makes her truly a site we love, is her stunning photography and styling of delicious-looking baked goods. Here's what Linda has to say about her site:
Blog Name: Call Me Cupcake
Live since: July 2009
Posting rate: About once a week.
Geographic location: Halmstad, Sweden
Why is the site called Call Me Cupcake? I started my blog when cupcakes were all the hype, at least in Sweden. My original plan was to have a cupcake blog. That changed along the way when I realized it was fun to bake other things too, but then it was too late to change the name so it kind of stuck. What's been your most popular post? My chocolate caramel cheesecake from february 2012 is my most viewed post, by far! There is just something about chocolate and caramel that drives people crazy. Although I suspect that my chocolate chip cookies and my double chocolate muffins are my most baked recipes. People love the classics aswell.
What's your favorite post? Somehow my most recent post is always my favorite, but I must say that aesthetically, I'm very fond of my [peach bundt cake with lemon glaze and lavender](http://call-me- cupcake.blogspot.se/2014/07/peach-bundt-cake-with-lemon-glaze-and.html#.U9YJEl66y2w). The recipe I'm most satisfied with is probably my [berry pie](http://call-me-cupcake.blogspot.se/ 2014/07/the-best-berry-pie.html). I used to think pies were practically impossible to make at home, but now I know they they aren't as difficult to make as I thought.
What's something great that you've learned or that's happened to you since starting your blog? I've learned food photography and styling! I had been doing some very amateurish photography for a couple of years before but never anything food related. When I tried food photography for the first time, I just realized it was something I wanted to do all the time. I wasn't good in the beginning, but I kept at it and improved quickly. It's amazing to see that I'm still evolving after five years of doing it! What's the usual process for developing one of your posts? I'm usually inspired by an ingredient, often seasonal. If I go to the market and see beautiful strawberries or cherries, I instantly know that I want to use them in my next post. So I buy them, then I start thinking about what I'm going to make. Usually I do some research online, and many times, I actually use my own books for inspiration. I bake in the evening or the morning after. I start picking out backgrounds and props that I think will suit the post. Then I start styling, snap a few photos to make sure it works. Then I shoot the "real thing". Usually I post process the photos the same day or the day after to not lose the "feel" for them. Then starts the blogging and writing. All in all, it usually takes 2-3 days for me to create a post.
How often do you post? Do you work on Call Me Cupcake full time, or is it a side project for you? I guess you could say it's more of a side project. The blog is the reason I can do all this for a living today so I still see the blog as the "core" of my work. I try to keep the blog not feeling like work, I want it to be a space where I can be creative and post whatever I feel like posting.
What are your favorite ingredients and tools? I especially love butter, salt and vanilla and often find myself adding a little extra of all three things to my baked goods. Sometimes I feel a bit overwhelmed (in a good way) because there are so many beautiful ingredients out there, but I can't use them all at once. I love my Microplane zester and my Kitchen Aid stand mixer. I use both a whole lot. What are your favorite food and cooking resources (books, stores, etc.)? I thoroughly enjoy reading magazines for inspiration, such as Kinfolk, Cereal and Donna Hay. I also often find myself browsing the Saveur site and Food52.
What photography equipment do you use? I use a Canon 5D mark II, usually with a 50mm 1.4 lens but sometimes with a 100 mm 2.8 lens. I also use my iPhone 5S a lot. Where else can we find your work? Most of it can be found in my three books
and on the blog. Other than that I've done some freelance work but I find the books and the blog to be the most rewarding. I also have instagram where I post daily. All photos that don't end up on the blog are posted on my tumblr.
What food blogs do you follow? There are so many talented food bloggers out there, but to name a few that I love: Coco cake (http://cococakeland.com), [Adventures in cooking](http://www.adventures-in- cooking.com), My blue & white kitchen, [Local milk](http://http:/ /localmilkblog.com), Dagmar's kitchen, and Manger.