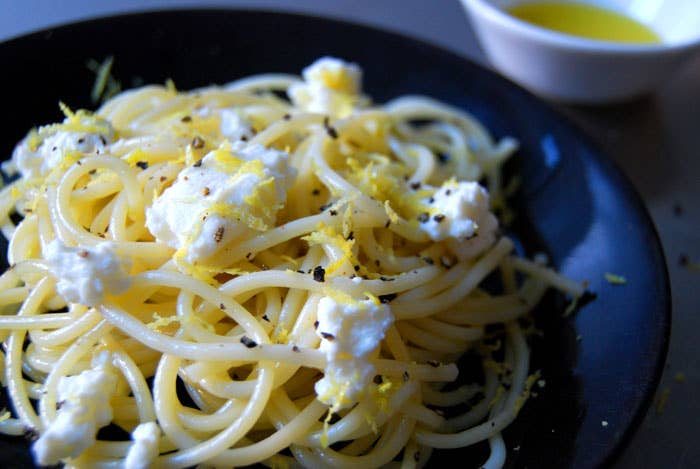 Culture
Sites We Love: Eat in My Kitchen
Gorgeous photos? Check. Engaging writing? Check. Seriously inspiring recipes, tips, and culinary curiosity? Check, check, and check. The best food blogs all seem to have a lot in common—but what separates them out are the strong personalities behind them. In our Sites We Love series, we sit down with some of our favorite bloggers to find out how they do it—and why it's as much fun for them as it is for us.
Meike Peters posts one new recipe from her Berlin kitchen each day, often featuring dishes that are inspired by the flavors of Malta, where she spends several weeks every summer, or the cuisine of her native Germany. With minimal styling and bright photography that brings her seasonal, simple recipes to life, we look forward to each day's new post. Here's what Meike has to say about her blog:
Live since: November 2013
Posting rate: I post once a day. Every day I cook a proper (if sometimes simple) meal and my friends often ask me where I get my inspiration from. This blog is very much an answer to that question and hopefully an inspiration to others to do the same!
Geographic location: I live in Berlin but I always spend my summers in the Mediterranean. My boyfriend is Maltese/American so we stay with his family in Malta and Gozo (which are situated to the south of Sicily) for a few weeks.
Why is the site called Eat in My Kitchen? I share my daily kitchen moments on my blog, my cooking and baking, my recipes and the stories behind them. I want to invite people into my kitchen so that they can see what we actually cook and eat every day. I want them to participate in my kitchen experiences, to arouse their appetite through my own love for good homemade food which is as much an obsession as a passion. Through my photos, stories, and recipes, I would love to transport the satisfying feeling that you can only have when you cook your own meal, the feeling I share every week with friends and family who actually do spend time with me and Eat in My Kitchen.
What's been your most popular post? My Mountain Buns, by far! A German newspaper featured them and they've since become really popular. What is funny about them is the fact that they didn't really exist before the day I posted them, it was a spontaneous lunch idea because I felt a bit nostalgic and missed being in the mountains. When I was a child I used to go to the Italian Dolomite Alps with my family for our skiing holidays. We stayed at a beautiful village in the Alta Badia region called Corvara and I loved being there—it looked like a wintry fairy tale! They also have the most amazing Tyrolean cuisine—my childhood heaven. This led me to my Mountain Buns. It was Wednesday and I had started Eat in My Kitchen's "Sandwich Wednesday" a few weeks before. Once a week I write about one of my new sandwich creations (it's amazing how much people love sandwiches!). So I decided to bake fresh soft buns with coriander seeds and aniseed—my "mountain spice" version. I stuffed them with ham, melted Swiss cheese, and homemade plum chutney and sprinkled some crushed pepper on top. My Mountain Bun was born and became famous.
What's your favorite post? Two actually: as I love baking cakes, cookies, bread, and just about anything else, one of my favourite posts is my Apple Crumble Cake, one of my family's traditional recipes. I bake it at least once a month, it has perfect crunchy cinnamon crumbles and a juicy base. I change the fruity filling according to the season, using either apples, plums or rhubarb. There is something about it that always makes me want more.
The second one is a simple but delicious Maltese recipe made with spaghetti, lemon zest, fresh ricotta and crushed pepper. I love it and we eat it quite often; it's so quick to prepare and tastes divine. It's great when friends come over and we just want to sit together at our big wooden table, talk, and enjoy some wine without having the preparations of a big dinner party! It's relaxed Mediterranean comfort food.
What's something great that you've learned or that's happened to you since starting your blog? I've had so many people get in touch to tell me about how they tried out my recipes, sometimes on the same day that I posted it. I never expected so much to happen in such a short time and to be in touch with so many great people so suddenly. It's been truly overwhelming. I was used to my friends telling me how much they enjoy my food and also trying out some of my recipes, but to have people from all over the world do the same has been a very special experience.
What's the usual process for developing one of your posts? It's actually a very organic process. Seeing as I write about what I cook every day, my posts follow my own appetite and mood. Sometimes I see something in a shop or at a market that I just can't resist, other times I plan out a recipe in advance, as something to look forward to! I write about my dinner parties, tea time with friends, or whatever comes up and involves food. Very often, a recipe is connected to a memory, a special ingredient or just a certain feeling so there's always plenty to write about. I take photos while I cook and normally have my final selection done before I start writing. When I see and taste the food, the words just come naturally.
What are your favorite ingredients and tools? For my cooking, definitely herbs, garlic, crushed pepper, and good salt—mine is from the salt pans in Gozo in the Mediterranean. I don't use much of it but it makes a difference. I always have basil, thyme, rosemary, and sage plants at home and every week I buy parsley and coriander in bunches. These are the basic herbs of my cooking. Depending on the recipe I love to make my own spice mixtures with fresh ginger (a favourite as well), turmeric, cayenne pepper, cardamom and cinnamon and many more. I have a large box with spices in my kitchen which inspires my sweet and savory creations. I often add lemon and orange zest as well. I especially love their strong aroma in winter. For my baking I use spelt flower (type 630) for pretty much everything.
As for tools, a reliable oven is the heart of every good kitchen and I couldn't do without my big wooden chopping block and good, sharp knives.
What are your favorite food and cooking resources? My mother, family and friends! I have piles of family recipes, lots of them from my mother, who is a brilliant cook with a vast collection of recipes. She still faxes me new recipes once a month or so. Whenever she comes up with a great idea or eats something inspiring in a restaurant on one of her numerous travels, you can be sure it will find its way to my fax machine. Another big influence on my cooking is my boyfriend's Mediterranean background and his own collection of Maltese recipes.
I buy regional and organic as much as possible for my cooking. I'm surrounded by big organic supermarkets which offer the whole range of food products I need but also small shops with local suppliers.
What photography equipment do you use? I use a Nikon D40 and a 18–55mm f/3.5-5.6 lens which I bought seven years ago and I love working with it. We're a good team and you should never mess with that. I use natural light whenever possible; it just feels more like the real thing. The natural light in my kitchen is pretty good, although in the winter months I have to start a bit earlier with my preparations to catch enough light. People tell me that they feel like going to the kitchen straight away when they see my photos—as long as that's the case, I know it's a good match.
Where else can we find your work? With regards to food and photography it's all on Eat in My Kitchen. My blog is still young so we'll see what the future will bring.
What is one thing that sets your site apart from others? I share my kind of cooking, my approach to food, my favourite ingredients and combinations. Every day my readers can see what's been happening in my kitchen. It's very personal as I also write about the stories behind the recipes and what led me to choose what I cook or bake at the end of the day. It's not just about tasty food or recipes in general, it's my view on it. In the end I share what my taste buds like and that's unique to everybody.