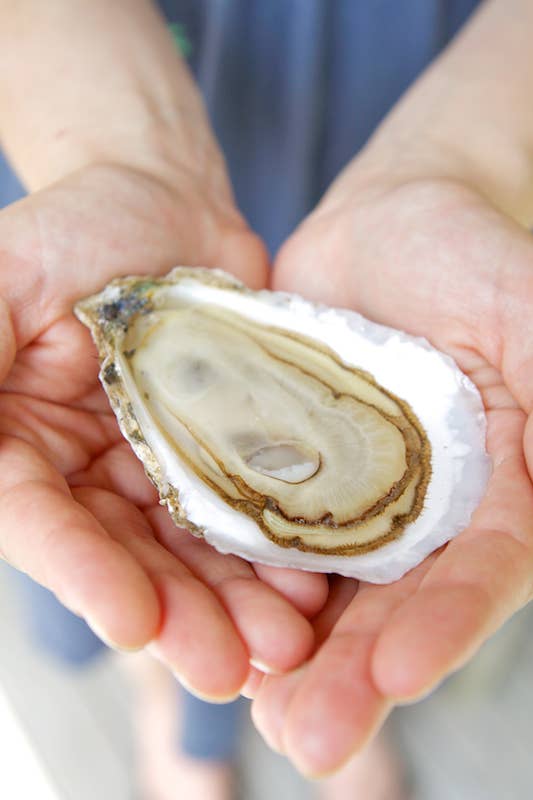 Culture
Sites We Love: In A Half Shell
Gorgeous photos? Check. Engaging writing? Check. Seriously inspiring recipes, tips, and culinary curiosity? Check, check, and check. The best food blogs all seem to have a lot in common—but what separates them out are the strong personalities behind them. In our Sites We Love series, we sit down with some of our favorite bloggers to find out how they do it—and why it's as much fun for them as it is for us.
Julie Qiu has an unmatched enthusiasm for oysters. Her blog, In A Half Shell, takes readers across the country and the world as Julie visits oyster farms and fellow aficionados, culling a wide range of information into detailed, instructional, and gorgeously illustrated posts. Whether you've never tried one of these tasty bivalves or are already a fan, we think you'll love her blog as much as we do. Here's what Julie has to say about her site:
**Posting rate: **Once a month at the moment, but I'm planning to increase the frequency in the near future!
**Geographic location: **All around the country and (when I'm lucky) around the world, but I'm primarily based in New York City.
Why is the site called In A Half Shell? I have a tremendous passion for oysters and wanted to name my blog something that could showcase them exclusively. Back when I was starting the blog, I was working at an ad agency with some wonderfully creative friends. We had a quick brainstorm in the office and_ In A Half Shell _became a top contender. When I googled the URL and found that it wasn't taken, I knew it was meant to be! Plus, the name pays homage to a popular TV show that I remember fondly as a kid—80's babies, you know what I'm talking about. Oyster Power!
What's your favorite post? I am very fond of traveling for oysters, and particularly visiting the farms and meeting the oyster growers. My favorite post has to be about my trip last summer to Sweet Neck Farms on Martha's Vineyard, where a friend and I had the opportunity to witness oyster "planting" day with owners/growers Jack and Sue Blake. Business is never "the usual" on an oyster farm. Our day had some crazy twists and turns, which made it a pretty fun post to write.
**What's something great that you've learned or that's happened to you since starting your blog? **One of the most valuable skills that I've learned along the way is how to taste oysters. It sounds simple, but oyster tasting isn't an established art like wine tasting or even cheese tasting. I developed my palate and sensitivity to the flavors and textures through lots and lots of "research." Also, learning about what goes into producing a superb oyster makes enjoying them all the more rewarding. My goal is to continue to cultivate these experiences and help teach others how to more carefully "consider the oyster."
**What's the usual process for developing one of your posts? **Every post captures a real, personal experience. Sometimes a great story just falls into my lap. Other times, I have to get up and chase after it (which sounds a little funny because oysters don't move). I'm also big into photography. This blog has allowed me to shoot my favorite subjects: food and scenery. Before even a word is written, I must have the final photos laid out for the entry. Only then will my thoughts just naturally flow around them.
**What are your favorite ingredients and tools? **Condiments on my oysters? Nothing at all. I prefer them naked. I'm a total purist. I suppose if I'm eating more than a dozen of the same kind at a time, I'd drizzle a few drops of fresh lemon or a dash of classic mignonette sauce on them. As for oyster tools, I only have two that I need. The first is my trusty Dexter-Russell Boston style 4" shucking knife. There are a number of knives out there, but I've found this one to be the most comfortable and versatile. The second is the superbly designed Littledeer Half Sheller, which helps secure the oyster as it's being opened. It also doubles as a really charming oyster plate!
**Where else can we find your work? **For now, exclusively on InAHalfShell.com. I also regularly post on-the-go photos and tidbits of oyster info across In A Half Shell's Instagram and Facebook pages.
**What food blogs do you follow? **One of my favorite seafood-centric blogs is written by my good friends at W&T Seafood. They've managed to capture some of the most amazing, crazy, and weird food adventures in the industry. It's a blog that's filled with useful tips, fun factoids, and intriguing photography. A few other oyster blogs that I follow include: The SF Oyster Nerd, Go Shuck An Oyster, and the Hama Hama Oyster Farm Blog.
**What is one thing that sets your site apart from others? **Probably my ardent perspective on the subject matter, more than anything else. Whenever I tell anyone that I have an oyster blog, I get some surprising reactions. It usually sparks a rather lengthy conversation about oysters, which I love. I guess it's not every day you meet someone as obsessed with oysters as I am who's gone on to blog about it.