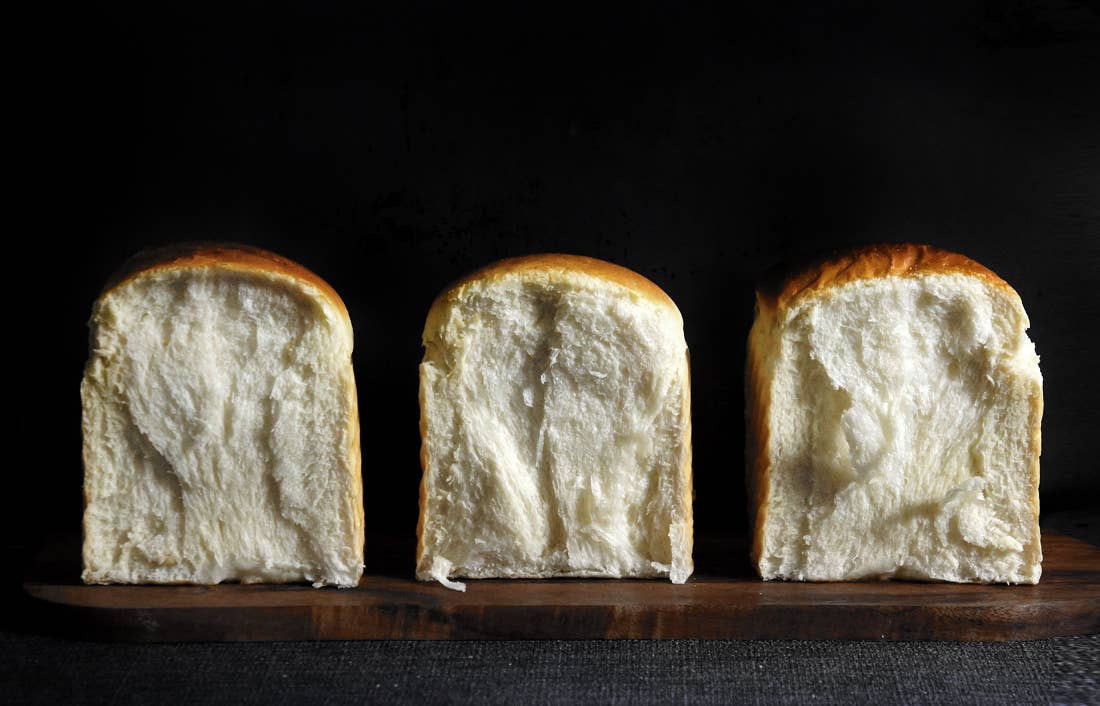 Culture
Sites We Love: Lady and Pups
Gorgeous photos? Check. Engaging writing? Check. Seriously inspiring recipes, tips, and culinary curiosity? Check, check, and check. The best food blogs all seem to have a lot in common—but what separates them out are the strong personalities behind them. In our Sites We Love series, we sit down with some of our favorite bloggers to find out how they do it—and why it's as much fun for them as it is for us.
Today's Site We Love is Lady and Pups, where blogger Mandy Lee recreates international dishes that run the gamut of sweet and savory. The tagline to her blog, "Home Cooking With Extreme Prejudice" hints at her snarky, punchy prose, which she accompanies with meticulous, dramatic photography. Here's what Mandy has to say about her site:
Posting rate: Usually twice a week
Geographic location: I'm currently located in, but refuse to be associated with, Beijing.
Why is the site called Lady and Pups: An Angry Food Post? The blog was originally named Lady and Pups, period. Wholesome and friendly-sounding, a misleading choice that I didn't give much thought to except that it describes my crew. But after my gradually uncontrollable opinions and outbursts of anger started surfacing, I decided to put up the "An Angry Food Post" banner as a disclaimer. You know, sort of like "beware of dogs", or a "read it at your own peril" kinda thing.
What's your favorite post? I have to go with Taiwanese Niu Rou Mian, because I truly believe it's one of the best (if not the best) available recipes out there. It's an uncompromisingly authentic and detail-oriented recipe that I developed, and it has withstood the taste buds of many, including my tough-crowd family. I also like my Post Hawaii-Blue and Coffee Crusted Nuts, because the photo arrangement was slightly different from my usual posts, playing with glimpses of my recent trip to Hawaii. Then, the Insights to Your Shrimp Dumpling post, because it provides real, useful information that I couldn't find anywhere on the internet.
What's something great that you've learned or that's happened to you since starting your blog? The biggest difference this blog has made is that it pushes me to venture into areas that used to scare the life out of me, like bread-making, or anything dough-related, really. The self-imposed demand for 2 posts per week forces me to acquire new knowledge through rounds and rounds of trial-and-error. I've probably learned more about cooking in the past 1½ years than the previous 5 years combined.
What's the usual process for developing one of your posts? A lot of the time, the posts are an effort to recreate dishes I've tasted in restaurants or while traveling, or that I've seen on TV. I don't think I've really ever followed a recipe from a cookbook (except for baking/pastries, of course), although I do own a lot.
What are your favorite ingredients and tools? My hands and my cleaver knife do a lot of the heavy lifting, but I don't think I can live without any of my kitchen tools: my food-processor, blender, spice grinder, etc. I don't know what I'd do without them. I don't think I have a "favorite" ingredient because, really, I eat almost everything. It's an understatement to say I'm an adventurous eater. However, I do think everyone should have a bottle of fish sauce in their pantry.
What are your favorite food and cooking resources? I love Thomas Keller's cookbooks. Everything you need for success in the kitchen, including the right state of mind, is in his books. But if I'm looking for a basic dessert/bakery recipe to adapt from, I do a quick search on Smitten Kitchen (I trust her baking recipes immensely).
What photography equipment do you use? I use a Canon 650D, with EF 50mm 1:1.8 lens, plus indirect artificial lighting because I often cook and shoot late in the day. I use Photoshop for editing and have recently confirmed that a tripod is essential.
What food blogs do you follow? It's not exactly a food blog, but my husband and I have been following Anthony Bourdain's show and blog for years. We love his point of view on culture and food, plus his sharp humor, and have many times planned trips to corners around the world because of him. I love food52 and the simplicity and practicality of their photos (mostly taken by James Ransom) and recipes. But I also appreciate blogs with recipes and aesthetics that are so different from my own, such as 101 cookbooks and Herriott Grace.
What is one thing that sets your site apart from others? I'm not a photographer and I don't live a particularly interesting or picturesque life. I'm not here to sell you on lifestyle imagery, no morning light shining on daisy-lined fields, or my hand stroking a basket of blackberries. I'm not about the popular marketed fuss-free approach to cooking either, telling you how to roast chicken breasts with one arm and a baby on the other. To me, cooking is about gluttony, about striving for food good enough to charge money for, and this blog documents my journey, with variable successes and mistakes, to get there.