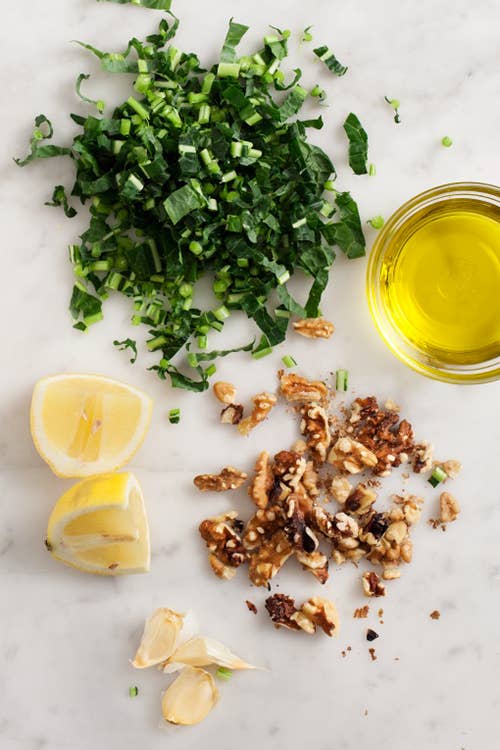 Culture
Sites We Love: Love and Lemons
Gorgeous photos? Check. Engaging writing? Check. Seriously inspiring recipes, tips, and culinary curiosity? Check, check, and check. The best food blogs all seem to have a lot in common—but what separates them out are the strong personalities behind them. In our Sites We Love series, we sit down with some of our favorite bloggers to find out how they do it—and why it's as much fun for them as it is for us.
Today's Site We Love is Love and Lemons, where Jeanine Donofrio and her husband Jack Mathews inspire us with colorful, creative, vegetarian-friendly recipes out of their Austin, Texas kitchen.
Live since: December 2011
Posting rate: About 3 times a week
Geographic location: Austin, Texas
Why is the site called Love and Lemons? Well, quite literally, I love to cook with lemons. I can't help but squeeze a bit of lemon into nearly everything I make. They also bring back sunny memories of a trip my husband Jack and I took to Capri, Italy. He had proposed just a few days prior, so it was a really exciting time for us. We ate gorgeous, bright, seasonal food and drank lots of limoncello. One day, we were hiking up and down the many winding steps and a dog trotted past us with a lemon in its mouth. We laughed and joked about how Italians probably toss lemons to their dogs instead of tennis balls because there are so many lemons on the island. Later on, this memory popped into our minds while we were trying to come up with a name.
What's your favorite post? I loved the way this simple kale stem pesto post came together. I almost didn't post it (I have a lot of pesto recipes). But I did and I just loved the response—it was encouraging to see how many people really care about not wasting food. It's inspired me to think more creatively about the stems and cores that people usually throw away.
What's something great that you've learned or that's happened to you since starting your blog? I just love it when readers write me to say that our colorful photos have inspired them to get into the kitchen. Hearing that people are changing their lives (and health) through food really helps validate all of the hours and hours we spend at this. I also love it when women write me to tell me that they've been able to convert their boyfriends/husbands to kale. I don't usually cook for picky eaters so I just love that kind of feedback!
What's the usual process for developing one of your posts? It varies, but it often starts with one exceptional seasonal ingredient that catches my attention (orange cauliflower and cute carrots have been a few recently). I also find a lot of inspiration when I have limited food left in my kitchen—it becomes a puzzle to figure out what to do with random ingredients. For me, that's when cooking is the most fun; if I have a blank shopping list and too many options I'll end up making something I've made a gazillion times before.
What are your favorite ingredients and tools? Ingredients: lemons, limes, olive oil, coconut oil, sherry vinegar, avocado, miso, basil, smoked paprika, red pepper flakes, nori, and kewpie mayo. Tools: a good knife, a mini food processor, a julienne peeler, and a hand-held mandoline. The smaller the tool, the more often I'll actually use it. Especially if it can go into the dishwasher.
What photography equipment do you use? Canon 5d Mark II, and a makeshift lighting setup that we use if we're cooking beyond daylight hours. I use Lightroom and Photoshop to edit photos and Illustrator for layout and typography.
What is one thing that sets your site apart from others? I'm not sure—I think every blog is so different from one another. I actually hate how the internet makes it feel like a competition. Blogs are so personal, after all. I think my blog represents my food style and design sense, and I just try to create work that I'm proud of. When I started, I had zero expectations that anyone beyond my mom would read it so I'm beyond thrilled that we've cultivated a little community.