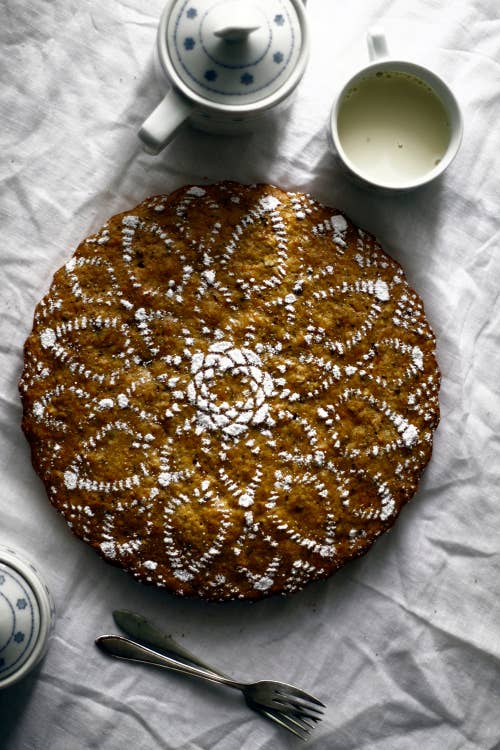 Culture
Sites We Love: A Tale of Two
Gorgeous photos? Check. Engaging writing? Check. Seriously inspiring recipes, tips, and culinary curiosity? Check, check, and check. The best food blogs all seem to have a lot in common—but what separates them out are the strong personalities behind them. In our Sites We Love series, we sit down with some of our favorite bloggers to find out how they do it—and why it's as much fun for them as it is for us._
Today's site we love is A Tale of Two, where architecture students Ann Warter and Philine von Zimmerman cook and bake (and eat) vegetarian treats in their Berlin kitchens. Here's what Anne and Philine have to say about their site.
Blog Name: A tale of two.
Posting rate: 1-2 per week
Geographic location: Berlin
Why is the site called A Tale of Two? Plainly because it is just the two of us, Ann and Philine. We met studying architecture in Berlin and soon found out about our shared love for (many things, but especially) food. Every post appearing on A Tale of Two is a short story of what we do and allows a glimpse into our lives. Over time we envision the blog as a complete tale of anecdotes of gatherings with friends, our hours-long efforts decorating cakes, or hurried preparations of quick dishes whenever we are short on time (which is often).
What's been your most popular post? Definitely our carrot cake post. The recipe took a long time to develop because we added, omitted or altered many ingredients from the original recipe. This is a common yet very appealing cake for tea, though apart from the recipe itself being really convincing, we think the the sugar pattern on top is what charms our readers. Ann doesn't like frosting, so she choose to finish the cake with a simple powdered sugar design.
What's your favorite post? Ann: My favorite post is the one on clementine honey. Despite its raw simplicity, honey is still very versatile and this recipe is also an homage to the bee. Honey is a product that has many varieties in taste and consistency. I love to drizzle it over yoghurt and porridge, or add it to tea or baked goods. It is something that brightens my day.
Philine: Mine would be poached pears covered in caramel. It's the perfect dessert since it is very sweet but not too heavy at all; with just two main ingredients it is very clear in flavour and taste. Also, I am just very much into desserts.
What's something great that you've learned or that's happened to you since starting your blog? The purism of food. That it is not about the quantity of ingredients but rather about texture and flavour. It's about the simple things, that uncommon pairings like mint and pea, or quince and chilly go together perfectly. It's about appreciating distinctive flavours; for example, the difference between buckwheat and chestnut flour. For us cooking is more about learning traditional artisanal techniques, about using old grains, and not so much about brand-new techniques, glitter, or exotic ingredients. Following traditional recipes but substituting ingredients and methods is a way of bringing together craftsmanship and novelty together to make unusual flavours. German folks have a long tradition in baking, so this somehow feels like going back to our roots.
What's the usual process for developing one of your posts? It depends on the occasion. We write posts on simple daily meal preparations, or gathering and cooking for friends. The latter are planned days ahead by rummaging through books and magazines. The other recipes are spontaneous; we open the fridge, look at what's left inside, then cook, take photos and try to remember and write down the exact recipe later on. Usually Ann takes the pictures and Philine edits the recipes and writes short introductions to the posts.
What are your favorite ingredients and tools? Ann: Broccoli, apple, salmon, quinoa and knives. I love broccoli just because it tastes good! I like apples because they are fresh and exhilarating—my favourite kinds are Orange Cox, Boskoop and Elstar. Salmon I like for its balanced oiliness, and sharp knives are the most essential equipment I need for cooking.
Philine: Cilantro, avocados, almonds, honey and bowls. Cilantro has the most unique flavour I have ever tasted, and avocado has a wonderful mellow richness. I live to have almonds in my muesli every single morning and I love honey for the same reason. My favourite items in the kitchen are bowls because I love so many things that can be served in bowls, such as porridge, soups and risotto.
What are your favorite food and cooking resources? We are inspired when we travel. We experience new ways of approaching food in foreign countries; for instance, Israel, New Zealand and Sweden. But we can also be enchanted by a piece of cake at the cafe around the corner in the city we live in. A big part of our learning process is trying to recreate dishes, failing to produce the exact result, and then developing our own recipe. Inspiration also comes to us from pictures like Ditte Isagers' photographs for Noma as well as written words like Nigel Slater's book Tender.
What photography equipment do you use? This might depend on the occasion. Normally we shoot with a Canon EOS 500D, though sometimes we pick up an old Russian Zenit analogue camera.
Where else can we find your work? For now, exclusively on our blog.
**What is one thing that sets your site apart from others? **It's very reduced. There's a short introduction, a photo and a recipe. In life, in art, as well as in eating we like to keep things simple—not limited nor restricted but reduced to the very basics. The very beautiful and very necessary basics.