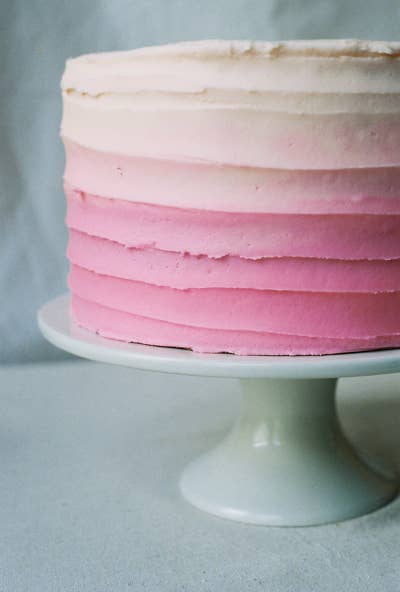 Culture
Sites We Love: Apt. 2B Baking Co.
Gorgeous photos? Check. Engaging writing? Check. Seriously inspiring recipes, tips, and culinary curiosity? Check, check, and check. The best food blogs all seem to have a lot in common—but what separates them out are the strong personalities behind them. In our Sites We Love series, we sit down with some of our favorite bloggers to find out how they do it—and why it's as much fun for them as it is for us._
Today's site we love is Apt. 2B Baking Co., where Brooklyn-based photographer and baker Yossy Arefi bakes seasonal treats and shoots with her Pentax film camera. Here's what Yossy has to say about her site.
Blog Name: Apt. 2B Baking Co.
Posting rate: I aim for once a week.
Geographic location: Brooklyn, NY
Why is the site called Apt. 2B Baking Co.? Around the time I started the blog I also started a little online sweets shop. I was having trouble coming up with a name so I asked my family and friends for suggestions and my mom suggested Apt. 2B Baking Company (2B was my apartment number at the time). The shop has since closed and we've moved, but the blog is still going strong.
What's been your most popular post? I made an ombre frosted cake to celebrate the birth of my twin nieces last February and it was a huge hit. It has been really fun to see other people's interpretations of the frosting technique I used. I even saw a few ombre wedding cakes pop-up online last summer .
What's your favorite post? Blackberry Rhubarb Crisps. I spent a wonderful, inspiring week visiting my family in Seattle last summer where I picked pounds and pounds of the most delicous blackberries and made all sorts of treats with them. I'll always remember eating those crisps, topped with earl grey ice cream on my brother's birthday. Also, the Simple Stone Fruit Tartlets I made last July were so great. I made a rough puff pastry and topped it with sliced peaches, nectarines and apricots. It was such a simple dessert with a big impact and they were easy to pack up for a picnic, the perfect summer dessert as far as I'm concerned.
What's something great that you've learned or that's happened to you since starting your blog? I started my blog as a way to hone both my baking and photography skills, and along with those things it has led to so many wonderful real life connections and friendships which I was definitely not expecting when I started blogging three years ago. I am constantly surprised by how wonderful and supportive the online food community is and I am so happy to be part of it.
What's the usual process for developing one of your posts? I don't really have a set process, but I usually start with what looks good at the market and go from there. I'm guilty of buying way too much produce (especially in the summertime) for my two-person household to consume, and my baking adventures often stem from a surplus of fruit. I also try to time big baking projects like cakes and pies to coordinate with a birthday or dinner party so I can share whatever I make with lots of friends.
What are your favorite ingredients and tools? Fresh, seasonal fruit tops my ingredient list by a long shot, but I also love good butter, salt (so important in baked goods!) and vanilla beans. As far as equipment goes, I use my bench and bowl scrapers all of the time and my KitchenAid stand mixer is the only appliance that has earned a permanent spot on the countertop.
What are your favorite food and cooking resources? I absolutely love cookbooks and I often have one sitting near my bed for nighttime reading. Alice Medrich's Pure Dessert inspired me to start baking professionally and Kim Boyce's Good to the Grain taught me a lot about alternative flours. Claudia Fleming's The Last Course is a huge inspiration and taught me a lot about combining unusual flavors and textures in desserts. Recently, The Blue Chair Jam Cookbook has been a huge influence on the way I approach preserving fruit. I also love popping into thrift shops and junk shops to find interesting old cookbooks. I recently found a book of 101 pies published in the 1960s. It was a no frills, photo-less book, but it had so many great (and weird) recipes including a whole chapter on cottage cheese pies! We are really lucky in New York to have a wonderful network of year-round Greenmarkets that I visit quite often, but nothing beats heading upstate or to New Jersey to pick fruit and berries to bake into delicious treats and preserve.
What photography equipment do you use? I shoot for the blog with a Pentax 35mm film camera and a 50mm lens, but sometimes I break out my Holga for fun. Most of my other work is shot with a Canon 5D Mark III.
Where else can we find your work? My photography portfolio can be found at yossyarefi.com. You can also fine me on various social media sites via my blog.
What food blogs do you follow? There are so many clever, beautiful food blogs out there, but Orangette was the first one I really connected with. Since then my favorites list has grown exponentially and includes Lottie and Doof, Bon Appetempt, The Year in Food, Hungry Ghost Food and Travel, The First Mess, Not Without Salt, Seven Spoons, La Buena Vida, Canal House, Forty Sixth at Grace, Lemon Fire Brigade, Rachel Eats, and The Yellow House, among others.
What is one thing that sets your site apart from others? I shoot my blog entirely with film, which has its challenges, but I love doing it and don't plan on giving it up anytime soon.