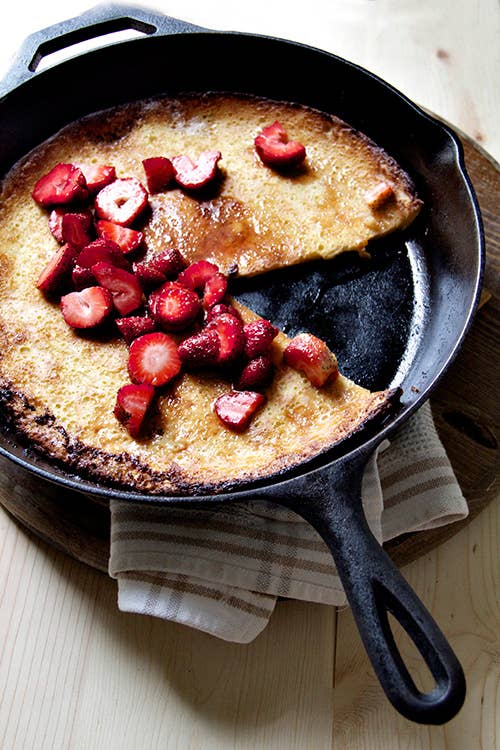 Culture
Sites We Love: Biscuits and Such
Gorgeous photos? Check. Engaging writing? Check. Seriously inspiring recipes, tips, and culinary curiosity? Check, check, and check. The best food blogs all seem to have a lot in common—but what separates them out are the strong personalities behind them. In our Sites We Love series, we sit down with some of our favorite bloggers to find out how they do it—and why it's as much fun for them as it is for us._
Today's site we love is Biscuits and Such, where North Carolina-based blogger, photographer and preschool teacher Elena Rosemond-Hoerr whips up Southern-style dishes both old and new. Here's what Elena has to say about her site:
Blog Name: Biscuits and Such
Posting rate: I aim to post once a week, sometimes more, sometimes less.
Geographic location: Wilmington, North Carolina.
Why is the site called Biscuits and Such? I honestly don't remember how I settled on Biscuits and Such. I knew I wanted to create a Southern food blog so I sat down and came up with three or four names that I thought sounded right and shopped them around to my friends and family, who helped me to settle on "Biscuits and Such." I love it because it's short and simple and evokes memories of simple Southern foods. And of course, biscuits.
What's been your most popular post? Watermelon Vodka Tonic has been my most-viewed post to date, and I can't blame the readers! It's a favorite of mine, a simple summer cocktail that is refreshing and sweet and something I put together for my 25th birthday (which feels oh so long ago sitting here just a few weeks before my 27th!).
Credit: Elena Rosemond-Hoerr
What's your favorite post? I think my favorite post to write was my great grandmother, Sybil's, Brunswick Stew. My dad has been making Brunswick Stew for me my whole life, and his father made it for him before that, and so on and so forth. It's a food that is integral to Southern food culture, and having the opportunity to make it with my dad and husband and brothers in my great grandmother's cauldron was priceless. And the fact that my dad decided the best tool for stirring the stew was a hockey stick? Even better.
What's something great that you've learned or that's happened to you since starting your blog? I know this is a total blogger cliche, but I've been overwhelmed and touched by the people who read and love my work and go out of their way to let me know. I recently launched a series called Tasting North Carolina as a way of refocusing my work now that I'm not longer a displaced Southerner, and as a result I've been able to talk to people from all over the state. It's been amazing and so inspirational to talk to people from every corner of North Carolina about the foods that are most important to them.
What's the usual process for developing one of your posts? The blog really follows what we eat week in and week out, so the recipes are very seasonal. I post family recipes, ingredients we're loving, or new foods and techniques we're experimenting with. My favorite is when friends and family come to me and say "Hey, can we try this for the blog?" It's especially rewarding when my dad asks me to help him recreate something from his childhood, since part of the reason I started this blog was to reconnect with the food and memories of the South. My only rule is that it falls into the niche of "Southern food" so no matter how many tacos we eat (a lot), they won't find their way onto Biscuits and Such.
What are your favorite ingredients and tools? Probably the most-used tool in our kitchen is our cast iron collection. We have three pieces—two pans and a Dutch oven--that never leave the counter. Cast iron is this versatile and resilient tool that lasts for generations. It's something I look forward to inheriting from my parents and something I look forward to passing on to my children. I have been so inspired by cast iron that I dedicated a whole series to restoring a (seriously neglected) pan. The Cast Iron Chronicles were such a hit on the blog that I might need to hunt down another piece to rescue!
What are your favorite food and cooking resources? I love thumbing through magazines (Saveur, Southern Living, Garden & Gun) for inspiration, as well as Pinterest. These days, though, I'm more interested in delving into history, so I'm hunting down old recipe books and community cookbooks at thrift stores and yard sales. I was totally inspired by the Southern Foodways Alliance Community Cookbook and I'm hoping to visit the collection of Southern cookbooks at Meredith College this fall.
What photography equipment do you use? I shoot with a Canon 60D with an 18-135mm lens.
Where else can we find your work? In addition to writing and shooting in the kitchen I am a professional photographer with a small business, Pressed Magnolia Studio. I'm also a preschool teacher, but that happens offline.
What is one thing that sets your site apart from others? One of my goals with Biscuits and Such from the beginning has been to keep it hyper-focused on Southern food, which I think has been its strength. Focusing on Southern food and Southern food culture, particularly my experience with Southern food culture, has helped the blog stay strong and clear through all the ups and downs of our lives the past five years. It's also been a strange and wonderful experience to be a Southern food writer during a time when there is nationwide (and sometimes international) attention on Southern food. Lardcore, right?