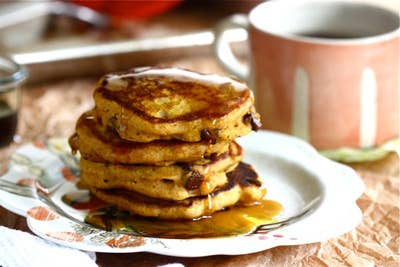 Culture
Sites We Love: A Cozy Kitchen
Gorgeous photos? Check. Engaging writing? Check. Seriously inspiring recipes, tips, and culinary curiosity? Check, check, and check. The best food blogs all seem to have a lot in common — but what separates them out are the strong personalities behind them. In our Sites We Love series, we sit down with some of our favorite bloggers to find out how they do it — and why it's as much fun for them as it is for us.
This week's Site We Love is A Cozy Kitchen, where creator Adrianna Adarme shares her take on grown-up comfort food, casual staples, and baked goods. On her blog, you'll find a slew of delectable breakfast recipes, as breakfast is Adrianna's favorite meal, hands down. With inspiring recipes accompanied by beautiful photography and engaging storytelling, her site is a new favorite on our blogroll.
Blog Name: A Cozy Kitchen
Posting rate (posts per day/week/month?): I post three times a week.
Geographic location:Los Angeles, California
Why is the site called "A Cozy Kitchen"? My love for comfort food and all things cozy is pretty major. I really can't think of anything I enjoy more than sitting inside—while it's raining or windy outside—wearing some knitted socks while eating a big bowl of hot, cheesy soup. Most of the recipes I tend to cook have that thought in mind. One of my favorite things to do is take something I ate as a kid (like tater tots or s'mores) and give them a modern or healthy twist.
What's been your most popular post?: People were pretty pumped over my Pumpkin Chocolate Chip Pancakes . I think it's pretty rad how psyched people get over pancakes, because I can totally related—they're, hands down, my favorite food.
What's your favorite post?: Over the past few years I've made tater tots a few different ways, all of which I intended to publish on the blog, and each time they fell flat. Nobody wants a mediocre tater tot, ya know?! But! this past November I successfully made them. They were crispy on the outside and soft on the inside. They were so resemblant of the ones we all had in the cafeteria as kids (but obviously better!). I've never felt so accomplished.
What's something great that you've learned or that's happened to you since starting your blog? Oh man, when I first started blogging I was working a job I was miserable at. The job itself wasn't bad, it just wasn't creative or mentally stimulating to me. Doing that job during the week (to pay the bills) and blogging on the weekends was such a stark contrast. I was so happy when I was in the kitchen, taking pictures and telling stories. It taught me that doing something I love every single day is so incredibly important. Since then I've worked pretty hard on the blog, had a few lucky breaks and now can say that I enjoy what I do day in, day out.
What's the usual process for developing one of your posts? It actually varies. Sometimes it's pretty calculated. I have a long list of recipes or ideas that I want to explore and share. I make a calendar in the beginning of each month and outline what I want to post and when. Sometimes I adhere to it; other times I'll see something, taste something new (from a friend or a restaurant) and the calendar flies out the window.
What are your favorite ingredients and tools?: Ingredient wise: salt. I'm slightly salt obsessed. Under-salted food is the worst! As for tools, I feel like I'm always grabbing for my Microplane. And a kitchen torch and piping bags can make so many things pretty.
What are your favorite food and cooking resources? I own an absurd amount of cookbooks. If I'm ever feeling uninspired and kinda blah I'll pull a few off the shelf and thumb through them. It usually always helps. A few birthdays ago my dad bought me FCI's The Fundamental Techniques of Classic Cuisine. I use it constantly as a reference for basic techniques and recipes. As for baking, I love Ratio: The Simple Codes Behind the Craft of Everyday Cooking by Michael Rulman. My dad is a hardcore baker, so he often times gets frantic phone calls from me asking questions. He acts annoyed, but I know deep-down he LOVES it.
What photography equipment do you use? I shoot with a Canon Rebel XSI; and I use two lenses: a 100mm and 50mm. I also use this cake pan I got sliced in half as a reflector to pop in a little fill. I'm hoping to upgrade my camera situation really soon. I have my eyes on the new Canon 5d markII.
Where else can we find your work? You can find some of my video work over on Food Network's sister site, Food2. I wrote and directed a series of thirty how-tos for them. It was such a fun experience. I guest blog a few times a month for The Pioneer Woman's recipe site, Tasty Kitchen. And if you're interested in seeing and reading my random life tid-bits, you can catch it all on Twitter and Instagram. And Facebook, too!
Do you know a blog or blogger who deserves to be featured in this space? Email a nomination — including a link to the site and a few sentences on why they're worthy of love — to siteswelove@saveur.com.