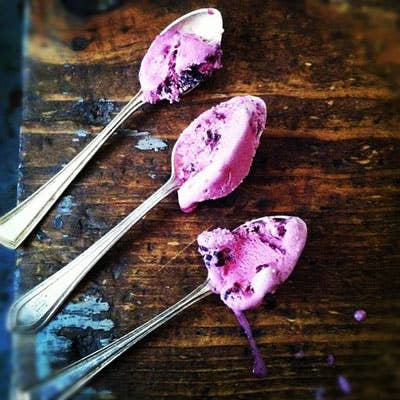 Culture
Sites We Love: A Plum By Any Other Name
Gorgeous photos? Check. Engaging writing? Check. Seriously inspiring recipes, tips, and culinary curiosity? Check, check, and check. The best food blogs all seem to have a lot in common — but what separates them out are the strong personalities behind them. In our Sites We Love series, we sit down with some of our favorite bloggers to find out how they do it — and why it's as much fun for them as it is for us.
Today's site we love is A Plum by Any Other Name, where dietician-by-day Emily Gelsomin shares wholesome recipes and her stories—often humorous, always charming—about how they came to be. Here's what Emily has to say about her site:
Posting rate: I try really hard to post four times a month. The only time that hasn't happened was this June when I took a two week trip with my mother to Paris and Provence. We were just too busy drinking wine and eating cheese for me to worry about posting.
Geographic location: Boston, Massachusetts
Why is the site called A Plum By Any Other Name? I've been a champion for prunes for a long time and became irritated when I saw them get rebranded as "dried plums" a few years ago. Plums as a stone fruit are sexy, while prunes—on the other hand—get constipation ... and geriatrics. But they're the same fruit! Playing off of the famous line, "A rose by any other name will still smell as sweet," from Shakespeare's Romeo and Juliet, is how I landed on the title for my blog. My food philosophy is that it shouldn't matter what something is called: if it tastes good, eat it.
What's been your most popular post? Oddly enough, cucumber ice cream. There is a local ice cream place here in Boston called J.P. Licks that comes out with a cucumber flavor every July. It's my favorite and so I wanted to try to replicate it. It's a fairly old post and I would actually like to rework the recipe and post about it again. I've refined the way I write recipes so much since I first started blogging and I've become much savvier at making ice cream. Cucumber is still one of my favorite summer flavors, and the ice cream was delicious when I made it, but I'd like to give it a makeover.
What's your favorite post? Blackberry Lemon Verbena Cheesecake, and All That Americana. I was baking a cheesecake for a party and accidentally opened the latch of my springform pan prematurely and then watched painfully as the contents oozed slowly out. This was around 9 pm the day before the 4th of July. I stood there for quite a bit staring at the cheesecake puddle on the floor. But I love the cheesecake recipe and deemed it worth the redo. It's incredibly thick and rich. In the post I say I want a cheesecake that will "knock me out with her American thighs," and this one definitely does that. So I went back to the store and made it again. I love that about being in the kitchen. It's incredibly disheartening sometimes, but redemption can be so sweet.
What's something great that you've learned or that's happened to you since starting your blog? Becoming a much better baker. I've had some rich experiences for sure. I had a food column in the South End News, a local paper in Boston, for a while due to exposure from my blog. I was thrilled when the talented Boston-based pastry chef, Joanne Chang, once left a comment on my blog. I was even invited to an event where Dom Perignon was being poured as the beverage for the evening (I still wonder why in the world I was invited to that event!). But having a reason to make pastry "in the name of research" has helped to slowly teach me how to bake well. I used get anxiety from baking, now I find it as therapeutic as cooking. One of the best things to come from my blog has been cake, pure and simple.
What's the usual process for developing one of your posts? I painted one of my kitchen walls with chalkboard paint and keep a running list of ideas for the blog there. Many recipes I cook don't make it to the blog. I won't post about something if I don't think it's worth eating again. Once I decide on the recipe, I try to tell the story of how it came into my life. I have Post-it notes all over my apartment with scribbled recipe ingredients and instructions. It's not an organized process, but there is definitely a method to my madness.
What are your favorite ingredients and tools? I love cardamom. It's fantastic paired with cilantro and citrus for vegetables on the grill. I also love it in desserts, especially yogurt-based desserts and cakes. And I can't get enough of green, fruity olive oil.
As for tools, my Kitchen Aid mixer is my most used appliance. I make pasta using their attachment and even churn butter in it. It turns complex-sounding tasks into fairly simple ones once you get the hang of them.
What photography equipment do you use? I am almost ashamed to admit this, but mostly now I just use my iphone. I also love instagram. I feel like one of the last people on earth to start using it, but I've been instagraming the hell out of things. Prior to those items, I used a simple Sony Cyber-shot. I am by no means a professional photographer. The key to taking a good food picture is taking a lot of them. And working with natural light.
Where else can we find your work? I had a recipe for roast chicken with apples published in The Boston Globe a few years ago. I also was featured on the—now defunct—NPR Boston Public Radio Kitchen, as well as online on Punk Domestics. I also have a piece coming out in edible Boston in the fall on making local sea salt. I follow pastry chef, Brian Mercury, of Harvest Restaurant in Cambridge, Massachusetts up to Maine to get seawater and then spend the day with him as he makes sea salt with it.
What food blogs do you follow? Oh goodness. More than I should probably admit to. Some of my absolute favorites are: Orangette, Sweet Amandine, My Madeleine, and Dash and Bella. The writing is just outstanding and the recipes are the kind of food that I love cooking. It's material that is very easy to identify with.
Do you know a blog or blogger who deserves to be featured in this space? Email a nomination — including a link to the site and a few sentences on why they're worthy of love — to__siteswelove@saveur.com.