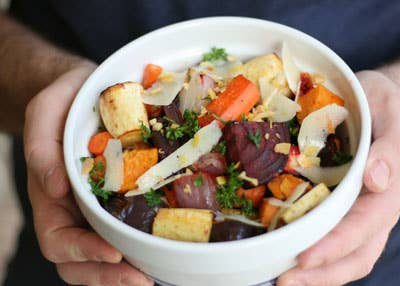 Culture
Sites We Love: A Thought for Food
Gorgeous photos? Check. Engaging writing? Check. Seriously inspiring recipes, tips, and culinary curiosity? Check, check, and check. The best food blogs all seem to have a lot in common — but what separates them out are the strong personalities behind them. In our Sites We Love series, we sit down with some of our favorite bloggers to find out how they do it — and why it's as much fun for them as it is for us.
This week's Site We Love is A Thought For Food, whose proprietor Brian Samuels has a knack for capturing serene scenery and mouth-watering dishes with an artsy, vintage flare. Brian's recipes are alluring and fun, with creative and unexpected flavor pairings (chocolate-wasabi cheesecake anyone?) Here's what Brian has to say about his site:
Proprietor:** Brian Samuels
Posting rate: Twice a week
Geographic location: Boston, MA
Why's the site called A Thought For Food? When I decided to buckle down and begin my blog, I did it for a few reasons. One was that I wanted to share my favorite recipes with close friends and family members. But the real reason I created the site was to express my love for food and the role that it played in my life. Everyone knows the phrase "food for thought" and I found the idea behind that to be quite fitting for what I wanted to accomplish with the blog. My goal is to provide people with my thoughts on food, but with that I hope it provokes discussion and allows my readers to examine the ways food and cooking effects each of them as well.
What's been your most popular post? The most popular post was one that I did recently on Zesty Root Vegetables with Pecorino Cheese. It was a recipe I make often this time of year and is a refreshing use of winter vegetables.
What's your favorite post? I have a special place in my heart for all of my posts, so it's difficult to say which one is my favorite. If I have to pick one, though, it would be the piece I wrote about the "Heart of Darkness" Flourless Chocolate Cakes that I made in honor of my one-year wedding anniversary. It wasn't an easy post to write, but it is one that I will always look back on (for the recipe and the memory).
What's something great that you've learned or that's happened to you since starting your blog? One thing that developed since I started the blog, and it's something that I didn't quite expect, is the relationship that I've created with other food bloggers. These are people who I never would have met if it weren't for the blog and I'm so happy that they're in my life.
What's the usual process for developing one of your posts? The process varies depending on the recipe I am featuring. The first thing I do when creating a post is take pictures. I usually get the ingredients in their unaltered state and then take photographs throughout the cooking process and again when the dish has been completed. Once this is done, I edit the photographs in Photoshop and then I start to write. I rarely write before the pictures.
What are your favorite kitchen tools? My most used kitchen tool is my Wusthof knife. There is almost never a day that goes by that I don't use it. But my favorite kitchen appliance is the food processor. I use it multiple times a week, from making pesto to shredding carrots to mixing cookie dough.
What are your favorite food and cooking resources? Other food blogs and websites are my go-to resource for food and cooking. Anything you want to know can be found on the internet, so I'm quick to do a search if I have any questions. I subscribe and purchase a variety of cooking magazines. Besides Saveur, I'm an avid reader of Bon Appetit, Cook's Illustrated, Fine Cooking, and Food & Wine. For websites, The Kitchn is a fantastic resource.
What photography equipment do you use? I shoot on the Canon Rebel XTi, 50 mm 1.8f
_Photographs: Flourless Chocolate Cake by Brian Samuels, portrait by Lisa Rigby
Do you know a blog or blogger who deserves to be featured in this space? Email a nomination — including a link to the site and a few sentences on why they're worthy of love — to siteswelove@saveur.com._