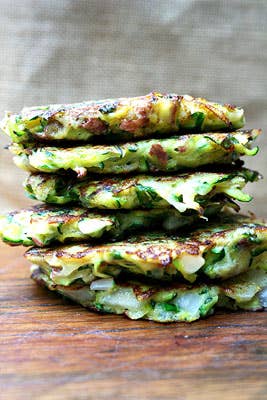 Culture
Sites We Love: Alexandra's Kitchen
Gorgeous photos? Check. Engaging writing? Check. Seriously inspiring recipes, tips, and culinary curiosity? Check, check, and check. The best food blogs all seem to have a lot in common — but what separates them out are the strong personalities behind them. In our Sites We Love series, we sit down with some of our favorite bloggers to find out how they do it — and why it's as much fun for them as it is for us.
Today's site we love is Alexandra's Kitchen, where former-caterer-turned-blogger Alexandra Stafford shares helpful techniques and family-friendly, seasonal recipes. We especially love her comprehensive how-to videos. Here's what Alexandra has to say about her site:
Posting rate: In recent months I have been posting once a week, usually every Friday morning.
Geographic location: Currently, northern Virginia, but I have lived in Philadelphia and California since starting the blog.
Why is the site called Alexandra's Kitchen? Truthfully, when I started the blog, I didn't give the name much thought. My name is Alexandra, so Alexandra's Kitchen seemed appropriate.
Credit: Alexandra Stafford
What's something great that you've learned or that's happened to you since starting your blog? Something great that's happened to me since I started blogging is that I've become passionate about the local-food movement. I care very much about cooking with seasonal produce from my local vegetable share — these ingredients often inspire my blog entries. And I also feel strongly about buying humanely-raised meat. My husband and I recently joined a "cowpool" and just packed an eighth of a cow away in our freezer. Very exciting!
As far as techniques go, I have learned to use natural light. I never photograph at night or early in the morning. When I am documenting a recipe for a blog entry, I set up my cutting board in the middle of the day, right next to whichever window is letting in the most sunlight (not direct sunlight), and I set to work laying out ingredients, chopping, mixing, etc. I take photos as I go, and if the light is good, very little photo-editing is needed afterwards.
Credit: Alexandra Stafford
What's the usual process for developing one of your posts? It always starts with a recipe that I feel strongly about. I go through phases where I get obsessed with one recipe or technique — crustless quiche or thin-crust pizza or root vegetable purees, for example — and these are the dishes that inspire me to blog. When I feel strongly about a recipe and am ready to blog about it, I'll find time in the middle of the day, when the light is good for taking photos, to make the dish. The photo-editing and writing usually happen late at night or early in the morning, when the kids are sleeping, and I am free of distractions.
What are your favorite ingredients and tools? Favorite ingredients: This changes with the seasons, but right now favorites from my local vegetable share include kale and mustard greens. And in the summer, it's hard to not favor tomatoes and corn. Buttermilk and sherry vinegar are probably my two favorite ingredients regardless of the season.
What photography equipment do you use? I really just use my camera, a Canon Rebel XT. I always shoot in natural light and occasionally use a tripod.
Where else can we find your work? I work as a freelance graphic designer, so other work can be seen on astaffdesign.com, and also on Minted.com.
What food blogs do you follow? So many! Food52 is my go-to food blog at the moment, but my newest favorite food blog is The Garden of Eden.
Do you know a blog or blogger who deserves to be featured in this space? Email a nomination — including a link to the site and a few sentences on why they're worthy of love — to siteswelove@saveur.com.