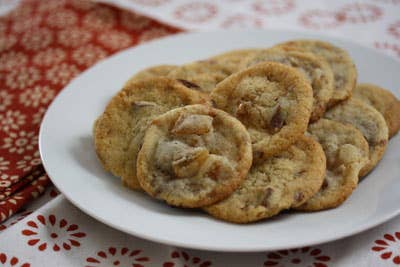 Culture
Sites We Love: Big Girls Small Kitchen
Gorgeous photos? Check. Engaging writing? Check. Seriously inspiring recipes, tips, and culinary curiosity? Check, check, and check. The best food blogs all seem to have a lot in common — but what separates them out are the strong personalities behind them. In our Sites We Love series, we sit down with some of our favorite bloggers to find out how they do it — and why it's as much fun for them as it is for us.
One of the most exciting parts about adulthood has got to be having complete control over our own meals. Living on their own for the first time — in New York City apartments with small kitchens, no less — Cara Eisenpress and Phoebe Lapine decided to chronicle their cooking adventures. And so Big Girls Small Kitchen was born: a way to help these two twenty-somethings (not to mention the oodles of home cooks who read them) navigate their kitchens and create healthy, impressive, and inexpensive meals. (The world took notice: the duo's first book, In the Small Kitchen, will be published on May 24th.)
Proprietors: Cara Eisenpress & Phoebe Lapine
Live Since: November 2008
Geographic Location: Brooklyn (Cara) and Manhattan (Phoebe)
Why is the site called Big Girls Small Kitchen? The site was born and named on a whim. The "Big Girls" refers to being grown up— you know, we're not kids anymore. When we founded it, we had just moved into big kid apartments, were starting out in big kid careers, and were hoping to find our places in the big kid world. As for the "Small Kitchen," go into any first (or second, or third) apartment in New York City and you'll know what we mean: our kitchens have limited counter, cabinet, refrigerator, and drawer space, but we make do. Overall, the name is intended to evoke all the trials of cooking with limited resources, whether they have to do with money, time, space, or skill.
What's been your most popular post? Big Girls, Small Kitchen: The Book. This post was an account of how we got a book deal, and it included the cookie recipes we baked to a.) woo our editor (milk & dark chocolate chip) and b.) thank our agent (triple chocolate cookies).
What's something great that you've learned or that's happened to you since starting your blog? Well, there was the book deal in October 2009. Working on the book has been an opportunity to delve into our recipes and the stories surrounding them in more depth than we get to on the blog. We've also loved developing our voices as authorities on cooking—not on all kinds of cooking, but on the experience of being twenty-something chefs, hostesses, and bloggers. We have a quirky cooking expertise, and we love that other quarter-lifers, friends, and fans alike, come to us seeking recipes, advice, and guidance.
What's the usual process for developing one of your posts? During the first year of the blog's life, we simply documented what we were cooking for ourselves, for dates, and for dinner parties with friends. As we got to know our users better, we've done our best to provide the kinds of meals and menus that we know busy twenty-somethings will want to cook, whether cooking for one, friends, parties, or specific holidays. Before the beginning of every month, the two of us sit down and brainstorm, thinking about seasonal produce, our own cravings, upcoming events, trends, recent requests, and types of food the blog's archive lacks. Then we put together a calendar and more or less stick to it.
What are your favorite food and cooking resources? Cara: I love the big reference cookbooks: The Joy of Cooking, How to Cook Everything (I also have the iPad app of that), American Cookery, The Dessert Bible, and Rose's Heavenly Cakes. Having the basic recipes nearby lets me get creative, since I can always check back on standards and proportions. Phoebe: I am addicted to food magazines (SAVEUR for sure!). I pore over them every month, dog-ear the things I like, and then write down a massive list of ideas. I rarely refer back when deciding what to cook, but months later, I re-find the list and realize how many of the dishes I've cooked have, unremembered by me, taken inspiration from that original document.
What are your favorite ingredients and tools? We are obsessed with our Cuisinart mini preps— Cara has a yellow one, and Phoebe's is silver. They make creating pesto, sauces, salad dressings, chopped nuts, breadcrumbs, and pie dough so simple, and they're tiny enough to leave out on our small kitchen counters. We also both love our Le Creuset Dutch ovens and Lodge cast iron skillets.
What photography equipment do you use? We both use Canon Rebel 2000s with 60mm macro lenses. We do our best to photograph in daylight, even if that means setting up scenes on our windowsills or fire escapes. When light fades on us, we have Impact stand lights with diffusers that we use now and then.
Photos by Big Girls Small Kitchen
Do you know a blog or blogger who deserves to be featured in this space? Email a nomination — including a link to the site and a few sentences on why they're worthy of love — to siteswelove@saveur.com.