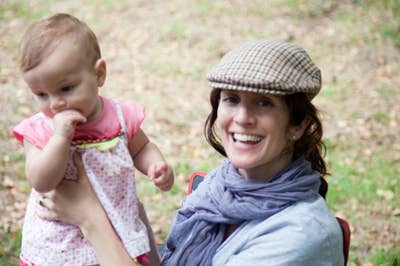 Culture
Sites We Love: Cannelle et Vanille
Gorgeous photos? Check. Engaging writing? Check. Seriously inspiring recipes, tips, and culinary curiosity? Check, check, and check. The best food blogs all seem to have a lot in common — but what separates them out are the strong personalities behind them. In our Sites We Love series, we sit down with some of our favorite bloggers to find out how they do it — and why it's as much fun for them as it is for us.
This week's site we love is Cannelle et Vanille, a gluten-free food blog written by Basque expat Aran Goyoaga. A mother of two who also works as a freelance food writer, stylist, photographer, and cookbook author, Aran's site offers a personal glimpse into her life, with nostalgic recipes recapturing the flavors of her childhood alongside inspiring, airy images. Here's what Aran has to say about her site:
Blog name: Cannelle et Vanille
Posting rate: 6-8 posts per month
Geographic location: South Florida
Why is the site called Cannelle et Vanille? I grew up in my grandparents' pastry shop where there was always the smell of cinnamon and vanilla simmering in milk. My childhood smells of creamy custard when I think about it. I decided to name my blog after those smells as an homage to my upbringing.
What's been your most popular post? My travel posts seem to be popular. Readers like to see new places especially through someone else's eyes. I think all the posts regarding my trips to the Basque Country are quite popular. My readers are intrigued by my homeland.
What's your favorite post? I have many but my trip to Vermont last summer holds a special place in my heart.
What's the usual process for developing one of your posts? Inspiration comes from different places and the process is never quite the same. It can begin with simple produce from the market or a trip to a local orchard. Sometimes they are simple dishes we eat at home. Once I have decided on the recipe, I begin by styling and photographing the raw ingredients. I am very inspired by produce and materials. Then I cook it, style it, and shoot it. That is the easy part for me. Post-editing and writing are what take me longest. I struggle with writing. The entire process can take a long time, sometimes days.
What are your favorite ingredients and tools? Fresh produce right off the ground or fruit right off the tree. I feel it is such a luxury to have access to great produce these days that I really go out of my way for it. I grew up surrounded by farms and farmers and that has always been my benchmark. As for tools, I cannot live without my chef's knife, mandoline, and kitchen aid mixer.
What are your favorite food and cooking resources? I am a cookbook junkie. I collected more books than I can even read, but I love design, photography and styling, so cookbooks with great visuals are always very inspiring. I am obsessed with Noma at the moment.
Where else can we find your work? My cookbook will be out this November (Little, Brown, & Co). My work has been featured in the New York Times, Martha Stewart's Everyday Food, the Palm Beach Post, the Miami Herald, Williams-sonoma's "Home Baked Comfort", Storey Publishing, Living Without magazine, Elle Sweden, and many other publications.
What food blogs do you follow? So many although I really have not had much time to read other food blogs lately. A few I have discovered lately are hungry ghost and La Buena Vida.
Do you know a blog or blogger who deserves to be featured in this space? Email a nomination — including a link to the site and a few sentences on why they're worthy of love — to siteswelove@saveur.com.