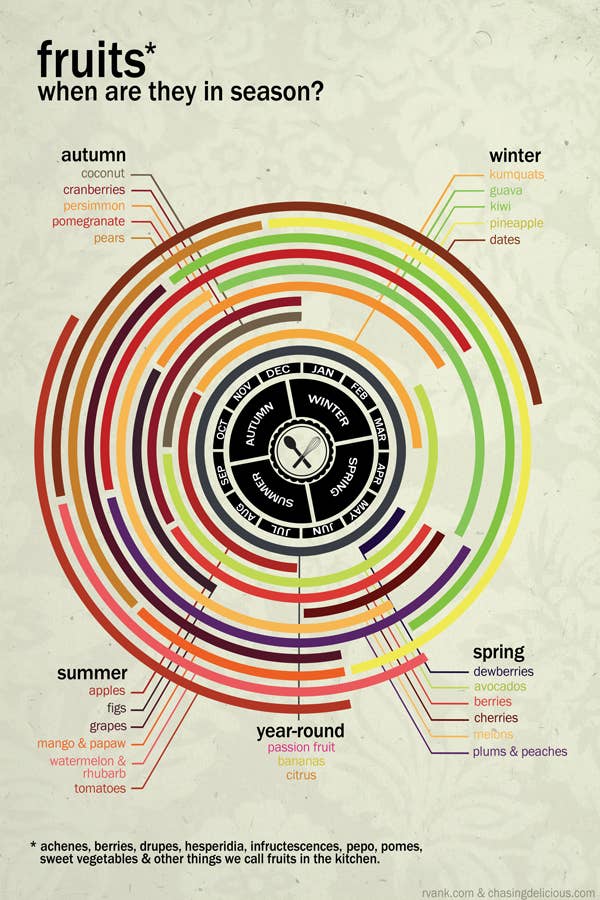 Culture
Sites We Love: Chasing Delicious
Gorgeous photos? Check. Engaging writing? Check. Seriously inspiring recipes, tips, and culinary curiosity? Check, check, and check. The best food blogs all seem to have a lot in common—but what separates them out are the strong personalities behind them. In our Sites We Love series, we sit down with some of our favorite bloggers to find out how they do it—and why it's as much fun for them as it is for us.
Today's site we love is Chasing Delicious, where Texas-based graphic designer, photographer, videographer, and home cook Russell van Kraayenbrg takes us along on his journey to finding and creating the most delicious original recipes. We love his educational approach to baking and his gorgeous and useful Kitchen 101 graphics. Here's what Russell has to say about his site:
Posting rate: Once a week
Geographic location: Texas
Why is the site called Chasing Delicious?I think we can relate a lot of what we do in life, particularly when talking about passions, to a chase. With my blog, I'm chasing this idea of that one perfect, most delicious dish but I'm also chasing the knowledge that comes with mastering recipes and techniques. I wanted my title to not only tell readers what my blog is about, but I wanted it to inspire and push me constantly.
What's your favorite post?I must admit my favorite post changes almost weekly. Right now it is probably my Pumpkin Oat Pancakes.
What's something great that you've learned or that's happened to you since starting your blog? Every once in a while I'll run into an old friend from school, someone I haven't seen in years, and they'll begin telling me a story about how they follow my blog and are always excited to try a new recipe. I even had a friend once tell me she learned about my blog through her friend in the UK, and not through me. I love hearing what people do with my recipes. I also love knowing that I'm helping inspire people all over the place to try something new in the kitchen.
Credit: Loree van Kraayenburg
What's the usual process for developing one of your posts? Typically about a month before I plan to publish a post I begin looking at my favorite blogs, websites and magazines for inspiration. I look for what seasonal trends are developing and how ingredients are being used. Then I starting thinking about how I can do something different with that. I begin testing recipes, trying different flavor combinations or different looks and once I'm happy with a dish, I'll begin planning the photographs and story that will accompany it. I'll then usually set aside a day to shoot and write the post. My Kitchen 10 posts are similar but with a lot more research thrown in.
What are your favorite ingredients and tools? My favorite ingredients to play with are different flours. I love testing a recipe with whole wheat flour, oat flour, graham flour, or any number of other flours to see what subtle changes it brings to the dish. I am also a sucker for vanilla beans. Most people find vanilla to be plain or boring but when used right you can do so much with it. As for tools, I am quite addicted to my KitchenAid stand mixer. I use it all the time, even when it's unnecessary.
What are your favorite food and cooking resources? Bo Friberg's "The Professional Pastry Chef" is my go-to encyclopedia for all things baking. I have shelves of other cookbooks but I find myself opening this one the most. I also find personal food blogs to be a great resource. There are so many interesting, unique concepts being explored out there on blogs that I find them to be a great place to find inspiration.
Credit: Russell van Kraayenburg
What photography equipment do you use? I shoot on a Canon 5D MkII and Canon 7D. As for lenses I typically use the 50 /1.4, 85/1.8 and 200 /2.8 when shooting prime or either the 24-70 /2.8 or 24-105 /4 IS when shooting zoom. I also have a couple 35mms and half a dozen old primes (some older than me) for when I'm looking to achieve a very particular look.
Where else can we find your work? In addition to running Chasing Delicious I am the Editor-in-Chief and a contributor at The Boys Club, a cocktail blog. I also run an online retail store, The Sweet Tooth Paper Goods Co., where I sell the informative and instructional cooking and baking posters featured on Chasing Delicious among other products.
Do you know a blog or blogger who deserves to be featured in this space? Email a nomination—including a link to the site and a few sentences on why they're worthy of love—to__siteswelove@saveur.com.