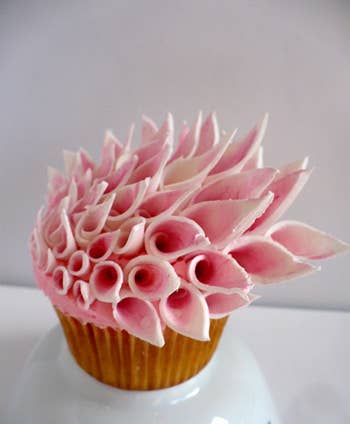 Culture
Sites We Love: Clockwork Lemon
Gorgeous photos? Check. Engaging writing? Check. Seriously inspiring recipes, tips, and culinary curiosity? Check, check, and check. The best food blogs all seem to have a lot in common — but what separates them out are the strong personalities behind them. In our Sites We Love series, we sit down with some of our favorite bloggers to find out how they do it — and why it's as much fun for them as it is for us.
This week's Site We Love is Clockwork Lemon, where creator Stephanie Eddy shares her tips and tricks for making what might be some of the best baked goods in Canada. From savory delights like a corn, tomato, and cheddar pie, to sweeter fare like cornmeal buttermilk pancakes with rhubarb compote, Stephanie covers all the baking bases. And don't expect her creations to appeal to your taste buds only — her knack for the art of edible decoration is uncanny. Here's what Stephanie has to say about her blog:
Blog has been live since: March 2010.
Posting rate: I average about 1 post a week.
Geographic location: Calgary, Alberta, Canada.
Why is the site called Clockwork Lemon? Back when I was first starting my blog I combined my boyfriend's nickname for me (Lemon) with the movie Clockwork Orange to get my blog name. To be honest, I wasn't even sure if I liked the name very much at the time. I was sitting at my computer with space for the blog name blank so I picked the first name that came to me that was different sounding but still food related. Now the name has really grown on me and I enjoy that—like clockwork—I work on it every week to get a new post out.
What's been your most popular post? How to Make Marshmallow Fondant is by far the most popular post. It's a step by step tutorial for making your own fondant out of marshmallows and icing sugar at home. I think a lot of people have become really interested in decorating with fondant but either hate the taste or aren't sure where to buy it. It's surprisingly easy (although a little sticky) to make your own and you avoid that horrible sugar-cardboard flavor of store-bought fondant. I keep my cupboard stocked with marshmallows in case a fondant-emergency strikes and I need to whip up a batch right away.
What's your favorite post? It's a tie between my Apple Pancake Cupcakes with Maple Bacon Frosting post and my I'm Sick of Winter post. I love the apple pancake cupcakes simply because they are delicious and people love eating them just as much as I love making them. Sick of Winter is a different kind of post because the cookies are there to tell a story rather than share a recipe. I dress up a cookie version of myself in all the layers of fondant clothing that I have to put on before I can brave the Canadian prairie winter. That poor cookie has to put on a lot of layers because winter here is long and harsh. It's like playing with paper dolls except with a much more delicious medium.
What's something great that you've learned or that's happened to you since starting your blog? My blog forces me to stay creative and constantly try new recipes and techniques. In doing this I discovered how much I love the alchemy that takes place when you bake bread. I own a bread machine and was always too intimidated to try making bread from scratch without it. However, my blog inspired me to give it a try, and once I kneaded and baked my own loaf for the first time, I was hooked. I started reading every bread book that I could get my hands on to learn more about it. Then I found The Fresh Loaf bread forums online and now I am often babying my sourdough starters or tinkering with bread formulas to get my next loaf just right. I bake all of our bread but I only share recipes on my blog for the tried-and-true loaves that I've made many times.
What's the usual process for developing one of your posts? I make a lot of to-do lists, so my blog posts are usually born from an item that I've added to a list of things I want to bake. Once I pick what kind of food I want to make, I then start listing flavors, ingredients, or drawing doodles if it's something that I plan on decorating. I only have time to bake on the weekends, but by the time Saturday comes, I've been thinking about the blog post for a good part of the week already. Before I start baking, I try to pinpoint the steps of the recipe that might seem confusing or intimidating to a reader who has never tried it before. That helps me include photos or instructions that can clarify or convince someone to try something different.
What are your favorite ingredients and tools? My favorite ingredient is flour, and I have a good sized collection of different types of flours to fuel my bread baking obsession. At this point I have eleven different kinds of flour that are stored in their own pantry in my kitchen and I'm always tempted to buy more. My favorite tools are my beautiful hand burned rolling pin that my mom bought me for Christmas and my big red KitchenAid mixer that was a gift from my boyfriend. When I first started out, I only had a wine bottle for a rolling pin and I mixed everything by hand. You don't need fancy equipment to get baking but it certainly makes things easier.
What are your favorite food and cooking resources? The internet is my favorite resource when it comes to baking. It's not just the recipes but also the discussions that go on in the food forums and recipe comments about how a recipe worked for someone and what they changed/would change/would never change. I like to combine the well establish expert advice from an author like Peter Rienhart with the trial and error reports from bakers on the bread forums.
What photography equipment do you use? I wish I could tell you that I have a big beautiful camera and interesting lenses, but the truth is that right now I just work with the sunlight in my kitchen and a little Panasonic point and shoot that is usually coated in flour and bits of icing. I'm going to be purchasing a new camera in the coming months, and even though my current camera and I have had good times together, it will be nice to begin working with something a bit fancier.
What food blogs do you follow? My Google Reader is packed full of food blogs that I read through a number of times a week. Lately I've been enjoying Chasing Delicious for his elegant writing style and interesting flavor combinations. I love reading Yummy Supper for her travel stories and stunning photographs, and Eating and Living is where I go when I get a craving for Korean food.
Do you know a blog or blogger who deserves to be featured in this space? Email a nomination — including a link to the site and a few sentences on why they're worthy of love — to siteswelove@saveur.com.