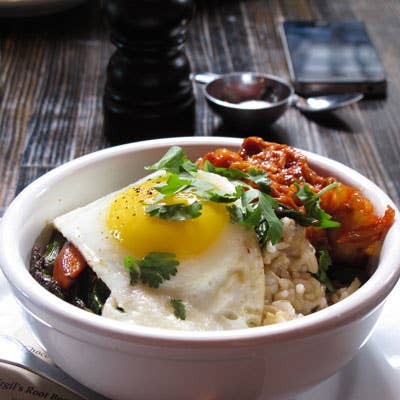 Culture
Sites We Love: DailyWaffle
Gorgeous photos? Check. Engaging writing? Check. Seriously inspiring recipes, tips, and culinary curiosity? Check, check, and check. The best food blogs all seem to have a lot in common — but what separates them out are the strong personalities behind them. In our Sites We Love series, we sit down with some of our favorite bloggers to find out how they do it — and why it's as much fun for them as it is for us.
Today's site we love is DailyWaffle, where California native Michelle Jenkins steps beyond her love of waffles, sharing recipes that range from pizza dough cinnamon rolls to fusion dishes inspired by her Japanese heritage. Here's what Michelle has to say about her site:
Blog has been live since: Off and on since 2005, but on/on since 2011.
Posting rate: 2 times a week (usually)
Geographic location: Suburban Seattle, while pining for California
Why is the site called The Daily Waffle? My husband claims he came up with the name. The way he tells it, to "waffle" is in the Australian sense, to ramble on. (Gee, thanks! He's not an Aussie, btw.) The way I tell it, I'd rather have waffles than pancakes 8 days out of 7, so the blog started out as the "not-so-daily chronicles of a waffle-lovin' home cook." It works both ways. Today, the blog is really focused on modern home cooking in Washington from a Californian perspective.
What's been your most popular post? Hands down, it's Nutella Fudgesicles, one of the first recipes I made after getting a Zoku Quick Pop maker. It was a sleeper for a long time and then took off on Pinterest. I made them with just two ingredients — chocolate hazelnut milk and Nutella. It's been interesting to see how other people riff on the recipe.
What's your favorite post? Although DailyWaffle is mostly home cooking, my favorite post is my snapshot of TastynSons in Portland. I don't call my restaurant posts reviews, because most of the time they're one off visits. I'm obsessed with TastynSons' brunch. Definitely put it on your list for your next trip to PDX. The photos were shot with a Canon Powershot G11, I think I just got lucky that day.
What's something great that you've learned or that's happened to you sincestarting your blog? I got serious about the photography and it's changed the entire experience of the blog. Initially, I brushed up on the basics, invested $10 in some foam board for reflectors and started following some photographers whose work I really admire, like Penny De Los Santos and Diane Cu and Todd Porter. Eventually I graduated to a full-on DSLR. If there's one piece of advice I can give, it's to take a class on how to use your camera! It's possible to have a high-powered piece of equipment and still take blurry photos.
What's the usual process for developing one of your posts? Ha! I wish I could say there is a process! I have a day job, so one post for the week is usually a weekend project based on whatever's new and exciting at the farmers market. The other post is a wild card, it could be something I had a craving for during the week, or something I spotted on another blog that sparked an idea. I'll shoot as I go and if the recipe works, I'll write up a post and then come back to it later for editing. I've thought about developing an editorial calendar, but I like the freedom to decide on the fly, rather than holding to a plan to make, say, a fourth of July dessert, a couple of weeks in advance.
What are your favorite ingredients and tools? Pancetta, soy sauce, and ginger. Pancetta does amazing things for soups, pastas, mac and cheese. You get that porky flavor without the smokiness of bacon. Soy sauce is kind of my ketchup. You can stir fry almost anything with a little soy sauce and garlic and it'll taste good. With ginger, I love it sweet as much as savory. On tools, I'll just say when we moved up to Seattle and were in temporary housing for a while, I had a whisk, a pair of tongs and a microplane stashed in my suitcase. I'd also add the mini-mandoline from Ichiban Kan, a Japanese dollar store in my old neighborhood. It's handy for super thinly slicing cucumbers and carrots for salads.
What are your favorite food and cooking resources? Mark Bittman's How to Cook Everything goes without saying. Williams-Sonoma's Kitchen Companion — it's a basic A to Z reference to ingredients and techniques that's great for when you can't remember the right ratios and cooking times for various grains, or you run into an apple variety and you're not sure if it's for baking or eating out of hand. Amazon is usually my first stop for supplies and new tools, and I love Penzeys for spices.
What photography equipment do you use? I mostly shoot with a Nikon D7000 with its standard 18-200mm lens, but when I'm traveling light, it's a Canon Powershot G11. And of course, an iPhone.
Do you know a blog or blogger who deserves to be featured in this space? Email a nomination — including a link to the site and a few sentences on why they're worthy of love — to__siteswelove@saveur.com.