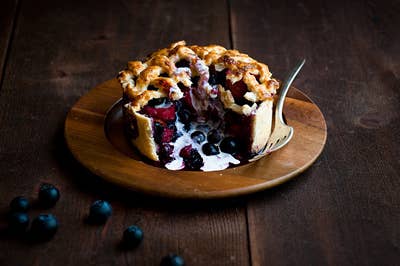 Culture
Sites We Love: Desserts for Breakfast
Gorgeous photos? Check. Engaging writing? Check. Seriously inspiring recipes, tips, and culinary curiosity? Check, check, and check. The best food blogs all seem to have a lot in common — but what separates them out are the strong personalities behind them. In our Sites We Love series, we sit down with some of our favorite bloggers to find out how they do it — and why it's as much fun for them as it is for us.
This week's site we love is Desserts for Breakfast, a blog devoted almost exclusively to desserts. Photographer Stephanie Shih believes in starting the day off right, and for her, cereal, bagels and other traditional breakfast foods are in no way included in the picture. She spices it up with the occasional non-dessert recipe, but for us, her whimsical sweets take the cake. Here's what Stephanie has to say about her site:
Blog name: Desserts for Breakfast
Posting rate: Usually twice per week—one major recipe post and one shorter, photography-related post—but, I do reserve the right to take short breaks when analog life starts piling up.
Geographic location: San Francisco Bay Area, California
Why is the site called Desserts for Breakfast? Ever since I was little, I never particularly liked to eat traditional breakfast foods for breakfast. Eggs, pancakes, toast, and even cereal were much better, I found, later on in the day, for lunch or for dinner. Of course, this left me with fewer options for breakfast, but I could always count on leftover dessert from the night before. Plus, why not start your day off with a bowl of ice cream (with some fruit and nuts)? It's just like milk, but without the soggy cereal at the end! When it came time to pick a name for a desserts-centric website, my penchant for eating sweeter meals first thing in the day seemed like the perfect inspiration.
What's been your most popular post? A recipe—a savory one, in fact!--that started out as a running joke has incredibly become my most-viewed post: the Pie-la Deen, which is a macaroni and cheese pie with a spicy cheddar cheese crust, deep-fried mac'n'cheese balls, and a bacon lattice top, served with Tabasco and maple syrup. Yes, it's as delicious and artery clogging as it sounds.
What's your favorite post? One of my favorite posts is about the Lady Grey Trio, a trio of orange, tea, and chocolate-flavored desserts, which I served at a particularly memorable get-together. It's one of my favorites not only because of the desserts but also because of the wonderful memories of good times it conjures up—I love it when my favorite people get to make an appearance on the blog.
What's something great that you've learned or that's happened to you since starting your blog? One of the best lessons that I've learned since starting the blog is how the act of sharing good food—even via the web, in images and in writing—can magically transform a relationship for the better.
One day, after about two years of blogging, I ran into an acquaintance of mine whom I hadn't seen for quite a while. She was someone that I had always tried to avoid because, despite my best efforts early on in our acquaintance, our relationship had always been, at best, icy, for reasons unbeknownst to me. But when I saw her again, she walked up to me and effusively said, "I've been reading your dessert blog and love it. It always lifts my spirits!" Magical moments like this that remind us of the universality of good food are what I live for when working on the blog and photographing food.
I'm a terribly obsessive person, so my posts usually start off with some preoccupation I'm having with a particular flavor combination or recipe idea. Once my obsession becomes overbearing, I have to develop it into a recipe and a blog post so that I can get it out of my head and actually think about other things!
What are your favorite ingredients and tools? My hands-down favorite ingredient to work with is fruit—the fresher, the better. I also love incorporating traditionally savory ingredients like fresh herbs into sweet desserts. My current obsession: thyme, which I've put into everything, from chocolate chip cookies to tarts, to creams.
Tools I can't live without include spoonulas, which are a beautiful marriage between spatulas and spoons, and good balloon whisks, which are so indispensable to me that I have been known to travel with them.
What are your favorite food and cooking resources ? The local farmers' markets are my go-to places to shop for food, but I also love Berkeley Bowl in the East Bay for their vast (and I mean vast) selection of everything and anything you could possibly need or want. As far as cookbooks go, I always turn to David Lebovitz's books for trust-worthy dessert recipes, the Scharffenberger chocolate book for all things chocolate-related, and the Chez Panisse cookbooks for inspiration when I need it.
What photography equipment do you use? I use a Nikon dSLR, usually with a 24-70 mm f/2.8 lens; Adobe Lightroom; and always—available, natural light. I also use my iPhone with Instagram and PictureShow apps.
Where else can we find your work? My food photography is featured in various outlets online and in print and can be found on my photography website. I also have a very special project in the works that will come out sometime this year.
What food blogs do you follow? Far, far too many to properly list them all here!, but they are listed on my blog's sidebar. Recently, a few favorites include Andrea Gentl's hauntingly beautiful Hungry Ghost food + travel, Nicole Franzen's simply and impeccably shot La Buena Vida, and Jen Yu's ever crisp and optimistic Use Real Butter.
Do you know a blog or blogger who deserves to be featured in this space? Email a nomination — including a link to the site and a few sentences on why they're worthy of love — to siteswelove@saveur.com.