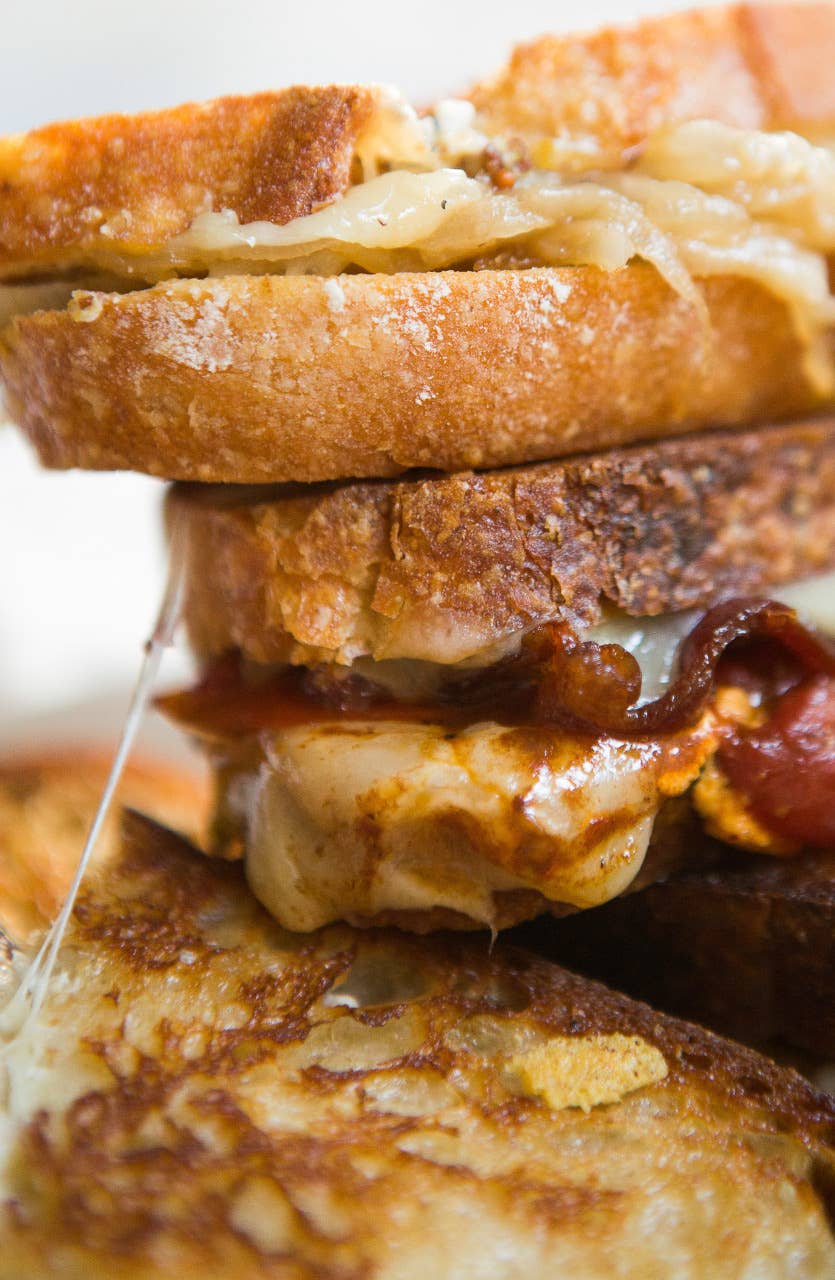 Culture
Sites We Love: Dinner Was Delicious
Gorgeous photos? Check. Engaging writing? Check. Seriously inspiring recipes, tips, and culinary curiosity? Check, check, and check. The best food blogs all seem to have a lot in common—but what separates them out are the strong personalities behind them. In our Sites We Love series, we sit down with some of our favorite bloggers to find out how they do it—and why it's as much fun for them as it is for us.
Today's site we love is Dinner Was Delicious, where Chicago-based friends Lucy Hewett, a photographer, and Rachel Adams, a writer, share recipes with an extra helping of biting wit. We love how they don't let their love of food make them take it too seriously. Here's what Rachel and Lucy have to say about their site:
Posting rate: Once a week
Geographic location: Chicago's Logan Square Neighborhood
Why is the site called Dinner Was Delicious? It's nothing deep or significant; we thought it looked pretty and sounded nice without being too precious. We're Capricorns and chronic over-planners so, naturally, we spent way too long brainstorming title ideas. We were trying to force something creative to happen, but ultimately we realized that the name didn't matter nearly as much as the stories we told. We just sort of slapped it up there, but we do hope it's something people say after they try one of our recipes!
What's your favorite post? We can't look at the Grilled Cheese and Tomato Soup without getting hungry. We shot the first day it got cold outside and it was some much needed melty, cheesy, cozy comfort food.
What's something great that you've learned or that's happened to you since starting your blog? Lucy: I'm finally starting to hold my own in the kitchen! The other night I whipped up a delicious, slightly spicy salad dressing on the fly. Before working with Rachel I never would've had the confidence or common sense to make something without a recipe. Learning the basics from her has done wonders for my eating habits.
Rachel: Because of the blog, the folks at Eat Retreat invited me to San Francisco last fall for three days of learning, cooking, eating, drinking, and all-night, Malort-fueled bullshitting, all in the name of food. Forty of us crammed into cabins on a farm for attendee-led workshops about salt, coffee, olive oil, and wine that isn't Two-Buck-Chuck (among other things). It was all very hands-on, like to the point that we slaughtered our own chickens. It completely changed how I eat meat, and gave me a massive appreciation for olive oil now that I know it's not supposed to taste like crayons. Lucy happened to be in the Bay Area for a shoot that weekend, so we got to bum around the Mission, visiting Tartine and Bi-Rite. That sort of brought everything together for me. I learned to trust myself when I'm cooking, when I'm writing, and when I'm having an adventure.
What's the usual process for developing one of your posts? We work about a month in advance and shoot 4 to 5 posts at a time. Four weeks before want to start posting, Rachel starts pulling together and testing a handful of recipes. After we figure out what's going to be the most fun to work with, Lucy puts together a plan for styling, making note of anything she wants on-hand for the day. It's really just an excuse for us to go thrifting and spend money we don't have on pretty stuff.
We set aside a Sunday one or two weeks before we're ready to post for Rachel to cook everything on our list and Lucy to shoot it while we blast Robyn. Lucy edits photos and Rachel writes up the drafts, and by the time we're ready to get things posted we're starting the process all over again.
What are your favorite ingredients and tools? Lucy: I cook with eggs a lot because they are fast and a good source of protein—and life is pretty much meaningless without runny yolks. As far as tools go, I'm one of those people who actually uses their ice cream maker.
Rachel: I can't do anything without a cast-iron skillet and I love my Wusthof knives. Having smartly designed tools that are well suited for their job makes all the difference. So does a big-ass brick of Plugra. My favorite secret ingredient is a little dab of white miso paste. It oomphs up stews and soups without really impacting the finished flavor but makes them taste like they were cooked for hours and hours. And I just got a special shaker just for powdered sugar and I'm still, three weeks later, really unreasonably excited about it.
What are your favorite food and cooking resources? Even though it's not directly food-related, Anne LaMott's Bird by Bird keeps our respective neuroses in check so we can be creative. Her philosophy on "Shitty First Drafts" is probably the most important and useful thing either of us have ever read. Ever.
What photography equipment do you use? Lucy uses a Canon EOS 5D Mark III, 50mm and 24-70mm lenses. We mostly use natural light and a bounce card, but Chicago's weather is weird, so sometimes Lucy brings in a Canon 580 EX II with a large soft box.
Where else can we find your work? Lucy is a professional photographer in Chicago. You can see her portfolio at LucyHewett.com and maybe even hire her to photograph your wedding at LucyHewettWeddings.com.
This one time Rachel wrote an essay for Teen Vogue, and she's still milking it on her resume. She hosts a monthly writing workshop in Chicago at her boyfriend's used book store, Uncharted Books.
Do you know a blog or blogger who deserves to be featured in this space? Email a nomination—including a link to the site and a few sentences on why they're worthy of love—to__siteswelove@saveur.com.