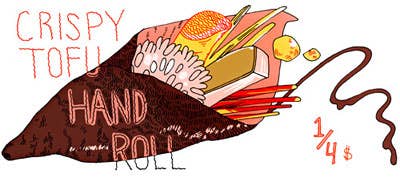 Culture
Sites We Love: Drawn and Devoured
Gorgeous photos? Check. Engaging writing? Check. Seriously inspiring recipes, tips, and culinary curiosity? Check, check, and check. The best food blogs all seem to have a lot in common — but what separates them out are the strong personalities behind them. In our Sites We Love series, we sit down with some of our favorite bloggers to find out how they do it — and why it's as much fun for them as it is for us.
This week's Sites We Love is Drawn and Devoured, where illustrator Katherine Verhoeven amuses readers with her creative, whimsical, and downright awesome foodie drawings. You won't find any recipes here; rather, the site is full of quirky reviews and original drawings inspired by the restaurants of Toronto. Here's what Katherine has to say about her site:
Photo: Katherine Verhoeven
Live since: It's still a baby - launched in January 2011
Posting rate: I post once a week with an illustrated review, but I've been known to throw in the odd snatch of extra content. If I've done something relevant to the blog somewhere else, I'll post it.
Geographic location: Toronto, Ontario
Why is the site called Drawn & Devoured? Sometimes I wonder if I would even be running a blog without this name. Like Athena, it sprung fully formed from my head, demanding immediate attention. Other than covering the theme of my creation succinctly, it also fills a desire I have to make all things alliterate, and touches on my ludicrous appetite.
What's been your most popular post? I have a lot of fun seeing what gets popular, and trying to understand why. I was surprised that my review of The One That Got Away held out for many, many months (it's just a fish and chips joint without even a twitter account!) and only just got dethroned by the meaty powerhouse of Caplansky's. Sometimes I know something will hit it off because it fills a unique niche, and the owners aren't just great chefs, but are clever online.
What's your favorite post? That's tough. Really! I think Drawn and Devoured breaks down into a lot of pieces, and sometimes I'll love one post for one piece, but not the others. I'm very critical of my drawing, hand-lettering and writing skills. I geek out a bit when I can sneak a cartoon or comic into a post, so times when I've done that I'm extra pleased. I think the one post that comes closest to being best at everything (not too mention super tasty) is the review of 416 Snack Bar. I just love fleshy pink! I got to do a bit of everything that time, and there was lots of good food to eat and draw.
Illustration: Katherine Verhoeven
What's something great that you've learned or that's happened to you since starting your blog? If you're into design, you probably know that that breed of creator is generally a hermetic type- all the moreso for illustrators, who spend so much time at drafting tables and computers. Naturally, I'm not immune to the isolation, and have generally discredited the strength and interests of community. Running a blog, especially a food blog, goes against all that. Going out to lunch or dinner every week keeps me in touch with people who I might not otherwise see regularly. It's a great way to network, and it's always, always fun. A blog is an open invitation to dialogue as well. I've had comments from owners of my reviewed restaurants who really love what they're seeing, and I'm surprised by how many doors to illustration have opened to me just because of this once a week blip of quality content. I'm surprised by how much it spreads by word of mouth. I get work from this blog, which is the greatest surprise I could ask for. I am no longer an underappreciator of community, or the power of staying connected. I suppose running Drawn and Devoured, creating it, has forged an optimist out of me, and has helped awaken my community spirit.
What's the usual process for developing one of your posts? There's actually a pretty fun comic I got to make that answers this very question (link below). I think I can answer best in images as that's where my humour lies, but basically the blog process starts right here...the internet. I have a few go-to sites now where I find out about new and interesting restaurants in Toronto, and try to figure out what I'd like to experience. I get an idea of what's delectable-sounding, and then see which friends are around - guests are a must, because I like to have at least two things to review, preferably more (I have totally used solo blog dinners as an excuse to eat more than I should!). Now, I could ramble on in detail about the scrumptious experience of dining, the subterfuge of note-taking and evading the questioning eyes of the server, but let's skip to the end: I'm usually drawing for a full say either Sunday or Monday, since Drawn and Devoured always goes up on Tuesdays. I make the drawings, ink them in a multi-page process, then scan and finish in photoshop. The writing takes an hour or so. (Here's a comic of my process.)
What are your favorite types of food to draw? To eat? I'm crazy about variety and the unusual. I think the best restaurants to go to are tapas-style, since there's so much more to try, and a lot of creativity on the chefs part. Personally I'm a sucker for spicy foods, or unusual ingredients (though pale compared to a true gastronomical traveller, I feel proud of my excursions into tongue, horse, jellyfish, natto and kangaroo). I also have a predisposition of choosing where to dine and what I order with consideration for how it will look on a plate. Wraps have left my vocabulary, and I loathe drawing french fries and salad (but I will eat them!).
Illustration: Katherine Verhoeven
What are your favorite food and cooking resources? My Oma gave me this incredible tome of a book called 'The Cooking Encyclopedia', which is a major go-to for a lot of recipes. I've gotten pretty caught up in this whole crazy enviro-gluten-free-vegan-veggie-sustainable-healthy food movement (despite being a total carnivore, I want to experience all foods), so I modify a lot from it. As a true child of my generation, a great deal of my inspiration comes from online. Oreo stuffed chocolate chip cookies? Check.
What medium do you most frequently draw with? Trial and error and deadlines have gotten me into this very comfortable work technique. I mean, if you look back to the early entries, there's a lot for variation in what I'm doing and in the results, but right now I think I've pretty much figured out how to work fast and make good content. I'm an india ink junkie, injecting it right onto the page in layers upon layers, all by brush. All the shading is ink, but photoshop helps me colour and play around.
Where else can we find your work? My main site is www.verwho.com, where you'll find my editorial illustrations and comics, as well as links to my blogs. I also organize a group project called Tetrad Tarot, where there are four of us recreating a tarot deck. It's nice to have these projects. I have a couple other projects I'm going to be starting this summer (another group blog, and a webcomic), but first I need to put the final touches on a short graphic novel I've made with food and poetry called 'Dangerous Cooking'. It's a little sexy. It will be available through my site in the next month.
Do you know a blog or blogger who deserves to be featured in this space? Email a nomination — including a link to the site and a few sentences on why they're worthy of love — to siteswelove@saveur.com.