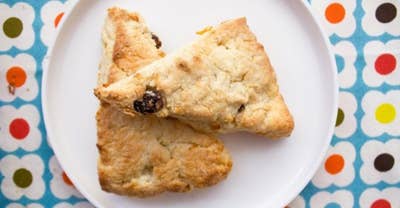 Culture
Sites We Love: Eat Make Read
Gorgeous photos? Check. Engaging writing? Check. Seriously inspiring recipes, tips, and culinary curiosity? Check, check, and check. The best food blogs all seem to have a lot in common — but what separates them out are the strong personalities behind them. In our Sites We Love series, we sit down with some of our favorite bloggers to find out how they do it — and why it's as much fun for them as it is for us.
This week's Sites We Love is Eat Make Read, a quaint little blog where wonder woman Kelly Carambula shares easy to follow recipes, excerpts from her food magazine, Remedy Quarterly, and our personal favorite, thoughtful seasonal cocktails. Kelly's friendly voice and colorful photography never fail to brighten our day—and her cocktails don't hurt, either.
Live Since: February 2007
Posting Rate: 1-2 recipes a week, including a weekly happy hour recipe**
Geographic location: **Brooklyn, New York **
**Why is the site called "Eat Make Read"?**** I started the blog because I was bored and needed something to do... eating, making and reading were all things that I liked to do and I figured I there'd be no excuse not to find inspiration.
What's been your most popular post? A few years ago I started posting a weekly cocktail recipe and they've really taken off. To date, my mango margarita with a spicy salted rim seems to be the most popular... I guess people like their margaritas (I can't blame them).**
**What's your favorite post?**** That's really hard to say, but there are a few that I go back to over and over again. For instance, my blood orange and cherry scone recipe is a real keeper. I've used the dough as a base for all sorts of fruits and it always comes out awesome.
I absolutely love these corn cakes--summer isn't complete until I've whipped up some of these. As for drinks, I love bourbon and whisky, and this pear cocktail is one of my recent favs. **
What's something great that you've learned or that's happened to you since starting your blog? **My favorite thing, hands down is the people I've met—both online and in person. Since starting eat make read, I've become friends with some amazing people around the world. Those connections have led to new opportunities that I could have never dreamed of when I started my blog, from being a published writer in magazines like BUST and ReadyMade to actually publishing my own food magazine... it still kind of blows my mind. ****
**What's the usual process for developing one of your posts?**** Often I start by going to the farmers market on Saturday morning to see what's in season. Once I have an ingredient, my husband and I sometimes toss ideas back and forth or I'll flip through my cookbooks to see if anything pops out. Once I've found something to my liking, I'll photograph the ingredients—I like to highlight the ingredients because I think it's important to acknowledge all that goes into a recipe. I might photography a few process steps, then I'll shoot the outcome.
Once I have all the photos shot, I'll upload them and edit them. Then I just kind of write about what I was feeling, how the process went and what the final product tastes like—if something isn't just right, I'm not afraid to say, you might want to use a little less sugar or this might taste great with a little lemon added. It's all an experiment and something that can evolve.**
What are your favorite ingredients and tools? **I really like fresh ingredients that I find at the farmers' market. I love looking forward to new fruits and vegetables and really enjoying them while there in season.
My favorite tools— I love my microplane, it's amazing how a little zest or freshly ground spices can really brighten up a dish. I love my Y-peeler because it makes lovely peels for cocktails. These silicone ice cube trays are awesome, they make perfect cubes, which are great for cocktails.
What are your favorite food and cooking resources (books, stores, etc.)? Ohhh, I love cookbooks and magazines. I especially love vintage cookbooks, so shops like Omnivore Books on Food in San Francisco and Kitchen Arts & Letters in New York that have both new and old cookbooks are super dreamy. Some of my favorite cookbooks are Simply Organic: A Cookbook for Sustainable, Seasonal, and Local Ingredients by Jesse Ziff Cool, Super Natural Cooking: Five Delicious Ways to Incorporate Whole and Natural Foods into Your Cooking by Heidi Swanson, and_ Mix Shake Stir: Recipes from Danny Meyer's Acclaimed New York City Restaurants_ by Danny Meyer. I love Saveur (I'm not just saying that either), New York Magazine, and the New York Times.**
**What photography equipment do you use?**** I use a Canon Rebel XSi and lately I've started using my iPhone here and there. If I have to shoot at night, I also have a speedlight flash which is a pretty awesome tool.
Where else can we find your work?**** I publish a food magazine called Remedy Quarterly. Each issue is filled with food memories and the recipes that inspired them. Plus you'll find interviews with interesting and inspiring people in the food world, tips and happy hour recipes. I also write a weekly column called Drinking in Season over on Serious Eats, where I choose a fruit (or vegetable) that's in season and create a cocktail based around it.