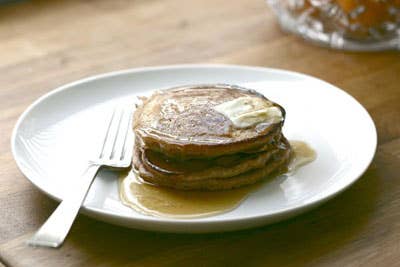 Culture
Sites We Love: Eat This Poem
Gorgeous photos? Check. Engaging writing? Check. Seriously inspiring recipes, tips, and culinary curiosity? Check, check, and check. The best food blogs all seem to have a lot in common — but what separates them out are the strong personalities behind them. In our Sites We Love series, we sit down with some of our favorite bloggers to find out how they do it — and why it's as much fun for them as it is for us.
Today's site we love is Eat this Poem, where Nicole Gulotta brings her MFA in Poetry to the table for a pairing menu of food and literature. With insightful and eloquent posts, a well-curated selection of poetry, and delicious original recipes, we are thoroughly taken with her unique approach to food blogging. Here's what Nicole has to say about her site:
Blog has been live since: January 2012, but I wrote my previous food blog, Cooking After Five, for almost four years before changing course.
Posting rate: Once per week.
Geographic location: Los Angeles
Why is the site called Eat This Poem? I create recipes that are inspired by poetry. When people hear the title of my blog, I want them to know what it's about immediately.
What's your favorite post? My first post with a winter market salad has a soft spot in my heart because it launched the site and a new chapter in my life as a food blogger. I had read the poem, "Baskets" by Louise Gluck, over the holidays last year and my mind immediately swarmed with recipes. That's when the the idea of Eat This Poem sparked, so I'm grateful for that.
What's something great that you've learned or that's happened to you since starting your blog? At the end of last year I found myself writing a food blog that no longer excited me. Cooking After Five helped me find my voice and taught me so much as a home cook, but I was feeling a pull that it was time to move on. Because of my background in literature, I wanted to revisit that part of my life in a new way. When I arrived at the idea for Eat This Poem, it felt right immediately. I didn't spend a lot of time analyzing, I just went for it. The lesson is to follow your passion. I think I knew this all along and it's why I felt starting Eat This Poem was the right thing to do, but the reader response has only confirmed my blog transition. I've also been pleasantly surprised to find out how many foodies love poetry!
What's the usual process for developing one of your posts? It varies. Sometimes it begins with reading a poem that has a food reference. I'll brainstorm some recipe ideas in a notebook and mull it over for a few days. Other times I'll come up with a recipe first, like when I'm driving home from work or walking the dog, and then be on the hunt for a poem to match. I try not to force anything. Instead, I trust in the creative process and believe that as long as I keep reading and coming up with new recipes, eventually the right pair will find a way to be together.
What are your favorite ingredients and tools? Garlic, parsley, olive oil and Parmesan are essential. Can you tell I'm Italian? I also love a hearty grain salad, like farro or quinoa, because they make simple, satisfying meals. I bought a Vitamix in January that I'm really enjoying. It makes soup extra silky, and now I make smoothies for breakfast every morning. I use my 7 1/4-quart Le Creuset Dutch oven all the time, and believe you can never have too many wooden spoons.
What are your favorite food and cooking resources? Lately I've been reading Good to the Grain by Kim Boyce, which is incredibly well written and informative. Because my cooking style is healthy and mostly vegetarian, I often visit the website of Whole Living for inspiration, and subscribe to more food magazines than I care to admit. When I have the time to visit, Williams-Sonoma is my happy place. My husband says I look like a kid in a candy store when we go.
What photography equipment do you use? I shoot with a Canon Rebel XTi and a 50 mm lens. I just realized recently that my iPhone has the same number of pixels as my camera, so I'm in the market for an upgrade.
Where else can we find your work? I have a recent article in the Christian Science Monitor, and have contributed to Remedy Quarterly. Last year I started The Giving Table, a website that connects food and philanthropy, where I write about the food system, the hunger crisis, healthy eating, and ways to get involved in the food movement, among other things.
Do you know a blog or blogger who deserves to be featured in this space? Email a nomination — including a link to the site and a few sentences on why they're worthy of love — to__siteswelove@saveur.com.