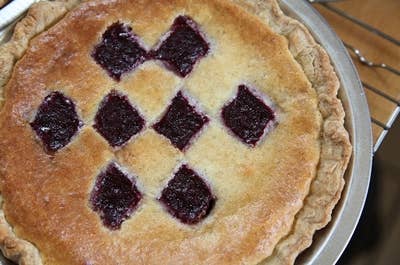 Culture
Sites We Love: Eat the Love
Gorgeous photos? Check. Engaging writing? Check. Seriously inspiring recipes, tips, and culinary curiosity? Check, check, and check. The best food blogs all seem to have a lot in common — but what separates them out are the strong personalities behind them. In our Sites We Love series, we sit down with some of our favorite bloggers to find out how they do it — and why it's as much fun for them as it is for us.
We love Eat the Love because Irvin's beautiful sweets look as good as they taste — his art director's eye appreciates the ruby sparkle of a pile of pomegranate seeds against the matte canvas of chocolate ganache. But he's also your go-to guy for gutsy flavor combinations and knock-out dinner-party desserts — even if your hostess is a health-nut with a wheat allergy.
Here's what Irvin told us about his site:
Posting rate: Twice a week.
Geographic location: San Francisco, CA
Why's the site called Eat the Love? A macrobiotic vegan friend once told me that despite the fact that he doesn't eat meat, processed wheat, or refined sugar, he would go home to his grandma's home in Tennessee once a year and eat her meatloaf and fried chicken and collard greens with bacon and buttermilk biscuits from lard and sweet potato pie and pecan pie and red velvet cake. I asked him why, and he responded back to me, "because when you eat the food that someone makes for you, you are eating their love. You are eating the love." The website is an attempt to share my food for everyone, even those with food restrictions.
What's been your most popular post? By far my most popular post has been the Blackberry Lemon Chess Pie post, where I competed in the SF Food Wars. If you read the post, you can tell from its frenetic energy and generous use of exclamation points that I'm still on the adrenalin high from winning the contest.
What's your favorite post? My Chocolate Caramel Cheesecake post where I tell the story of how I got together with my partner and our ten year anniversary celebration.
What's something great that you've learned or that's happened to you since starting your blog? I started the blog on some advice from a friend when I was miserable about my life. He gave me some counterintuitive advice and told me instead of doing less work I needed to do more work, but work that I loved. I realized my passion was in writing and baking, and so I combined the two and started my blog. The blog gave me the courage to quit my job and start a new chapter of my life. My Peach and Strawberry Cream Cobbler recounts my nervous tale of quitting my job.
What's the usual process for developing one of your posts? It varies widely, but it all starts with my love of baking. I am constantly thinking of new flavors to combine or new desserts to come up with. I bake incessantly. My blog posts usually evolve from there.
What are your favorite ingredients and tools? For ingredients, my arsenal of different flours. Most bakers stick with wheat flour, whether it's all-purpose, cake, bread or whole wheat. Baking gluten-free or vegan has opened up my creative palette to ingredients that I normally wouldn't have thought about. Now when I develop a recipe I think to myself, does all-purpose flour make sense, or is there a better flour that would add to the flavor?
My favorite tool in the kitchen is my KitchenAid mixer. When my partner and I moved in together, I soon discovered that we had very different sleep schedules. He would go to sleep much later than I would. And as I got into bed, I would ask his certain things, which in his sleeping daze, he would always say yes to. "Will you do the dishes tomorrow?" "Yes," he would respond groggily. "Will you do the laundry for us?" "Sure," he'd respond in his sleep. So finally I tested this out by asking him one night "Will you buy me a KitchenAid mixer?" and he responded "Ha! No." and promptly fell back to sleep. Five months later, for my 30th birthday, he bought me one. [That's adorable —Ed.]
What are your favorite food and cooking resources? I have a huge collection of cookbooks that I use as references all the time. San Francisco is very lucky to have a bookstore that is dedicated to cookbooks, Omnivore Books, which I love to go and browse and attend events at. I am also on Twitter a lot (@jackhonky) and communicate with other food people and bloggers around the world, too many to mention, but I've found them to be the best resource out there if I ever have a question!
What photography equipment do you use? My partner takes about 70% of the photos on my blog, and I take the other 30% when he's not available. We currently use a Canon 5D MKII camera with either a 50mm 1.4 lens or an L Series 24-105mm 4.0 lens. We try to use natural light whenever possible, but we do resort to the Speedlite 580EX and Speedlite 580EXII flashes that we have when I'm up late baking, or it's wintertime and the sun sets at 4:30 in the afternoon. Recently we got a few gadgets like a collapsible light box and a remote flash trigger and flash softbox, so we'll be playing with that. My partner also rents a studio, so in the future, for more elaborate desserts, we may go over there to see about properly photographing them. But that's definitely for more special occasion desserts!
Do you know a blog or blogger who deserves to be featured in this space? Email a nomination — including a link to the site and a few sentences on why they're worthy of love — to siteswelove@saveur.com.