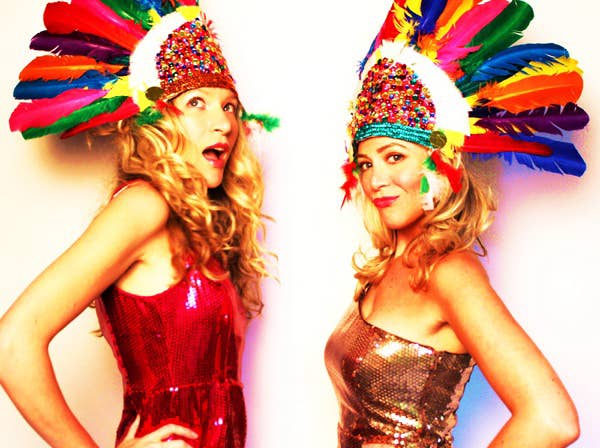 Culture
Sites We Love: Fashionably Bombed
Gorgeous photos? Check. Engaging writing? Check. Seriously inspiring recipes, tips, and culinary curiosity? Check, check, and check. The best food blogs all seem to have a lot in common — but what separates them out are the strong personalities behind them. In our Sites We Love series, we sit down with some of our favorite bloggers to find out how they do it — and why it's as much fun for them as it is for us.
This week's Site We Love is Fashionably Bombed, where sisters Flannery and Katherine Good invent inspired (and often wacky) cocktails that they pair with fabulous ensembles to wear while drinking. From their Thanksgiving Cranberry "Sauced" Cocktail (made with tangerine juice, cranberries, and maple syrup, and coupled with a homemade, rhinestone encrusted headdress), to a Jersey Shore Champagne drink made in honor of the reality show's fourth season premiere, these drinks — and their creators — are seriously clever and seriously good. Here's what Flannery and Katherine have to say about their site:
Posting rate: We post 5 days a week!
** Geographic location:** Fresno, California
** Why is the site called Fashionably Bombed? **Our blog is all about our two favorite things: Fashion + Cocktails. Additionally, we have always thought that the term "bombed" was a hilarious way to describe someone who is having a bit too much fun! In fact, when we were young, Flannery gave Katherine the nickname "KathBomb." She hated it, but it stuck!
What's been your most popular post? When Charlie Sheen was just starting to go crazy earlier this year we thought it would be funny to make a cocktail in his honor, so the Charlie Sheeni Martini was born. We used freshly squeezed blood orange juice to represent his tiger blood, X-Rated Liqueur to represent his penchant for porn stars, and we topped it off with Rockstar Energy Drink because he claimed to be a "Bitchin' rock star from Mars." We even gave it a "cocaine" rim (powdered sugar, of course!). The day we posted it we got a call from CBS news and it went viral from there. It was meant to be funny, but it was actually a very tasty cocktail! Our most surprisingly popular post, however, was our Adult Root Beer Float. It was such a simple idea: vanilla vodka, vanilla ice cream and root beer, but for some reason people loved it!
What's your favorite post? Flannery: We love Mexico, and, in fact, we are Mexican (our grandfather is from Zacatecas). We have both traveled all over Mexico exploring various regions and although we look far more Norwegian (thanks to our dad), we definitely feel a strong connection to our Mexican roots. That being said, my favorite post has to be our Dia de los Muertos video. I laughed so hard I cried the first time I watched the footage!
Katherine: Being a music lover and a DJ, I'd have to say that my favorite post was our "Snow-tini" video. In it we recreated, frame by frame, the popular 90's video for the song Informer by Snow. I got to play Snow, Flannery played MC Shan, and we both got to be the backup dancers. We are both big fans of early 90's hip-hop, so needless to say we had a blast. And the Snow-tini cocktail literally looked like a snowball in a glass, garnished with a fluorescent pink Hostess Snoball!
What's something great that you've learned or that's happened to you since starting your blog? One of the best things that we've learned is how to focus our energy. In the beginning we were overwhelmed with the millions of ideas that we had for cocktail recipes, photo shoots, videos, etc. Blogging is the perfect way to bring an idea to fruition and then move on to the next idea. We feel a great sense of accomplishment when we look through our blog at all of the ideas that we have actually turned into something!
What's the usual process for developing one of your posts? We love to focus our cocktail and fashion posts around holidays and events going on in our lives. Since we are constantly coming up with ideas for posts, we spend a lot of time brainstorming (probably more than we should!) Once we decide on a cocktail idea, we experiment with different ingredients until we create something that we both love. We then style it, photograph it, edit the photos and write the copy. For our video posts a lot more work is involved. We come up with a concept, write a rough script, design the set, shop for the wardrobe, film it, edit it, etc.
** What are your favorite food and cooking resources?** We like to look at creative cocktail menus, especially when we travel. But honestly, our best resource is our imaginations! Everything that we see, do, taste, and hear becomes an idea for a new cocktail, photo shoot, or video. It's an obsession and we drive everybody around us crazy because we can't stop talking about the blog, or as our grandpa calls it, "the blob."
** What photography equipment do you use?** We use a Canon T2i and bright sunlight.
** Where else can we find your work?** We've been featured on CBS.com, Time.com, Esquire.com, and our recipes are currently being featured on Gojee. You can also find us on Twitter and Facebook.
Do you know a blog or blogger who deserves to be featured in this space? Email a nomination — including a link to the site and a few sentences on why they're worthy of love — to siteswelove@saveur.com.