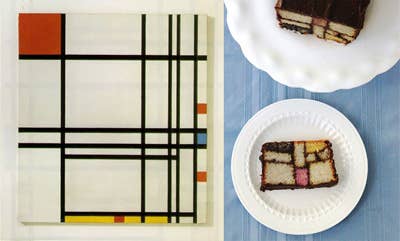 Culture
Sites We Love: Feasting On Art
Gorgeous photos? Check. Engaging writing? Check. Seriously inspiring recipes, tips, and culinary curiosity? Check, check, and check. The best food blogs all seem to have a lot in common — but what separates them out are the strong personalities behind them. In our Sites We Love series, we sit down with some of our favorite bloggers to find out how they do it — and why it's as much fun for them as it is for us.
This week's site we love is Feasting On Art, where blogger Megan Fizell writes about the intersection between food and art. From a Mondrian print cake to a a poinsettia cocktail inspired by Andy Warhol, her blog is full of thoughtful and clever recipes inspired by great works of art. Here's what Megan has to say about her site:
Blog name: Feasting On Art
Posting rate: 2-4 posts per month
Geographic location: Sydney, Australia
Why is the site called Feasting On Art? The blog is comprised of recipes that are inspired by art. When cooking the recipe, one is in effect, feasting on art.
What's been your most popular post? The recreation of the SFMOMA's Mondrian Cake has been my most popular post in terms of hits as well as comments. I am not an entirely adept baker and it became a very involved project that took over every surface of the kitchen including parts of the floor. It took me almost as long to make the cake as it did to clean everything up which makes me pleased that the post has had such a positive response.
What's your favorite post? My favorite posts tend to feature memorable dishes shared with family or friends. The post about Édouard Manet paired with a recipe for savory palmiers is a favorite because Manet's work originally piqued my interest in still life paintings and I made the palmiers for my parents the first time they visited me in Australia. It had been over a year since I last saw them and our breakfast of delicate pastries over strong coffee is a very happy memory.
What's something great that you've learned or that's happened to you since starting your blog? I started the blog as a way to continue to learn about art while indulging in my interest in food. When starting the site, I never envisioned a career in writing about the intersection of food and art, but over the years, one has organically developed. A major highlight was the recent catalog essay I wrote for the exhibition 'Acquired Taste: Food and The Art of Consumption.' A not-so-secret career goal has always been to have my writing used as a footnote in research papers and I am hoping this essay brought me one step closer. I will also be curating an exhibition titled 'Art + Food: Beyond the Still Life' at Brenda May Gallery in October.
What's the usual process for developing one of your posts? Each recipe follows a different path from inception to completion. I have a large archive of still-life images amassed on my computer, and every couple of months I cull the collection and make a shortlist of works I would like to feature on the blog based on the season. From that point, I will either select an artwork and start working on a recipe based on the heritage of the artist (i.e. if it is a painting by a French artist I will try to make a French recipe) or I will search through my folder of recipe ideas and then try to match a painting to the food. For each post, I have a day of planning and research, a day of cooking and photographing, and then another day of writing.
What are your favorite food and cooking resources? I have a hefty collection of food magazines (Saveur, Bon Appetit, Gourmet Traveller, Jamie Magazine and Feast) that I reference often (made easy by the website Eat Your Books). Although I have two shelves heaving with books, I cook from the same handful over and over including Plenty by Yotam Ottolenghi, Tender by Nigel Slater and a cookbook my mother made 20 years ago for a family reunion.
What photography equipment do you use? Canon 5D Mark II with a 24-70mm lens and natural light. Recently I started using my Instagram photos to save having to haul my camera kit into the kitchen.
Where else can we find your work? My writing has appeared in Ceramics Monthly, Artlink, Journal of Australian Ceramics and on the websites of The Christian Science Monitor, Curator and art:21. I have been featured on/contributed to ARTnews, MiNDFood, the websites of Bon Appetit, Glamour, GOOD and Fine Cooking magazines, Design* Sponge, Serious Eats, The Kitchn, Dolce & Gabbana and SBS Food.