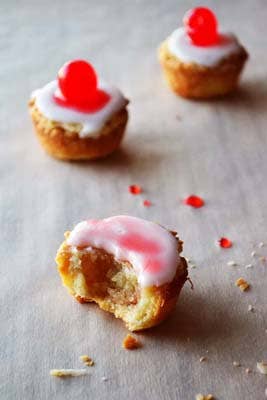 Culture
Sites We Love: Feasts for All Seasons
Gorgeous photos? Check. Engaging writing? Check. Seriously inspiring recipes, tips, and culinary curiosity? Check, check, and check. The best food blogs all seem to have a lot in common — but what separates them out are the strong personalities behind them. In our Sites We Love series, we sit down with some of our favorite bloggers to find out how they do it — and why it's as much fun for them as it is for us.
Today's site we love is Feasts for All Seasons, a blog where proprietor Sarah Letain brings us in on her ideas for and experiments in eating seasonally. Writing from Vancouver, she's inspired by the city's international flavors, and of course, the region's abundant produce. Here's what Sarah has to say about her site:
Posting rate:If I could blog every day, I would, but often life gets in the way. I try to maintain 4-6 posts per month.
Geographic location: Vancouver, British Columbia, Canada
Why is the site called Feasts for All Seasons? I have always had an interest and natural inclination to cook and eat seasonally. I believe it's partly because my early childhood was spent in a very small town in an agricultural community where preparing what was in season was the norm. In the winter we ate the cold crops and the harvest vegetables that kept through the winter, in the summer we ate more tomatoes and peas than we could bear, simply because that was what was growing and available. No matter what the season, there are great things to eat, and timing it right means that you will get the freshest foods at their very best.
What's been your most popular post? You wouldn't know it by the number of comments but a post I wrote on November 16, 2010 about my late mother and her pancake recipe has garnered more attention than almost any other post. Readers emailed me to share their stories of lost loved ones and friends and family acknowledged and celebrated her memory with me. At the time, Feasts for All Seasons was less than a year old and that post gave me a lot of confidence and reminded me of why I collect and create recipes and why I want to share them: Cooking, eating, gathering, feasting, are all fundamental parts of the human experience. Food brings us together and that togetherness is worth celebrating.
What's your favorite post? This post with a recipe for home made veggie burgers is one of my favorites because I really love the recipe and it was so satisfying to share the story if how I made my niece into a veggie burger convert — and we aren't even vegetarians!
What's something great that you've learned or that's happened to you since starting your blog (please be specific - an anecdote, technique, etc.)?I have learned so much, it's hard to know where to start. When I started Feasts for All Seasons it was an experiment to challenge myself and see if I had what it takes to write the cookbook I have been dreaming about writing for many years. I initially saw a blog as a training ground for the bigger book project and I wanted to be sure that a.) I liked writing about food as much as I thought I did and b.) that people would take interest and want to hear what I have to say. Over time, I have seen my writing and photography both evolve and grow not to mention my skills and inspiration. I'm happy to say that based on the feedback from the blog and my confirmed passion for food styling, photography and writing, I have begun the book. Now I just need to find a publisher ...
What's the usual process for developing one of your posts? I have tried very hard to keep Feasts for All Seasons growing with a wide selection of foods and recipes, all of which reflect what we love to eat. I believe in simple, elegant, honest cooking so more often than not inspiration comes from everyday sources like the market, a magazine, a memory or a craving. Once I'm inspired, I set out to (re)create the dish and photograph it right away.
What are your favorite food and cooking resources? I'm currently in the predicament of having too many cookbooks for the space I have to put them. Rarely do I cook from them, but I love to read them like novels and take cues from the photos. Many of my favourites are by Nigella Lawson, Donna Hay and Jamie Oliver. I also collect vintage cookbooks from the mid 1800s-1960s. I find it fascinating to see the trends and changes in cooking over time.
What photography equipment do you use? I shoot with natural light in my kitchen or studio with a Nikon D3100 and the stock lens it came with. No bells, no whistles.
Where else can we find your work? Nowhere ... yet. It is such an honour to be recognized by Saveur and I am itching to start collaborating with other bloggers and artists and contributing to like minded publications. If that's you, drop me a line or follow me on Twitter and Flickr.
Do you know a blog or blogger who deserves to be featured in this space? Email a nomination — including a link to the site and a few sentences on why they're worthy of love — to siteswelove@saveur.com.