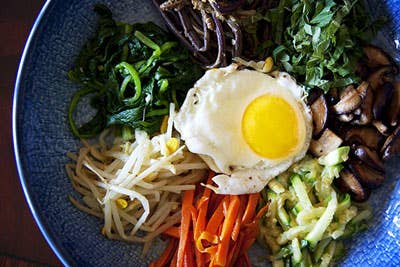 Culture
Sites We Love: Globetrotter Diaries
Gorgeous photos? Check. Engaging writing? Check. Seriously inspiring recipes, tips, and culinary curiosity? Check, check, and check. The best food blogs all seem to have a lot in common — but what separates them out are the strong personalities behind them. In our Sites We Love series, we sit down with some of our favorite bloggers to find out how they do it — and why it's as much fun for them as it is for us.
This week's Site We Love is Globetrotter Diaries, where best friends Karen Chan and Valerie Edmon have teamed up to bring us a world of authentically prepared and beautifully photographed dishes. From Korean Bibimbap to shrimp in aguachile to Ethiopian berbere, their recipes always inspire culinary adventurism. And with Globetrotter Diaries' step-by-step photos and anecdotes woven through food history lessons, you won't even have to pack your suitcase. Here's what Karen and Valerie have to say about their site:
Photo: Globetrotter Diaries
Posting rate: About twice a week
Geographic location: Los Angeles, CA
Why is the site called Globetrotter Diaries? The original inspiration for Globetrotter Diaries was the desire to travel all over the world exploring the intersections of food and culture. The blog is a way to virtually fulfill the foodie fantasy of eating your way around the world.
What's been your most popular post? Chinese Tea Eggs (cha ye dan), which came as a surprise considering it's a more obscure dish. To make them you steep gently cracked hard boiled eggs in a mixture of tea, soy sauce and spices. The result is a gorgeous "crazing" pattern reminiscent of ancient Chinese pottery.
What's your favorite post? Hands down the pig roast. It was such an adventure from start to finish. For both of us, it was our first time visiting a farm and picking out the animal we would eventually consume. That kind of experience shifts your perspective on the connection to the foods you eat. And that was only the start of it. From building the barbeque to planning a party for 50 people to actually cooking the pig, this wasn't just a post— it was an event. The fact that many people said it was the tastiest pork they had ever had was just mojo on the cracklin's!
**What's something great that you've learned or that's happened to you since starting your blog? **Valerie: Blogging always reminds me that the world is so huge but the little connections we have make it so, so tiny and cozy. Whenever I see that someone has stopped by Globetrotter Diaries from South Africa, where I recently spent two precious years studying education, I get this feeling like I'm back home for a moment and all the memories come rushing back.
Karen: This is going to sound cliche but I've learned that authenticity is what resonates with people, so be yourself. Of course this goes for anything else in life but with an online presence you can't help but sometimes get caught up in what you think others want to see. Our most popular posts seem to be the ones I've been dying to do for personal reasons and I think that passion comes through in the writing. The blog is a wonderful reminder of the power of staying true to yourself.
What's the usual process for developing one of your posts? Karen: I usually see where we haven't "travelled" to and use that as inspiration. The process of choosing the particular dish to make is based on what is seasonal and personal preference. However, I'm always drawn to dishes that tell a story or are significant to the history of places. Food is so much more than sustenance and whether it's a personal or collective story to tell, the background behind food traditions is fascinating. After that, it's just researching recipes, picking a day to cook, playing some music to cook to and of course, eating.
What are your favorite ingredients and tools? Karen: Just to name a few, quality sea salts (like fleur de sel and Maldon), good butter, white anchovies, Tapatio and Sriracha. As for tools, my general rule is the more cumbersome the better so my favorites are heavy cast-iron cookware and mortar and pestles.
Valerie: Mirin and bacon, not necessarily together. A really big heavy super sharp knife and my Le Creuset Dutch oven.
Photo: Globetrotter Diaries
What are your favorite food and cooking resources? Karen: Surfas in Culver City in Los Angeles. I'm like a kid in a candy store there. And any South Asian market where I'm typically perusing the spice aisle for whole spices. I have a ton of cookbooks, but the nerd in me loves On Food and Cooking by Harold McGee.
Valerie: My mom is the best cooking resource. She's an encyclopedia of cooking knowledge and my go-to whenever I'm trying out something new.
What photography equipment do you use? Karen: I use a DSLR Canon 20D and 2 lenses (one of them is a 100mm macro, which is great for those close-ups). Other than that, I use no specialized photography equipment. The photos you see are taken in my apartment with whatever lighting the day has given me. You won't ever find very staged photos on Globetrotter Diaries, in part because we're too impatient to let delicious food sit.
Where else can we find your work? We're constantly posting tidbits on Facebook, Twitter, and Instagram.
Do you know a blog or blogger who deserves to be featured in this space? Email a nomination — including a link to the site and a few sentences on why they're worthy of love — to siteswelove@saveur.com.