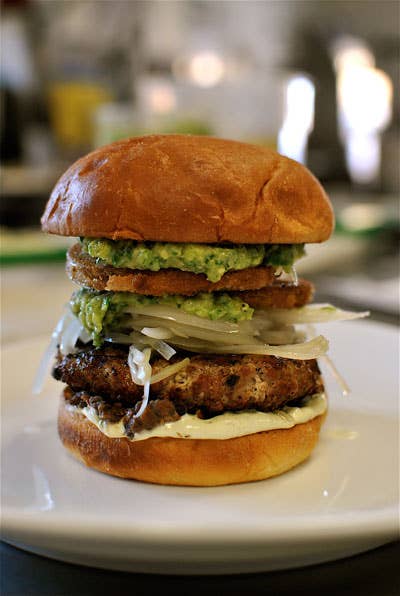 Culture
Sites We Love: The Glutster
Gorgeous photos? Check. Engaging writing? Check. Seriously inspiring recipes, tips, and culinary curiosity? Check, check, and check. The best food blogs all seem to have a lot in common — but what separates them out are the strong personalities behind them. In our Sites We Love series, we sit down with some of our favorite bloggers to find out how they do it — and why it's as much fun for them as it is for us.
This week's blog is The Glutster, which proprietor Javier Cabral launched when he was just a kid. (The site used to be called Teenage Glutster; he's now 22.) Something of an L.A. food world prodigy, Cabral has been contributing to SAVEUR for years (he contributed to our Los Angeles-themed Issue #128; his story about exploring his roots in Zacatecas, Mexico, is the cover story of Issue #138), and on his own blog covers everything from home cooking to the secrets of the L.A. dining scene. Here's what Javier had to say about his site:
Posting Rate: Depends on my emotional distress levels during the week, usually, at least three fresh posts a week!
Geographic Location: East Los Angeles, California
Why is the website called Glutster? I was sixteen at the time and wanted a name to capture my extremely gluttonous lifestyle then. "Glutton" had too much of a religious connotation so I took the root word and applied it to "punker" or "rocker", therefore The Teenage Glut-ster! Now I'm 22 and have finally decided to drop the Teenage part, although it will probably stay with me until I die, kinda like Screech from Saved by the Bell or Urkel from Familly Matters.
What's been your most popular post? For a long time, it was Mexican For A Day, Teaching Ludovic Lefebvre the Art of Mole.That was a post in which I documented famed chef Ludo (of LudoBites and Top Chef Fame) as he learned how to make my mom's treasured Mole and Pipian sauces from Zacatecas. It was a fun post, it was Mole —made from scratch of course —so we all spent a whole Saturday together.
What's your favorite post? That would definitely have to be my "So it finally came, I turned 21" post. It was such a monumental event in life, especially in the food writing world. (No more "walking in like I owned the place" to hope to get served alcohol!) I celebrated it the only way I knew how to party, by throwing a punk-rock gig in my backyard! Friends from both my spectrums showed up, both my East L.A punk-rock homies and my new twice-my-age friends, that had never happened before. Also, they brought much alcohol and my friend's really fast street-punk band started playing, I got in the pit and ended up with a gash in my head by the end of the night. But still, I did not pass out! 'Twas a fun night indeed.
What's something great that you've learned or that's happened to you since starting your blog? I basically documented my whole coming-of-aging phase of my life through Teenage Glutster, and over the years, I have painstakingly learned to be more careful with what I choose to disclose about myself to the public. I have kept an active journal since I was in 4th grade so blogging came naturally to me, but I have learned the hard way (and am still constantly reminded!) that everything I write will get read by hundreds of other eyes...and not just mine.
What's the usual process for developing one of your posts? Sit my ass down and write! I just act on ideas or thoughts that come to me as I eat, drink, listen to music or as I ride my Vespa around the city. I am a stickler for my photos, working on those first, then working my way to find the perfect title. And once the opening paragraph is set, the rest just comes out of my fingers as I write somehow. It still surprises me how I come up with some things sometimes. But I just think of the modern attention span and try my best to describe food the way I see it, which most often will always include some aspect of reverie or poetically waxing for some reason.
What are your favorite ingredients and tools?** Avocado, goat milk yogurt, unsweetened almond milk, durian, and a trusty sharp knife to cut ripe fruit without bruising it. Oh yeah, and cast-iron skillet! Mostly to warm up my mom's food. Blenders are cool too for those morning-after thick detox-shakes.
What are your favorite food and cooking resources? Don't have enough money to spend on that stuff yet, so just whatever I read online.
What photography equipment do you use? I went the first three years of writing about food without photos actually, I couldn't afford a camera in high school. But recently, I saved up my money to buy a used Nikon D-3000 with 35mm lens. People seem to like lots of photos and I enjoy taking them so it works out in the end.
Where else can we find your work? Well, as of this May, the cover of SAVEUR! Also, I've been spreading myself thin interning heavily about music and food for OC Weekly. Occasionally I will do LAist.com, but one time they didn't publish one of my stories so ehh. My latest output is becoming the restaurant critic for The Alhambra Source, a hyper-local newspaper funded by USC's Annenburg School for Communication & Journalism.
What food blogs do you follow? I can hardly keep up with my own food writing responsibilities! But whenever I just want to be lazy and peruse, I always find myself checking out Gastronomy Blog, Mattatouille, Mattbites, Kevineats, StreetGourmetLA, Caroline on Crack, EstarLA, Oishii Eats, Eat Drink N Be Merry, and any other O.G vetarano-active foodblogger in L.A. Gotta support the cause!
Do you know a blog or blogger who deserves to be featured in this space? Email a nomination — including a link to the site and a few sentences on why they're worthy of love — tositeswelove@saveur.com.