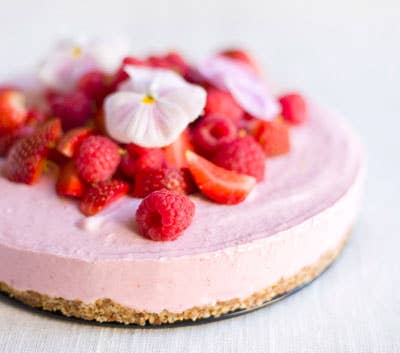 Culture
Sites We Love: Green Kitchen Stories
Gorgeous photos? Check. Engaging writing? Check. Seriously inspiring recipes, tips, and culinary curiosity? Check, check, and check. The best food blogs all seem to have a lot in common — but what separates them out are the strong personalities behind them. In our Sites We Love series, we sit down with some of our favorite bloggers to find out how they do it — and why it's as much fun for them as it is for us.
This week's site we love is Green Kitchen Stories, where health-concious family David, Luise, and daughter Elsa share their passion for good, wholesome, vegetarian food. It's an intimate look at family life, with a clear voice and strong visuals that make us want to read on and on. Here's what David, Luise, and little Elsa have to say about their site:
Photo: Green Kitchen Stories
Live since: Our first post was in October 2009
Posting rate: We usually post once a week. We always say that we would like to post more frequently but we almost never do, probably because we work kind of slow and put a lot of effort into each post.
Geographic location: Right now we live in Stockholm, Sweden. Luise is Danish, but the first time we met was in Rome, Italy.
Why is the site called Green Kitchen Stories? We actually have a green wall in our kitchen but that has little to do with our name. Green Kitchen signifies our effort to come up with healthy vegetarian recipes using wholefood and organic products. We want our recipes to be as simple and pure as possible and we try to rule out sugar, gluten and milk products. And since all good recipes often comes with a story, we thought the name was appropriate.
What's been your most popular post? One of our earliest posts was a Vegetable Lasagna, it was the first time one of our posts received a lot of comments and positive response from people that had tried it. And even though it is such an old post we still get e-mails from people who like it. Lately we have had a lot of traffic on our Broccoli Pesto, which I think is thanks to StumbleUpon. Our Frozen Pink Cheesecake is another recipe that always has been popular.
What's your favorite post? Luise loves our Frozen Pink Cheesecake, we made this cake to celebrate that we were going to travel around the world for 6 months. My favorite right now is our Watermelon Gazpacho. I'd love to have some right now, since it has been very hot in Stockholm lately. I also love the feeling of the watermelon photos.
Photo: Green Kitchen Stories
What's something great that you've learned or that's happened to you since starting your blog? When we recently took six months off work to travel the world together with our daughter, we received an enormous amount of travel information and good tips from our readers. All their responses completely surprised us, and thanks to them we visited restaurants, islands, and places that we never would have found on our own. We even met up and became friends with some other bloggers. When we wrote that we were going to Beijing), we received an email from a reader with all the best vegetarian restaurants there (not very many....). She had even attached some important Chinese phrases for us, like: "wo bu che rou", which means "I don't eat meat", how thoughtful was that!? It was still pretty difficult to communicate in China, but without her e-mail we would have been completely stranded.
What's the usual process for developing one of your posts? We often find inspiration at different farmers markets, organic stores, restaurants and from other blogs. We love experimenting in the kitchen, matching new ingredients with old favorites. Sometimes it turns out good, like our Broccoli Pesto, other times it turns out awful. We shoot on the weekends or evenings since I work during the daytime. Luise usually prepares the food and I do the styling. She works very efficiently while I am incredibly slow.
What are your favorite ingredients and tools? We make sure that we never run out on lemons, cinnamon, nuts or frozen berries in our kitchen. We use our blender every single day. We blend smoothies, mix almonds and dates, and make pesto and spreads with it. It actually broke down recently, so now we are talking about buying a Vitamix.
Photo: Green Kitchen Stories
What are your favorite food and cooking resources? We actually rarely pick up a cookbook to read recipes from. Maybe it is our own fault since they are placed on our top shelf in the kitchen, and we have to climb on top of both a chair and a table to reach them.
What photography equipment do you use? I shoot with an old Canon EOS 5D, with a 50 mm lens, 1,4f. I use an old scrappy piece of white cardboard as reflector. I dream about getting a good tripod, but I actually manage fine with these for now. Sometimes my sister Johanna, who works as a photographer, comes by and takes the photos. These posts always turn out great since we can focus on cooking and styling the food.
Where else can we find your work? We have been featured on the Kitchn. We recently did a "In The Kitchen With" for Design*Sponge. You can also find our recipes on Foodgawker and Tastespotting. We are working on an ipad app, but it will take at least a few months before it will be up.
What food blogs do you follow? It is impossible not to read Heidi's 101 cookbooks when you are a vegetarian. A few other favorites are Golubka, who makes raw food look like poetry. Sprouted kitchen, the blog world's best matched couple (photographer Hugh + Amazing Chef Sara). My new roots, a blog by holistic nutritionist and vegetarian chef Sarah, currently living in Copenhagen. Her food is always very inspiring and she writes with a lot of warmth and humor. Dana treat, a mom with a very sane approach on being a vegetarian. She updates often which is a lot of fun for food junkies like ourselves. Roost, that makes every little thing (even the peel from a clementine) look gorgeous.
Do you know a blog or blogger who deserves to be featured in this space? Email a nomination — including a link to the site and a few sentences on why they're worthy of love — to siteswelove@saveur.com.