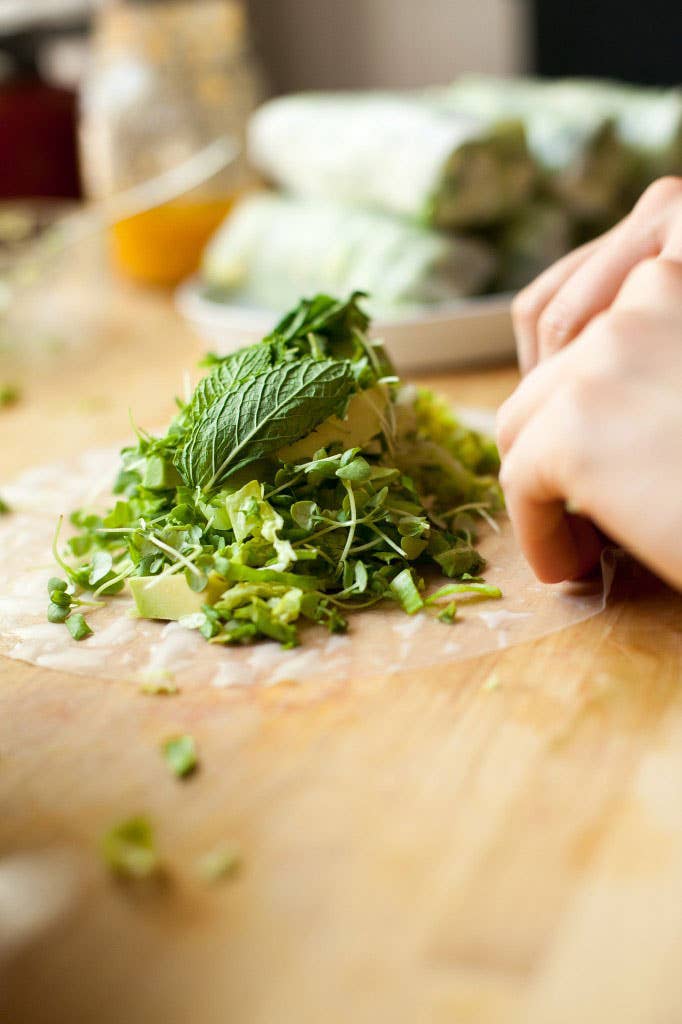 Culture
Sites We Love: Happyolks
Gorgeous photos? Check. Engaging writing? Check. Seriously inspiring recipes, tips, and culinary curiosity? Check, check, and check. The best food blogs all seem to have a lot in common—but what separates them out are the strong personalities behind them. In our Sites We Love series, we sit down with some of our favorite bloggers to find out how they do it — and why it's as much fun for them as it is for us.
Today's site we love is Happyolks, where Colorado-based partners Kelsey Brown and Shaun Boyte bring a powerfully experiential element to cooking. In addition to vivid writing and photography, the pair use music and video to create an immersive environment for their readers. Here's what Kelsey has to say about the site:
Posting rate: Usually once a week.
Geographic location: Denver, Colorado
Why is the site called Happyolks? I cracked three eggs into a bowl tomake a cake a few years ago and one of the yolks split open, hugging theother two still intact. I looked down at this egg-smile thing and called Shaun from across the room to come check out my "happy-yolks." A few days later it was official. I created a blog as an outlet from the intensity of coursework while studying for my degree in International Politics. Using a pre-formatted wordpress layout, I began journaling what I was cooking and inspired by.
What's been your most popular post? Our videos are always a hit as the numbers go. Especially last year's Pumpkin Gnocchi. The most linked/featured post has been the Squash Tacos on Homemade Corn Tortillas.
What's your favorite post? The spring was a prolific and visceral time for me personally and in my writing. I go back and read old posts and bearwitness to how accurately I was somehow able to capture what I was going through. The Happiness is a Crock of Beans, Crumbs on the Floor, and Blessed Are the Flexible posts are when I really started finding my groove. Although Shaun really doesn't care for the images in the Owning It post, it was probably the most fun I've had writing for the blog. Shaun's favorite post of late is To Be Free, a video of our trip to Alaska.
What's something great that you've learned or that's happened to you sincestarting your blog? Over the course of the past two years, Happyolks has reinforced for me that, truly, we are not alone; there are thousands of people in this big crazy world who share similar passions, interests, and goals. Together, we can be better, do better, and inspire new ideas and new ways to look at our time on this earthplane. Every thoughtful comment and email arms me to face the world as my best self, and for that, I am eternally grateful. With that said, my mind has been consistently blown by the love, generosity, and kind regard of each visitor. I don't take any of it for granted.
What's the usual process for developing one of your posts? My recipes, for the most part, follow the tenor of the seasons. I check in with the produce guys at the grocery store or visit a Farmers Market and literally touch everything. Once I become connected to an ingredient, the story develops from there. Today I was totally blown away by these gorgeous little thai chiles and knew I had to center something around them.
What are your favorite ingredients and tools? Fresh lemons, good quality olive oil, herbs from my garden, curry powders, herbamare salt, parchment paper, a microplane grater, Wusthof knives, and my 8 qt dutch oven.
What photography equipment do you use? Shaun shoots with a Canon 5D Mark II. We tend to stick to two lenses: a 50mm and 24-70mm. We use strictly natural light and a $0.50 white poster board from the art store as a bounce.
Do you know a blog or blogger who deserves to be featured in this space? Email a nomination — including a link to the site and a few sentences on why they're worthy of love — to__siteswelove@saveur.com.