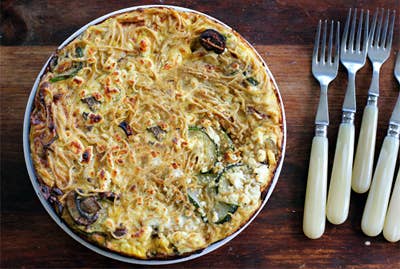 Culture
Sites We Love: Honest Fare
Gorgeous photos? Check. Engaging writing? Check. Seriously inspiring recipes, tips, and culinary curiosity? Check, check, and check. The best food blogs all seem to have a lot in common — but what separates them out are the strong personalities behind them. In our Sites We Love series, we sit down with some of our favorite bloggers to find out how they do it — and why it's as much fun for them as it is for us.
Today's site we love is Honest Fare, where Florida-based home cook and empanada food truck proprietress Gabrielle Arnold shares her love for simply prepared and delicious food with straightforward recipes and charming photographs. Here's what Gabrielle has to say about her site:
Live since: March 2009. Coming up on 3 years now!
Posting rate: On average, I'll post a new recipe every month. I used to share something every week or two, but things have gotten too hectic for that since starting my food truck last year.
Geographic location: Winter Park, Florida.
Why is the site called Honest Fare? Because that's exactly what it is! Straightforward food made from simple ingredients. For me, an honest meal or recipe is one that's healthy and delicious, yet still approachable for cooks and eaters of all levels. I'm also pretty candid about my thoughts and experiences surrounding a recipe, so in that sense I hope the overall tone of the blog feels pretty "honest" too.
What's been your most popular post? I've done a couple recipes for green smoothies that have been really popular. I was pleasantly surprised at how many people were into trying greens in their smoothies!
**What's your favorite post? **Tough question, but probably one I did for making collard wraps. Mainly because it was something I had been trying to master and in the process became obsessed with eating. It's a great post because it has a step-by-step on how to perfectly roll the collards so they don't fall apart when you go to eat them!
What's something great that you've learned or that's happened to you since starting your blog? Actually, a lot of awesome things have come my way since starting the blog! I've met some of interesting and like-minded people because of it and have been given some great opportunities like catering, recipe development and food styling/photography gigs. I'd say that overall, the blog keeps me inspired and moving in the direction of what I love to do. But the biggest thing to develop, at least partly from the blog, is my food truck. If it wasn't for all the support and inspiration I gathered from Honest Fare and its readers, I don't know that I would have had the courage to quit my job and give this food thing a shot. And now we get people who follow Honest Fare coming to the food truck every day so that's pretty amazing to see!
What's the usual process for developing one of your posts? I usually get inspired by a single ingredient. An especially nice looking crop of veggies will catch my eye at the produce market and I'll just build something around that.
What are your favorite ingredients and tools? I especially love cooking root vegetables like beets and sweet potatoes. Also big into hearty greens like chard and kale, which ends up in half the stuff I make lately! I don't think I could live without avocadoes. Or Greek yogurt. I love rice vinegar for a deglazing a pan or adding some acidity. Miso paste is great too, especially in vegetarian cooking. As for kitchen tools, I have two favorites: my immersion blender and microplane grater.
What are your favorite food and cooking resources? Breakfast, Lunch, Tea: The Many Little Meals of Rose Bakery is a beautiful book that I go back to time and time again. I don't have a favorite kitchen store per say, but I really enjoy going to antique shops for retired kitchenware, like old pots and pans, spoons and funny gadgets that are out of production.
What photography equipment do you use? I currently use Lumix GF-1, usually with a 20mm F1.7 lens. It's a four thirds camera, but I have an adaptor so I can get some old Pentax lenses on there as well. I try to shoot in natural light. Keep it pretty simple.
Where else can we find your work? Honest Fare has been featured on a bunch of other food and design blogs, but you can actually find the real me and taste my food if you ever visit Winter Park, Florida and come out to La Empanada Food Truck!
Do you know a blog or blogger who deserves to be featured in this space? Email a nomination — including a link to the site and a few sentences on why they're worthy of love — to siteswelove@saveur.com.