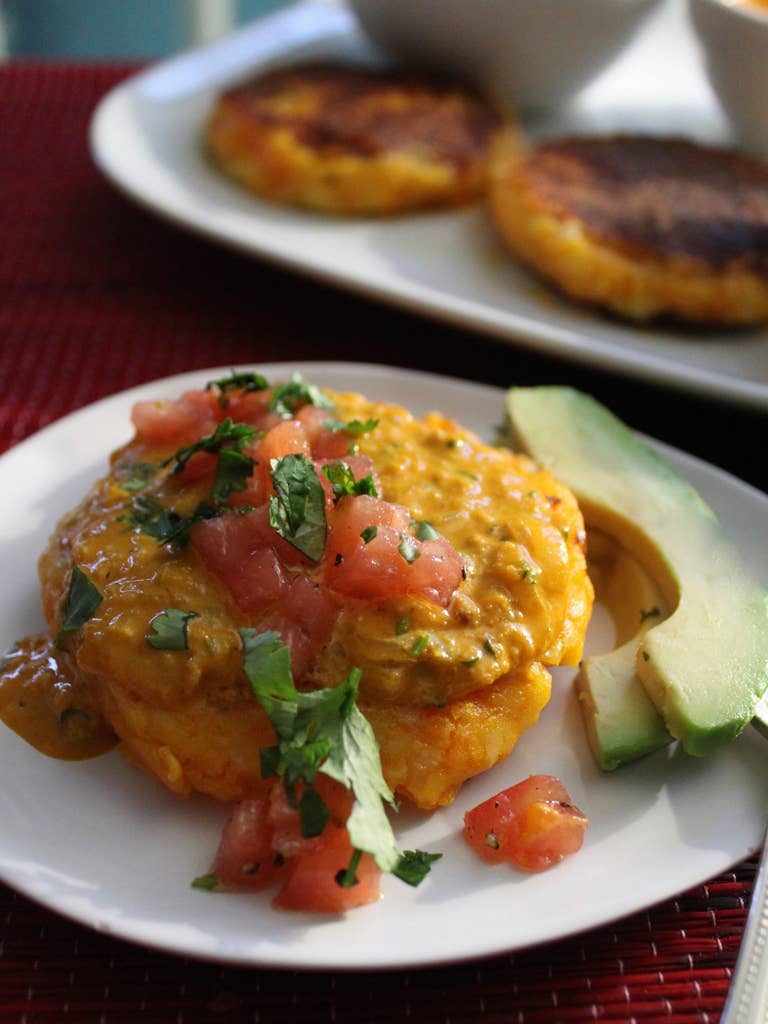 Culture
Sites We Love: Hungry Sofia
Gorgeous photos? Check. Engaging writing? Check. Seriously inspiring recipes, tips, and culinary curiosity? Check, check, and check. The best food blogs all seem to have a lot in common—but what separates them out are the strong personalities behind them. In our Sites We Love series, we sit down with some of our favorite bloggers to find out how they do it—and why it's as much fun for them as it is for us.
Today's site we love is Hungry Sofia, where Brooklyn-based food writer and photographer Ana Sofia Pelaez finds inspiration in traditional Latin flavors and her grandmother's old Sunbeam mixer to share home style, globally-minded recipes. Here's what Ana has to say about her site:
Live since: December 2008
Posting rate: Once a week
Geographic location: Cobble Hill, Brooklyn, NY
Why is the site called Hungry Sofia? I liked the idea of juxtaposing my middle name Sofia, which has a feminine or ethereal connotation, and being hungry, which doesn't. Plus, I'm hungry a lot.
What's been your most popular post? My most popular post was about Julia Child's Madeleines de Commercy. I found the recipe in a copy of From Julia Child's Kitchen I picked up in a used book store near my apartment. They had an amazing selection of tattered cookbooks that seemed to all come from the same collection. I imagined the original owner was a cross between Auntie Mame and James Beard, and they were dumped there by an ungrateful nephew. Every couple of weeks, I'd go back to rescue another one. Eventually, we were both cleaned out, and the store closed.
What's your favorite post? I really enjoyed writing about a fig tree my grandfather remembered from his childhood. It was a short post, but he was always telling me these great, simple food stories that didn't come into focus for me until I started blogging.
Credit: Ana Sofia Pelaez
What's something great that you've learned or that's happened to you since starting your blog? Whether it's a jerk shack in Jamaica, market in Mexico City, or just discovering a new neighborhood in New York City, I love experiencing a culture through its food. Food can be very personal, so people are guarded when I start asking them questions, but eventually they just light up and start telling you everything about what they did and how they did it.
What's the usual process for developing one of your posts? I usually come across an ingredient first and then seek out different ways to use it, comparing multiple recipes until I'm elbow deep in cookbooks and Google searches. Once I decide on a recipe, each post takes about 2 to 3 days—one day to cook and photograph, and another to go through the pictures and write it up.
What are your favorite ingredients and tools? I started cooking when I inherited my grandparents 1970s Sunbeam mixer. Now, I mostly use a Kitchen Aid, but keep the Sunbeam where I can see it. I have an enormous, green enameled Dutch oven that seems to contract or expand to accommodate whatever I'm cooking. It's a monster, but I love lugging it out and stirring the pot as it all comes together. Finding the right ingredients can be a challenge even in New York City, so I'm over the moon when I come across Brazilian dende oil, Colombian guascas, or Chilean merken.
Credit: Ana Sofia Pelaez
What are your favorite food and cooking resources? Harold McGee's On Food and Cooking, Maria Baez Kijak's The South American Table, and anything by Diana Kennedy
are a big help when I'm translating ingredients or looking for equivalents. More recently, I've been diving into Maricel Presilla's encyclopedic Gran Cocina Latina. I'm always chatting up the people who run my favorite markets—whether it's the Saturday farmers' market or the family-run stands at Essex Market on the Lower East Side. Paisano's in Brooklyn is a great old Italian butcher shop, but many of the people who work there are Latin American. When I have a question, they'll argue about what they'd do in Mexico versus Colombia versus the DR. When they can't agree, they'll consult their mothers, wives, and sisters then get back to me.
What photography equipment do you use? I shoot with a Canon EOS Rebel T1i.
Where else can we find your work? I'm a regular contributor to the Cooking Channel's Devour The Blog and The Latin Kitchen. I've written for The Daily Beast, Daily News, Edible Manhattan and Edible Brooklyn, and I've been featured in The New York Times and HuffPost Taste. I am currently working on a Cuban cookbook in collaboration with food photographer Ellen Silverman to be published by St. Martin's Press in 2014. This year, I also launched a kitchen apparel line with my sister Carmen at La Filosofia.
What food blogs do you follow? I favor blogs with a regional focus like Jun-blog for the Philippines, and El Comidista in Spain, to name a few. Standbys like Canelle et Vanille, Tartelette, and 101 Cookbooks are a favorite escape. Lately, I've been checking La Buena Vida, Lottie+Doof, and A Cup of Jo pretty often.
Do you know a blog or blogger who deserves to be featured in this space? Email a nomination—including a link to the site and a few sentences on why they're worthy of love—to__siteswelove@saveur.com.