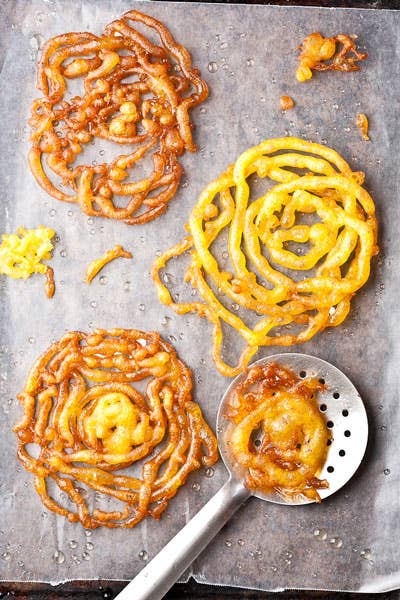 Culture
Sites We Love: IndianSimmer
Gorgeous photos? Check. Engaging writing? Check. Seriously inspiring recipes, tips, and culinary curiosity? Check, check, and check. The best food blogs all seem to have a lot in common — but what separates them out are the strong personalities behind them. In our Sites We Love series, we sit down with some of our favorite bloggers to find out how they do it — and why it's as much fun for them as it is for us.
Today's site we love is IndianSimmer, where Prerna Singh weaves together heartwarming memories and tantalizing recipes from her home country of India. With short ingredient lists, clear instructions, and tantalizing photographs, she takes the intimidation out of cooking traditional Indian dishes from scratch. Here's what Prerna has to say about her site:
Live since: February 2010
Posting rate: Normally I would post once a week but in the past few months, some projects have been taking good chunk of my time. I still try to post every other week.
Geographic location: San Francisco Bay Area, California
Why is the site called Indian Simmer? My husband claims that the name Indian Simmer was his brainchild. Although I never admit it, it's true! When I decided to write a blog about Indian food, we sat down to think about the most crucial part of the whole project — "the name." He said one of the most popular things about India is its summers and of course, the spicy simmering sauces. Why don't you mix the two? And out came a catchy name for my blog, "Indian Simmer"!
What's been your most popular post? About year and a half back, I did a post on Homemade Naan, sharing the recipe for making the bread at home without using any store bought yeast. Until now, it has been my most popular post. How to Make Paneer (Indian Cottage Cheese) and A Simple Hindu Pooja Meal are close second runners. Apart from that, my "photography" posts also got great responses from my readers.
What's your favorite post? I grew up in a family where kitchen was the center point of the house. Both my mom and dad are great cooks and growing up I saw everyone take turns in the kitchen, making something for the rest of the crowd. So it won't be an exaggeration to say that everything I cook and each post I write draws some inspiration from my childhood. I try to share that in my posts, so every such post is very dear to my heart. So I'd say that the day I try a recipe that my dad loves, or a dish that no can cook better than my mom, or the day I master my husband's favorite dish that he thinks his mom makes best, that day is a "I feel proud of myself" kind of day for me. These are the little achievements that make me want to try new things and cook something for my family that they have never eaten before.
What's something great that you've learned or that's happened to you since starting your blog? Indian Simmer has helped me learn so much! A lot of things that I didn't know about myself and a lot about people. My husband was always the "photographer" in the family and it was not before I started this blog that I picked up a camera. Now I just can't imagine my day without it. Indian Simmer has helped me find a very big passion in my life. But there's one thing that I always say I would have never known if it was not for this blog and that is, how warm, appreciative and constructive people can be to someone who is almost a stranger. I have met such good people because of my blog, some of who I proudly call friends and I barely know what they look like. I think that's amazing!
What's the usual process for developing one of your posts? It usually starts with an idea for the recipe. So whether it's something new that I and my family loved or a childhood food memory that inspired me, it all starts with a successful trial of the recipe. Photographs come next. I have an active toddler at home running around trying to grab props while I am trying to shoot. Sometimes she wants to hold the camera herself and shoot. So the photo shoot takes some planning. Once I am pleased with the pictures I have in hand, I try to tie everything together with either the story behind the recipe or just my experience developing it. Then, in the end, I edit the pictures, put everything in place and hit "publish".
What are your favorite ingredients and tools? I grew up around the aroma of fresh ground and roasted spices and I cannot imagine cooking without them. There's nothing that smells better than fresh crushed coriander seeds or roasted cumin. A little bit of fennel makes everything tastes better. So you can say I love my masala dabba, or spice box! Indians love cooking from scratch. I guess we just never learned the short cuts. So whether its making your own fresh spice paste every day or soaking the beans a night before and then pressure cooking itthe next day, that's what we are used to doing. Considering that, I think the two kitchen tools I cannot imagine cooking without would be my mortar and pestle, which I use for crushing and grinding my spices, and my long trusted pressure cooker, the first thing my mom got me after I got married.
What are your favorite food and cooking resources? Gosh, fromeverywhere! From tons of gorgeous cookbooks overflowing from my book shelf to food magazines delivered to my doorstep like Bon Appetite, Saveur and Cooks Illustrated. My favorite chefs cooking on Food Network and Cooking Channel are a great source as well. The fresh, organic produce at the farmer's market is always a motivator. And in this world of blogging, how can I forget the tens and hundreds of delicious looking food blogs out there. They all inspire me in the kitchen.
What photography equipment do you use? I own a Canon EOS 5D Mark II, a Canon Digital Rebel XTi and a few Canon lenses. It's very difficult to separate me from my 50mm f/1.4 but other than that, I use a 100 mm f/2.8 macro and a 17-40 mm. Recently I have started using a Manfrotto tripod and I love it.
What food blogs do you follow? I might run out of space here, there are so many fabulous people out there doing an incredible job. It's inspiring to see how much effort and dedication people put into each blog post. I have a long list of friends whose blog I check almost every other day hoping there will be a new post up there. I know I will not be able to name all of them here but to name a few, they will be Pure Vege, Roost, Journey Kitchen, Desserts For Breakfast, Running With Tweezers, Sunshine And Smile and the list just goes on.
Do you know a blog or blogger who deserves to be featured in this space? Email a nomination — including a link to the site and a few sentences on why they're worthy of love — to__siteswelove@saveur.com.