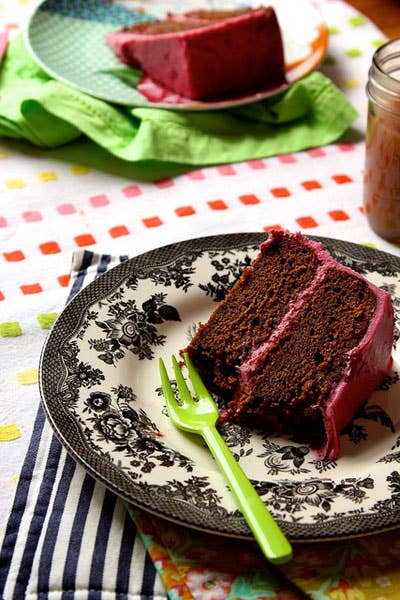 Culture
Sites We Love: Joy the Baker
Gorgeous photos? Check. Engaging writing? Check. Seriously inspiring recipes, tips, and culinary curiosity? Check, check, and check. The best food blogs all seem to have a lot in common—but what separates them out are the strong personalities behind them. In our Sites We Love series, we sit down with some of our favorite bloggers to find out how they do it — and why it's as much fun for them as it is for us.
Today's site we love is Joy the Baker, where—you guessed it— baking aficionado Joy Wilson shares inventive and fun recipes ranging from sweet to savory. Don't be fooled by the name though; Joy may be a baker at heart, but her skills easily extend to the stovetop. With a refreshingly honest sense of humor, she delivers tales of success and woe, both in and out of the kitchen. Here's what Joy has to say about her site:
Posting rate: I usually post 3 to 4 times per week.
Geographic location: Venice, California.
Why is the site called Joy the Baker? Because my name is Frank, and I'm a plumber.
What's your favorite post? I really like writing about my awkward life quirks. My most recent favorite post has nothing to do with food and everything to do with Facebook. It's titled, I Accidentally Saw a Picture of You.
What's something great that you've learned or that's happened to you since starting your blog? I've learned that most people are as weird and awkward and I am...and that's totally comforting.
What's the usual process for developing one of your posts? I usually start with a recipe that has inspired me, or with proportions of ingredients that I know work for a recipe. Between styling, shooting, and actually preparing a recipe, the process can take me at least 2 hours. I start with ingredient shots, move on to process photographs, then bake the dish. The final shot is usually the most important because it needs to be entirely mouthwatering. When in doubt, cover it in caramel. After the shots are taken there are several hours of editing photos, doing dishes, loading photos, feeding cats, and writing that take place before a post actually goes live.
What are your favorite ingredients and tools? I'm a big fan on consistency in the kitchen. I tend to stick with products that I know give me a consistently delicious result. I love King Arthur Flour for all of my kitchen adventures. If I'm baking without gluten I use Cup4Cup Gluten-Free Flour. I also swear by Beanilla Vanilla Beans and Valrhona chocolate. I know that these ingredients are not in the bargain bin at any grocery store. They're expensive. I just decided, somewhere along the line, that quality and consistency was more important to me that cheap ingredients. This has also inspired me how to stretch my ingredients farther. I make my own vanilla beans with spent vanilla bean pods, and where chocolate is concerned, I use the good stuff sparingly and in moderation.
What are your favorite food and cooking resources? I've always got food on the brain. The most recent cookbooks to grace my kitchen are The Sprouted Kitchen Cookbook (so whole and healthful), The Mile End Cookbook (full of amazing Jewish comfort food), and Weelicious (with simple, fun, family recipes). I do a lot of my kitchen shopping online. Because I'm already clicking away at the computer, it's really fun to pop over to Gilt Taste to shop for treats. The site is really well curated, reasonably priced, and I can also indulge in the writing of Ruth Reichl and Francis Lam.
What photography equipment do you use? I shoot with a Canon 60D, a 24-105 lens, a collections of napkins from Picking Daisies, and stacks and stacks of vintage plates, glassware, and silver.
Where else can we find your work? In addition to Joy the Baker the blog, I work really hard on a podcasting site (home to the Joy the Baker podcast) with my partner Michael... it's called Homefries and it's super fun! My work can also be found in my newly released first cookbook, The Joy the Baker Cookbook.
What food blogs do you follow? There are so many great food blogs out in the world now. I really love the voice of Clara from Channeling Contessa. I like a peek of Maine from From Away. I love the photography and style of Shutterbean.
Do you know a blog or blogger who deserves to be featured in this space? Email a nomination — including a link to the site and a few sentences on why they're worthy of love — to__siteswelove@saveur.com.