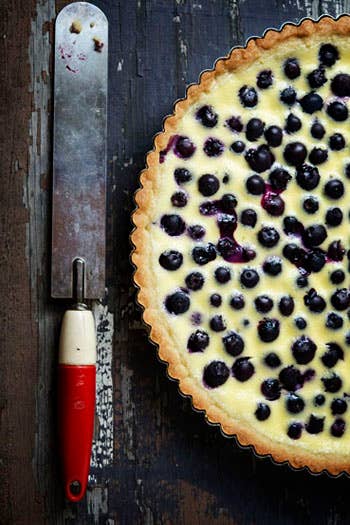 Culture
Sites We Love: Kiss My Spatula
Gorgeous photos? Check. Engaging writing? Check. Seriously inspiring recipes, tips, and culinary curiosity? Check, check, and check. The best food blogs all seem to have a lot in common — but what separates them out are the strong personalities behind them. In our Sites We Love series, we sit down with some of our favorite bloggers to find out how they do it — and why it's as much fun for them as it is for us.
This week's Site We Love is Kiss My Spatula, where creator and visionary Giao Trac (pronounced like the Italian "ciao") examines her surroundings through food and photography. From posts about foreign and local food markets, to tutorials on how to make homemade pantry essentials, to a treatise on the wonder that is Paris, Kiss My Spatula is a food lover's fantasy. And if Giao's inspiring entries and haunting photos aren't enough to draw you in, the unique musical pairings she includes with each post will definitely pique your interest. Here's what Giao has to say about her site:
Blog Name: Kiss My Spatula
Posting rate: On average, 2-3 posts a month (albeit life has a pesky habit of interrupting regularly scheduled programming).
Geographic location: Northern California
Why is the site called Kiss My Spatula? I wanted to keep things playful, lighthearted and a bit tongue-in-cheek (plus, I'm mildly obsessed with vintage kitchen gadgets — spatulas in particular). I see the kitchen as a yearlong indoor playground for creating, learning, experimenting, emulsifying, stir-frying, and scorching — a finger or two, or three, with plenty of good-for-you food, and extra helpings of love (and kisses) filled to the brim.
What's your favorite post? The one where I discover the extraordinary magic of quinoa flour and an ordinary lemon. Abracadabra! Out pops a Blueberry-Quinoa Tart topped with a heaping dollop of Lemon Whipped Cream. All my life, I made the mistake of leaving out the lemon in whipped cream.
What's something great that you've learned or that's happened to you since starting your blog? I've learned how drastically different the environments are that my husband and I were raised in. We might as well have been eating food from two different planets. Growing up in Ireland, he never had our ubiquitous milk and cookies as a kid — can you imagine?! And it was only last year I figured out Dippy Eggs and Soldiers have absolutely nothing to do with small green plastic toy figures. We're happily making up for lost time now though.
What's the usual process for developing one of your posts? I am on the constant hunt for inspiration, and I never know what form it eventually will take. Sometimes it's a painfully delicious meal at a restaurant I rush home to recreate, palpable excitement about a newly discovered ingredient or technique, a bumper crop from our fig tree, the first pumpkin sighting, a rainy Sunday cooped up indoors, a good story, a craving, a photo — it's anything that makes me say to myself, "This is too good to keep to myself — I must share!"
What are your favorite ingredients and tools? I can't live without all my spice jars (too many to name), the gamut of dried whole grains and legumes, Sriracha hot sauce and fish sauce is always near by and used often, star anise, saffron, tons of fresh herbs from the garden, whole vanilla beans, local honey, European butter, hard cheeses, Maldon sea salt, extra-dark chocolate, big knobs of ginger, and hearty Asian greens like gai lan or whatever is peaking at the market. Oh, and a jar of homemade cajeta in the fridge. Favorite tools include my Le Creuset dutch ovens, the rolling pin and wooden spoons I brought back from Paris, a 3-tiered steamer, extra-long chopsticks (extremely useful in so many situations), ginger grater, bench scraper, and last — but certainly not least — my beloved espresso machine.
What are your favorite food and cooking resources (books, stores, etc.)? I have an insatiable appetite for cookbooks and magazines. But, more often than not, I'll turn to the phone to call my Mom since she stores our family recipes, passed down through the generations, all in the confines of her head. For supplies, I hit up Clement Street (the real Chinatown of San Francisco), Sur La Table, Williams-Sonoma, or local restaurant supply stores. But, to be honest, my heart forever lies with E.Dehillerin in Paris. There's simply nothing like it.
What photography equipment do you use? I shoot with a Nikon d7000, a handful of lenses, reflectors, tripods, scrims, etc.
Where else can we find your work? My photography, writing and recipes have been featured in various cookbooks, print and on-line magazines, and national newspapers including the Chicago Sun-Times, Gourmet, Jamie Oliver's Food Revolution, Better Homes and Gardens, Design Sponge, Fine Cooking, Serious Eats, theKitchn, and Amazon's blog, to name a few. My commercial work includes assignments for magazines, publishers, restaurants and events.
Do you know a blog or blogger who deserves to be featured in this space? Email a nomination — including a link to the site and a few sentences on why they're worthy of love — to ******************siteswelove@saveur.com******************