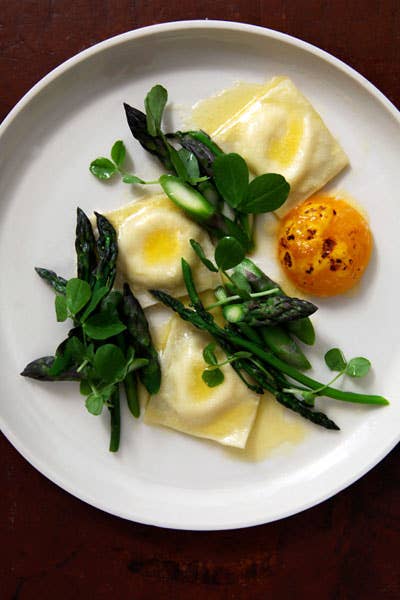 Culture
Sites We Love: Lemon Fire Brigade
Gorgeous photos? Check. Engaging writing? Check. Seriously inspiring recipes, tips, and culinary curiosity? Check, check, and check. The best food blogs all seem to have a lot in common—but what separates them out are the strong personalities behind them. In our Sites We Love series, we sit down with some of our favorite bloggers to find out how they do it—and why it's as much fun for them as it is for us.
Today's site we love is Lemon Fire Brigade, where photographer and food stylist Sarah Bolla shows off her mouth-watering recipes with beautiful and striking images. Inspired by the geometry and color palette of ingredients, Sarah's dishes are creative in both flavor and presentation. Here's what she has to say about her site:
Posting rate: 1-3 posts per month
Geographic location: San Diego, California
Why is the site called Lemon Fire Brigade? I tossed around a few names for the site for a while, but I could not take any of them seriously. At the time, they would all sound just as ridiculous as the idea of me + blog. Eventually, I let that go. With the song "Lemon Fire Brigade" by Haircut 100 playing in a short drive over to the water, and an incredible human by my side, it just clicked. I felt ready.
What's your favorite post? I made some dragon eggs a few months ago. Those were fun to shoot. I loved the colors and textures in that post.
What's something great that you've learned or that's happened to you since starting your blog?There's so much greatness here. Sharing and enjoying food in beautiful and interesting ways is what keeps me afire. By showing up, bringing my ideas into one recipe and a few photographs, I am an integral part of the process. Understanding that and embracing the imperfections along the way, make this space very much a fulfilling one. I also feel so lucky to have met a few very kind, talented, and inspiring people sharing their own light.
What's the usual process for developing one of your posts? An idea for a post will typically come to me one way. Usually, I'll hunt down a few ingredients I'd like to work with, and in doing so, a fleeting visual of a composed plate with energetic colors, shapes, and ingredients creeps in. I carry a little notebook around with me to jot down and sketch the ideas. Days shooting can get crazy. I'm prepping, cooking, and styling, finding some good light, and adjusting camera settings. After I'm satisfied with some shots, there's editing and little writing. Something interesting—I don't always share recipes of my work on the site, simply because I eyeball everything. I'm also a bit stubborn if I'm trying to follow one; I'll glance at amounts and then manage to tweak the recipe entirely. I get it close, but would rather just use my eyes and feel my way through it, as I am not afraid to play or make a mess. I love to style and garnish plates. I have such patience for that. So, the process of a post is really a way for me to just maintain a sense of creativity—to be hands on as much as possible with food and products I enjoy.
What are your favorite ingredients and tools? I love tomatoes. I could have a perfectly ripe heirloom tomato with Maldon sea salt with every meal. Or even better, a tomato-mayo sandwich on really good toasted bread at least once a day. With salt, I prefer to have a few different types in my kitchen. Kosher salt is my main squeeze. I just think it adheres so beautifully to food, while providing a consistent and even seasoning. As for my staples, I love citrus fruits, vinegars, all things tart and acidic, eggs, Greek yogurt, avocados, peppery olive oils, mustards, greens, fresh cheeses, fresh herbs, and I love sweets! Anything with banana, pumpkin, lemon, or vanilla kills me. The whole list, dangerous. For tools, I adore my chef's knife. It has been with me in an internship at Morimoto NYC and through the completion of my degree at the Culinary Institute of America in Hyde Park, NY. I check it in my suitcase when I travel, and it's generally with me in every kitchen I enter. Also, beautiful cutting boards, weck jars, silicone wares, my Kitchenaid stand mixer, ice cream maker, and different sized tart pans are all tools I love.
What are your favorite food and cooking resources? I've always been a food magazine person, attracted to the array of recipes and visuals. My mom had subscriptions to so many at one point and never threw out a single issue, so I had a pretty solid collection to dig into. In my early college years, I really started snipping my way through those, making photo books of my favorite pictures and recipes. I'd spend days at a time collecting and pasting away, realizing that I thought a lot about food. The books are neat to have. I still reference my old clippings with a new eye and understanding with each glance. As far as books, my essentials are Harold McGee's On Food and Cooking and Andrew Dorenburg and Karen Page's Culinary Artistry. I'm currently smitten with the recipes and stunning images of Noma: Time and Place in Nordic Cuisine and Eleven Madison Park: The Cookbook.
What photography equipment do you use? I shoot with a Canon 5D MarkII, and 24-105mm f/4 L lens.
Where else can we find your work? My work has been mentioned on various food blogs and featured on the sites: Bon Appetit, Gourmet Live, and The Huffington Post Taste. Recently, I've been styling and photographing food for a few clients in San Diego.
What food blogs do you follow? There are some special ladies behind Happyolks, Apt. 2B Baking, Cookie and Kate, Running with Tweezers, Tartelette, The Faux Martha, La Buena Vida, The Vanilla Bean Blog, Turntable Kitchen, The First Mess, and The Year in Food.
What is one thing that sets your blog apart from others? This site is a way for me to chronicle my inspirations that come from the colors, textures, and flavors of food. My goal with each post is to feel that I've given a few ingredients some charm. It's how you make something your own. I take the dishes I create to a certain point and wish to present some striking visuals of the process.
Do you know a blog or blogger who deserves to be featured in this space? Email a nomination—including a link to the site and a few sentences on why they're worthy of love—to__siteswelove@saveur.com.