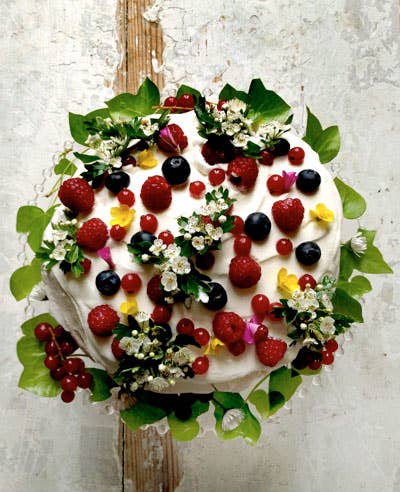 Culture
Sites We Love: Manger
Gorgeous photos? Check. Engaging writing? Check. Seriously inspiring recipes, tips, and culinary curiosity? Check, check, and check. The best food blogs all seem to have a lot in common—but what separates them out are the strong personalities behind them. In our Sites We Love series, we sit down with some of our favorite bloggers to find out how they do it — and why it's as much fun for them as it is for us.
Today's site we love is Manger, where Marie-France Thorisson—known as Mimi—shares recipes and menus inspired by the Medoc countryside where she and her family recently made their home. Much like the rural French landscape that surrounds her, Mimi's dishes are at once rustic and elegant, fanciful and bold. With captivating, richly-colored photographs taken by her photographer husband Oddur, she brings her vivid culinary imagination to life on her blog. Here's what Mimi has to say about her site:
Posting rate: Manger is really a reflection of my life in the French countryside. If I have an idea to cook something interesting, and my husband is game to photograph it, I'll post it. I'd say on average I have about three posts per week, but it's not anything I think about too seriously, I'm not on any kind of schedule—good things that happen in the kitchen end up on the blog.
Geographic location: Medoc, France.
Why is the site called Manger? It means eating in French, it sounds good (I think) and it was the first thing I thought of when I decided to do this blog. Sometimes simple is best.
What's been your most popular post? The Garden Cake turned out to be quite a hit. I had been harboring this idea of a cake with flowers and berries for a while, mentioned it to my husband who was not that interested (he likes savory things) and on a whim on a rather grey day I just decided to make it. So I put on my Hunter boots, picked a few plants and voila! My husband was playing with the kids in the living room, they were all impressed, didn't think it would turn out that great. So we placed it on the coffee table, photographed it and posted it. The rest is, well if not quite history at least it's been a real pleasure to see how many people have liked it, pinned it, blogged about it…it's the kind of thing that makes me happy.
What's your favorite post? This is a difficult one, they are all moments in my life—hard to choose from. I have a chocolate brown German Pointer called Gertrude and we featured her in a post about old-fashioned chocolate mousse with salted caramel caramel chunks. That has to be one of my favorite shots. Recently we had a lovely "late lunch" in the garden—the post was called Sunday Best. We had Lyonnaise style chicken. In the end it didn't matter what we ate, the moment was just pure perfection…for a while. In terms of pure food deliciousness I'd have to go with Brittany lobster. I don't think I've had a better domestic meal ever. It was right up there with Alain Passard (my favourite chef). And all I did was melt some butter.
What's something great that you've learned or that's happened to you since starting your blog? I learn new techniques every day. Sometimes I think how green I was only last month. And then a month passes and I think the same again. It's all a big learning process. The French are quite particular about their cooking traditions in a very endearing way. Rarely do I buy something at the market without getting a recipe as a bonus. The guy who sold me lobster told me to cook it with estragon, the guy who sells me wine instructs me on what to pair it with. Even the guy who delivers dogfood took ten whole minutes sharing his grandmother's recipe for becasse (woodcock). You should have seen his face when he was dictating it. In his mind he was chewing the flesh of the bird. It may be a cliche, but only because it's true. After all, this is France. I recently enjoyed cooking with two Michelin star chef Jean-Luc Rocha, of Chateau Cordeillan-Bages--he is such a creative man.
What's the usual process for developing one of your posts? I decide to cook something, usually for me or the family rather than the blog, and then we find a quick way to photograph it before it gets too cold to eat. We're lucky to live in an old lovely house with interesting angles and textures so it all takes care of itself. Living in France is such a feast, every week there are new ingredients to savor, new seasons to celebrate.
What are your favorite ingredients and tools? I like to cook with duck fat (healthy and tasty), rosemary, of which we have an abundance, and my magimix food processor.
What are your favorite food and cooking resources? Living in France there is so much to choose from. In Paris I was lucky enough to live next door to the fabulous market Davoli (on Rue Cler, in the 7th arrondissement) with an amazing abundance of sheer delights. The best foie gras, bread, green grocers, cheese stores—even the best ready-made Bolognese sauce I've ever tasted. Here in Medoc we are spoiled with choices—Oysters from Cap Ferret, seafood galore, delicacies from regions close by. And don't even get me started on the wine. In terms of chefs and foodwriters, I was lucky enough to meet and interview some of the best chefs in Paris. I would name chefs / restaurateurs Christian Constant and Yves Camdeborde as big influences. But personally I consider Stephane Jego of L'ami Jean as the finest chef in France. In my opinion, he is a genius! I also absolutely adore Nigel Slater, his cooking sensibilities, his approach to cooking and life. His "memoir" Toast, which was made into a film, fills me with emotions.
What photography equipment do you use? My husband, Oddur, is responsible for the photography. He is a professional photographer and art director but he is quite casual about his equipment. His philosophy is that it's not mainly about gadgets. We've used anything from my iPhone to an old Hasselblad. Most of the latest entries have been shot on a Canon EOS 5D.
Where else can we find your work? My career has mainly been spent in media and business, so you won't probably find evidence of my cooking anywhere other than Manger. My husband, who is also my photographer, has a site that he hasn't updated since George Bush was president!
Do you know a blog or blogger who deserves to be featured in this space? Email a nomination — including a link to the site and a few sentences on why they're worthy of love — to__siteswelove@saveur.com.