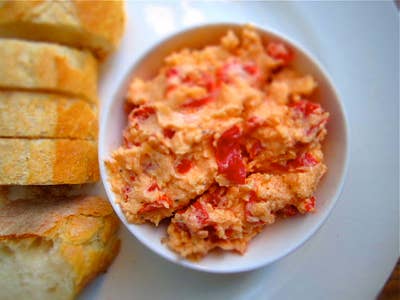 Culture
Sites We Love: Milk & Mode
Gorgeous photos? Check. Engaging writing? Check. Seriously inspiring recipes, tips, and culinary curiosity? Check, check, and check. The best food blogs all seem to have a lot in common — but what separates them out are the strong personalities behind them. In our Sites We Love series, we sit down with some of our favorite bloggers to find out how they do it — and why it's as much fun for them as it is for us.
This week's site we love is Milk & Mode, where Carol Han shares delicious and easy recipes suitable for any young working urbanite, coupled with inspiring on-trend style advice. She's proving firsthand that good food and style go well together. Here's what Carol has to say about her site:
Posting rate: 3-5 times a week
Geographic location: New York, NY
Why is the site called Milk & Mode? Cooking is becoming a lot sexier these days, but there was a point when it was considered somehow unsophisticated to know how to cook — it was thought of as something limited to the realm of dowdy housewives (I blame Sex & the City). That always bothered me, so I wanted to create a blog that was about cooking AND living stylishly (hence Milk & Mode). I wanted to show people that you could be a busy, successful, stylish urbanite and still make time to make yourself good, homemade, beautiful meals without a lot of time, fancy ingredients, complicated tools, or counter space.
What's been your most popular post? I posted a recipe for a chocolate cream pie over the summer that everyone seemed to love. I stumbled upon a young pie maker named Rachel at the Brooklyn Flea one weekend, and her chocolate cream pie with a pretzel crust and fresh whipped cream was the best thing I'd ever tasted. I googled and googled until I had a basic understanding of how to make all the compenents of it (pretzel crust with a thin layer of homemade dulce de leche, chocolate custard, fresh whipped cream) and somehow pulled it off. I still dream about it but haven't gotten around to making it again. It's definitely one of my more involved recipes — great for a Sunday project!
What's your favorite post? I really love my steak posts! I learned how to make the most delicious dry-aged bone-in rib eye from David Chang's Momofuku cookbook, and I'll be forever indebted to the man for that recipe.
What's something great that you've learned or that's happened to you since starting your blog? Before starting my blog, I'd always worked in fashion — I was a fashion editor for ELLE, ELLE.com, and StyleCaster during my almost-decade-long editorial career. When I started writing about food, it really opened up an entirely different sector of amazingly talented, passionate people for me that I hadn't previously been aware of when I was focused solely on fashion. I've made some great friends in food. And I've learned how to roast a chicken perfectly — an invaluable skill, if there ever was one!
What's the usual process for developing one of your posts? I have a problematic addiction to buying new cookbooks and food magazines. My little studio apartment is completely overrun by them at this point! So when I'm thinking about what to blog about, I'll curl up on my couch with piles of cookbooks stacked around me and I'll go through them page by page, flagging recipes that look enticing to me. Then I'll narrow those to a manageable number, make a bunch of changes so that they're more suited to my taste, then hit the grocery store!
What photography equipment do you use? To be honest, I just use a little Canon PowerShot. I happen to have great lighting in my apartment, which helps. Sometimes, my photographer friend Mark Iantosca will come over to shoot some stuff with me, and he uses a big, fancy camera that takes incredible photos.
Where else can we find your work? I contribute to BonAppetit.com from time to time and I just wrapped a project for FoodandWine.com. I've also written about food for Refinery29. And I've written a book proposal for a cooking/lifestyle book that my agent and I are currently submitting to publishers. So hopefully you'll be able to find my work in a book soon!
Do you know a blog or blogger who deserves to be featured in this space? Email a nomination — including a link to the site and a few sentences on why they're worthy of love — to siteswelove@saveur.com.