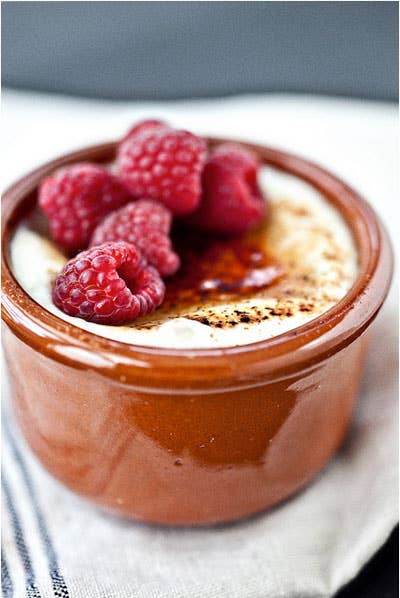 Culture
Sites We Love: Not Without Salt
Gorgeous photos? Check. Engaging writing? Check. Seriously inspiring recipes, tips, and culinary curiosity? Check, check, and check. The best food blogs all seem to have a lot in common — but what separates them out are the strong personalities behind them. In our Sites We Love series, we sit down with some of our favorite bloggers to find out how they do it — and why it's as much fun for them as it is for us.
This week's Site We Love is Not Without Salt, where proprietor Ashley Rodriguez invites us into her home and shares delightful recipes, inspiring stories, and stunning photography (she even uses real film!). Within Ashley's posts, you can find basic techniques and creative how to's that make even the most seemingly difficult recipes doable. Her knack for storytelling will have you coming back for more, and her recipes, which are mostly all adorned with — you guessed it — salt, will have your mouth watering. Here's what Ashley has to say about her site:
Live since: NWS was born in 2009 but I have been blogging since 2006.
Posting rate: Recently it's been about 1-3 times a week although I've had many periods of much less frequency.
Geographic location: Seattle, WA
Why is the site called Not Without Salt? While going through a re-branding in 2009 I came across a quote from James Beard, "Where would we be without salt?" I adore salt, I cringe at the thought of a life without it. It's vital in sweet and savory cooking, elevating some flavors while soothing others.
I also love that salt has been used as an illustration that goes further than food.
What's your favorite post? Shortly after having my third baby I wrote a post about struggling with postpartum depression. It was one of the first times that I had really opened up on the blog and showed the gray reality of that current season. The response I received from that post was an integral tool in getting me through that season. Readers, most of whom I've never met, offered up words to me that healed, comforted and inspired. Since that post I have felt the freedom to really open up with my readers and go beyond the food itself.
What's something great that you've learned or that's happened to you since starting your blog? When I started blogging it was a way to market my wedding cake and dessert catering business. The business took a back seat when we started a family. As I took on the role of stay-at-home mom the blog became an outlet, a way for me to stay connected to the food world and to exercise my creativity. Through this space I found a passion for writing, photography and a deeper love and appreciation for food. It's morphed in a way that I never imagined and I'm so happy that it has.
What's the usual process for developing one of your posts? It's always different. But quite often I'm struck with inspiration that, I feel, needs to be shared. Whether it be from a recipe I saw, an idea that hit or an ingredient that I just had to use. It's mostly seasonal, very often sweet, and always something I've loved.
What are your favorite ingredients and tools? Fruits and vegetables. Oh, and butter.
What are your favorite food and cooking resources? Our little home is overrun with cookbooks. I scour their pages looking for something to jump out at me. I rarely use their recipes (I'm horrible at following directions) but their pages are marked, bent and used as a jumping board for my own interpretation.
Never far from the kitchen is Michael Ruhlman's Ratio and The Flavor Bible, by Karen Page and Andrew Dornenburg. Currently I'm also devouring anything from Nigel Slater. His food is simple, inventive, and stunning. His approach is manageable while not making you feel juvenile.
What photography equipment do you use? I mostly shoot with a Canon 5d Mark II. Lately I've been attached to my 50mm macro lens. I've also recently fallen deeply in love with film, again. Weekly I post some of my current film shots. For that I use a Canon A-1 with a 50mm 1.4. And now with a Polaroid Land Camera in my possession you should be seeing some images from that as well. I'm hooked.
Where else can we find your work? If you're a TV watcher you might see my face on an ad I recently did for Finish Quantum. Beyond that you can find some of my work in various places including BonAppetit.com, Parenting.com, and RealSimple.com. I also spend some time (more than I should) on Twitter and Facebook.
Do you know a blog or blogger who deserves to be featured in this space? Email a nomination — including a link to the site and a few sentences on why they're worthy of love — to siteswelove@saveur.com.