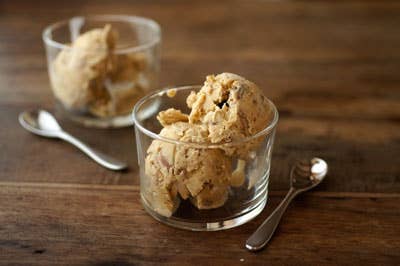 Culture
Sites We Love: Poires au Chocolat
Gorgeous photos? Check. Engaging writing? Check. Seriously inspiring recipes, tips, and culinary curiosity? Check, check, and check. The best food blogs all seem to have a lot in common — but what separates them out are the strong personalities behind them. In our Sites We Love series, we sit down with some of our favorite bloggers to find out how they do it — and why it's as much fun for them as it is for us.
Today's site we love is Poires au Chocolat, where Oxford-based blogger Emma Gardner shares her beautifully documented recipes for irresistible sweets. From ice cream, to pastries, to artfully decorated cakes, her passion for creative desserts is infectious. Here's what Emma has to say about her site:
Posting rate: 1 to 2 times per week
Geographic locations: Oxford, England. I also spend a lot of time in Switzerland as my mum now lives there. I grew up in Devon, England.
Why is the site called Poires au Chocolat? It's named after the first recipe I created from scratch that really worked — a pear and chocolate loaf cake. It's also generally one of my favourite flavour combinations.
What's been your most popular post? I think the Coconut Milk Chocolate Cake is the most popular as far as numbers go. It's a rich and delightful cake dripping with coconut milk chocolate ganache.
What's your favorite post? I've always had a soft spot for my Beautiful and Damned Cake. I made it in response to a call for submissions for an arts supplement in one of the Oxford student papers. I decided that creating a cake was a form of art, just like writing a poem. It was featured in the paper — the first time I'd ever been printed. The cake has also been recreated by lots of readers, which I love. I wrote it over two years ago, so my photography and kitchen skills have moved on, but it still holds sway in my heart and sits proudly on the side of my blog.
What's something great that you've learned or that's happened to you since starting your blog? It's hard to be specific. There have been so many wonderful friendships, opportunities and things I have learned. Blogging has taught me a lot about opening myself up to people. If I hadn't developed my love for baking and desserts through the blog, I also would never have chosen to spend time at Le Cordon Bleu after university. Though it wasn't a totally positive experience, I learned a lot of technique and it forced me to really think about my own opinion of what is most important when making food.
What's the usual process for developing one of your posts? I usually start with an idea for the recipe — either something original that's burst into my head or a recipe I've found and want to make mine. I make it (sometimes once, sometimes six times), take lots of notes and photograph. I write up the recipe and put up the photos. Then, at the end, I write. After I'm finished I spend a long time proof reading.
What are your favorite ingredients and tools? Dark chocolate, brown butter, fresh fruits, brown sugar, caramel, butter, cream, fresh ginger, lemons, nutmeg, sea salt — I could go on for pages. I also can't live without Le Creuset spatulas.
What are your favorite food and cooking resources? I love collecting cookery books — there's something about print I can't resist. I also like reading journals and magazines. Kinfolk, Fire & Knives, Remedy Quarterly, Gastronomica, etc. all find their way into my inspiration folder.
What photography equipment do you use? A few weeks ago I upgraded to a Canon 5D mk II, which I'm using with a 1.4/50 lens. Before that I used a Sony a580 and a 2.8/50 macro.
Where else can we find your work? At the moment there's not much outside the blog, but there are quite a few projects and articles in the works.
Do you know a blog or blogger who deserves to be featured in this space? Email a nomination — including a link to the site and a few sentences on why they're worthy of love — to siteswelove@saveur.com.