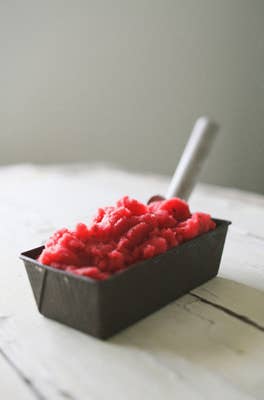 Culture
Sites We Love: Roost
Gorgeous photos? Check. Engaging writing? Check. Seriously inspiring recipes, tips, and culinary curiosity? Check, check, and check. The best food blogs all seem to have a lot in common — but what separates them out are the strong personalities behind them. In our Sites We Love series, we sit down with some of our favorite bloggers to find out how they do it — and why it's as much fun for them as it is for us.
Today's site we love is Roost, where photographer and stylist Caitlin shares her cooking adventures since adopting a diet that avoids grains, refined sugars, and lactose. With inspiringly lovely photos and videos and accessible recipes, she shows that even with serious dietary restrictions, eating well and deliciously is entirely possible. Here's what she has to say about her site:
Posting rate: My goal is once a week but lately it has been once every two.
Geographic location: Sweet Home Alabama
Why is the site called Roost? I am a nester and find great joy in being at home. I could go several days without leaving the house and be perfectly content. Roost comes from the idea of hens roosting, burrowed warmly in their little nests. So my desire for my blog is to be a warm and inviting atmosphere where my readers feel safe and distracted from the hubbub of life.
What's been your most popular post? I would say the Blood Orange and Cabbage Salad post. This post included a video of my husband making this salad and I think my readers really respond well to a visual story telling of a recipe. I am often times most inspired by watching someone else cook and create so I hope to make many more videos in the near future.
What's your favorite post? Hands down The Core of it All: Our Story. This post was the first time I truly opened up about my husband, his struggle with Crohn's disease, and our journey to healing through diet. I had always been very reserved and private when it came to personal subjects, but one day I woke up and realized that I was being selfish and prideful to not share our story. I am often tempted to have everyone think we have it all together, but in fact we go through each day blindly, striving to be good stewards with our bodies and what we put in it. We all have a story to tell and perhaps encourage others along the way.
What's something great that you've learned or that's happened to you since starting your blog? I will mention two. Firstly, when we first found out we needed to drastically change our diet for my husband's health I was very discouraged and went into a very dark place in my heart. Everything I had learned about cooking (which wasn't a lot at the time) was thrown out the window and I felt like I had to start all over. It was challenging in the beginning but now it is second nature and I find such satisfaction in exploring new ingredients and techniques. And it has been a joy to realize that cooking in a healthy way can be beautiful and delicious.
Secondly, Roost has birthed a new passion in my heart for food styling and photography. I have no formal training in either, but through a lot of practice (and YouTube tutorials) I have been able to develop my style which ultimately led to a photo styling job here in Birmingham along with several freelance projects. There are days where I stand in awe and thanksgiving asking myself, "Am I really getting paid to do something I love so much?"
What's the usual process for developing one of your posts? Inspiration comes in many forms, restaurants, cookbooks, farmers markets, a dream I have, a conversation with a friend. I have a little notebook in my purse that goes with me everywhere, and when something strikes me I write it down and then start working on developing a recipe at home. I typically devote a weekend day to cook and shoot which typically takes up half if not all of the day. It is a labor of love, but come Friday I can not wait to pick up my camera and capture the idea that has laid dormant on my heart all week.
What are your favorite ingredients and tools? Because we are grain free we could not live without nut flours, particularly almond flour. I bake everything with almond flour: biscuits, cakes, pancakes, muffins, quick breads....the list is endless. I am also thankful for our dehydrator with which I made homemade yogurt and dried fruit snacks. And I have to mention our Blendtec Blender, yes it really can blend anything and I mean anything! We love making yogurt smoothies, green shakes, nut milks, nut flours and it makes any pancake or crepe batter super smooth.
What are your favorite food and cooking resources? Food Network and The Cooking Channel are my absolute favorites. We do not have cable but I watch a lot of clips and shows online. I am an avid Donna Hay fan so I am always excited to pick up her latest edition. Recently I have been inspired by Alice Waters, a culinary genius when it comes to making beautiful, simple dishes with local and organic ingredients.
Where else can we find your work? I have done freelance work for Cooking Light, Southern Living, Food & Wine and will be launching a personal portfolio site in 2012.
What food blogs do you follow? My two most favorite blogs are Sprouted Kitchen and Green Kitchen Stories , Not only do I enjoy their content but I am thankful for their like minded approach to food and health, truly inspiring!
Do you know a blog or blogger who deserves to be featured in this space? Email a nomination — including a link to the site and a few sentences on why they're worthy of love — to siteswelove@saveur.com. >