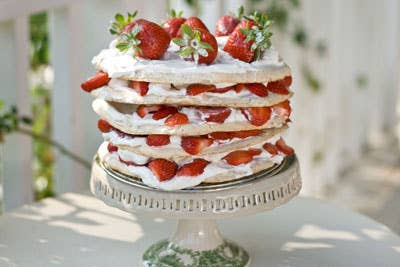 Culture
Sites We Love: Savour Fare
Gorgeous photos? Check. Engaging writing? Check. Seriously inspiring recipes, tips, and culinary curiosity? Check, check, and check. The best food blogs all seem to have a lot in common — but what separates them out are the strong personalities behind them. In our Sites We Love series, we sit down with some of our favorite bloggers to find out how they do it — and why it's as much fun for them as it is for us.
This week's Site We Love is Savour Fare, where wonder woman Kate Wheeler shares real-food recipes for real people with real lives and the stories that inspire them. Even though a bustling two hour commute, working as a full time lawyer, and being a mommy keeps Kate's plate quite full, she still makes time to share what's going on in her kitchen with the rest of the blogosphere. Whether it's decadent bacon caramel salted brownies or quick and easy grilled eggplant with fresh mint, Kate's recipe's are approachable, easy, and appetizing. Here's what Kate has to say about her site:
Posting rate: 1-2 posts per week
Geographic location: Pasadena, California
Why is the site called Savour Fare? I hear so often that people are too busy to cook, or too intimidated to cook, and it really doesn't have to be that hard. I try to provide recipes that are accessible, and the know-how to make them. The savoir-faire to savour their fare. Of course, that was before I realized that puns are bad for search engine optimization.
What's your favorite post? That's like asking me to choose among my children! (If I had multiple children). I did like this recent post I wrote on Mini Key Lime Pies in Jars. I think it's easy to get caught up in the story, and this post offers a glimpse of my reality. Plus the pies were really good.
What's something great that you've learned or that's happened to you since starting your blog? I've always said that as a blogger, I'm a cook, not a writer or a photographer. But I've never thought of myself as a writer because I never had any urge to write any novels or short stories. Yet, two and a half years and hundreds of posts later, I'm finally facing up to the fact that I do, in fact, write. I am a writer. It's been a great exercise in self-definition. Still working on the "photographer" part, though!
What's the usual process for developing one of your posts? Because I really am very busy (I have a full time day job as an entertainment attorney, as well as a preschooler, a two-hour commute and occasionally a life) I blog what I eat. I don't usually make recipes for the blog, per se, but I photograph and write up what we eat for dinner, what I took to book club, yesterday's lunch. Of course, this also pushes me to be a little more creative in the kitchen.
I get inspiration from all sorts of sources — cookbooks, food magazines, other blogs, friends and family, feverish dreams... And when I cook something amazing, I try to photograph it and write about it. Sometimes, things don't turn out so well, and they don't make it to the site. A question my husband frequently hears is "Is it blog-worthy?".
Of course, for holidays or special occasions, I do a little more specialty cooking and work on perfecting recipes, like this one for Pumpkin Pie. Food bloggers eat at least two Thanksgiving dinners. At least.
What are your favorite ingredients and tools? Ingredients: I often say that if I have butter, eggs and onions in the house, I can always make dinner. I tend to cook with what I'm finding in the market, or in my garden. I don't strictly adhere to seasonality, but I also don't feel like eating a tomato salad in January. In terms of my "secret ingredients", I must have Maldon salt, Vietnamese cinnamon, and dry vermouth available at all times.
Tools: I have such an extensive collection of Le Creuset cast iron enameled French ovens that the weight is about to break my kitchen shelves. I'm not sure I really need five dutch ovens, but I use them for everything from boiling eggs to roastin chicken to making caramel.
What are your favorite food and cooking resources? I have a serious cookbook habit. I love Nigella Lawson's books because she supports my philosophy that just because food is simple to make doesn't mean it has to be boring. I adore the Canal House series (who doesn't?), and my extremely battered and dogeared copies of Classic Home Desserts by Richard Sax and Bistro Cooking by Patricia Wells. I subscribe to every food magazine out there (including, of course, Saveur), and I treasure my hoard of old Gourmets. In terms of stores, I loved Kalustyan's when I lived in New York, and in LA, Surfas is a local treasure. I get all my spices from Penzey's or the Spice House, which can't be beat for freshness and variety.
What photography equipment do you use? I shoot with a Canon Rebel Xti, and usually either a Sigma Macro lens or the Canon 50mm f1.8. I also have the usual assortment of tripods, reflectors and lights as part of my (as yet unsuccessful) quest to shoot decent photos at night.
Where else can we find your work? My photographs, writing and recipes have been featured in the Los Angeles Times, the Pittsburgh Post-Gazette, the Chicago Sun Times, the Foodista Best of Food Blogs Cookbook(Andrews McMeel Publishing, 2010), and the upcoming The Food52 Cookbook (William Morrow, 2011). I will also be appearing in the upcoming winter edition of Holiday with Matthew Mead, and I've been heard on the radio on KCRW's "Good Food". I've also been featured on the websites Food52.com, Tastespotting, Foodgawker, Apartment Therapy's The Kitchn, The Pioneer Woman's Tasty Kitchen and Brooklyn Limestone.
Do you know a blog or blogger who deserves to be featured in this space? Email a nomination — including a link to the site and a few sentences on why they're worthy of love — to siteswelove@saveur.com.