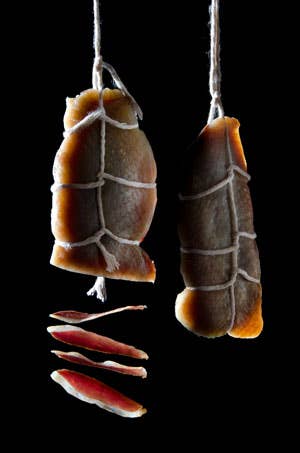 Culture
Sites We Love: Seattle Food Geek
Gorgeous photos? Check. Engaging writing? Check. Seriously inspiring recipes, tips, and culinary curiosity? Check, check, and check. The best food blogs all seem to have a lot in common — but what separates them out are the strong personalities behind them. In our Sites We Love series, we sit down with some of our favorite bloggers to find out how they do it — and why it's as much fun for them as it is for us.
Today's site we love is Seattle Food Geek, where tech wizard Scott Heimendinger shares inventive ways to bring modernist techniques to the home kitchen. Whether he's testing a new DIY cooking device or revealing his latest recipe, Scott has a dedication to culinary creativity and experimentation that makes every post a unique and adventurous learning experience. Here's what Scott has to say about his site:
Posting rate: I shoot for 4 times per month, but I don't always make it.
Geographic location: Seattle
Why is the site called Seattle Food Geek? If you're a geek, you should own up to the title with pride.
Credit: Scott Heimendinger
What's something great that you've learned or that's happened to you since starting your blog? The work I've done on my blog is how I got my job at Modernist Cuisine. For a long time, I wished that I could make my living doing the type of stuff I do for Seattle Food Geek. Through my blog, I met Nathan Myhrvold and the Modernist Cuisine team, and over time, I convinced them to hire me. Now, I get to work in one of the most sophisticated research kitchens in the world, with incredibly talented chefs, every day, and they pay me for the privilege.
What's the usual process for developing one of your posts? It is not uncommon that I'll come up with an idea for a new blog post after a few glasses of wine. If it still sounds compelling in the morning, I'll go for it. In general, I try to tackle topics that are specific, but have depth. If there's one thing that geeks love, it's depth. I also aim for things that can be represented visually. Since very few people get to taste anything on my blog, it's important to me to have vibrant photos.
Credit: Scott Heimendinger
What are your favorite ingredients and tools? My favorite tool has to be my centrifuge. It can spin 2.5L of food at 1500Gs while keeping it refrigerated. My all-pea ravioli is probably the best dish I've made with the centrifuge. It's also awesome for cocktails, clarifying sauces, or squeezing the moisture out of foods. For ingredients, I recently got one of those 1-foot logs impregnated with shitake spores, and I'm growing shitake mushrooms inside my wine fridge that I've retrofitted with a humidity controller. That log produces some exceptional mushrooms!
What are your favorite food and cooking resources? Modernist Cuisine, of course. Modernist Cuisine at Home, our new book, is an amazing resource, too. I'm very lucky that I get to cook from it before the rest of the world. I also like the Eleven Madison Park cookbook and Thomas Keller's cookbooks as sources of inspiration. I've really enjoyed The Kitchen as Laboratory by Cesar Vega, and the Ideas in Food book. Both of those books delve deep into very specific subjects and explore them with a thoroughness that you just don't find in traditional cookbooks. The other books I read tend to be physics books and art books. I love thinking about food through the lens of another discipline, like architecture or cosmology. I'll never be an expert in either of those subjects, but the broader arts and sciences have a very profound influence on the things I find fascinating.
What photography equipment do you use? I use a Nikon D7000 and a pair of Alienbees B800 monolight strobes. Most of the time, I shoot with my 40mm macro lens or my 50mm prime lens. They're both great pieces of glass, and very affordable. The rest of my gear is pretty standard: some black, white and clear acrylic, softboxes, fabrics, a boatload of light stands, clamps and tape. I was very fortunate to learn most of what I know about food photography from Ryan Matthew Smith, the photographer from Modernist Cuisine.
What food blogs do you follow? For online resources, I love Ideas In Food and Psssst.net. My buddies Eric (Culinary Liason at Alinea) and Jethro (insane enthusiast like me) and I keep a joint blog called Jet City Gastrophysics. When it comes to generating creative ideas, there's nothing like getting the three of us together. I find that having the right kind of creative people in my life is more valuable than any book, website or magazine.
Do you know a blog or blogger who deserves to be featured in this space? Email a nomination — including a link to the site and a few sentences on why they're worthy of love — to siteswelove@saveur.com.