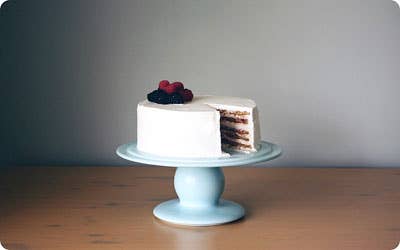 Culture
Sites We Love: Seven Spoons
Gorgeous photos? Check. Engaging writing? Check. Seriously inspiring recipes, tips, and culinary curiosity? Check, check, and check. The best food blogs all seem to have a lot in common — but what separates them out are the strong personalities behind them. In our Sites We Love series, we sit down with some of our favorite bloggers to find out how they do it — and why it's as much fun for them as it is for us.
A visit to Seven Spoons is like pulling up a seat at the dinner table of an old friend. The site, welcoming and calm, encourages us to linger for a while while Tara O'Brady, blog proprietor and mother of two, nourishes us with seasonal recipes pulled out of some of her favorite cookbooks, as well as some of her own creation. It's uncomplicated, good food, the kinds of things you actually want to serve your family, like a simple cheesy gratin, or a refreshing radish, celery and apple salad. Along with her writerly posts, generously detailed with stories of people and places, Tara's photographs demand that her recipes be made and eaten, saturated and framed with her signature rounded corners. Here's what Tara had to say about her site:
Posting rate: For the longest time I was posting about once a week. Life with two little ones took over for a bit recently and I've been down to twice a month. I'm aiming to be back to weekly columns this spring.
Geographic location: A small town in southern Ontario, Canada.
Why's the site called Seven Spoons? The number seven is one that seems to pop up in my life fairly often. One night way back when, I was discussing the idea for the site and the number came up in another coincidence connected to food and writing. It was a silly thing, but a nice thing, and it felt like the final push I needed to get myself started. So, "seven" is a nod to that conversation and "spoons" fit nicely with it.
What's been your most popular post? That's a hard one; it might be easier to give the generalized statement of "anything to do with cakes." Or pies. Or most sweets, really. Whatever the reason, any time there's cream and eggs and sugar involved, people get talking. I did a series of chocolate cake recipe tests, first Ina Garten versus Martha Stewart and then Martha Stewart versus Ed Kasky, which was a kick to do. We also have a tradition of making icebox cakes for my birthday and those cakes have always received a warm welcome. I love that something so old fashioned can elicit such an enthusiastic response.
What's your favorite post? On a personal level, it is those posts that serve as placeholders for certain events in my life that mean the most to me - announcements, birthdays, and the like. The site has been there through our first house, first son, second house, second son, and I can track how each of these events have shaped the way I write and what we cook. On a more general level I'm always particularly chuffed by those stories that surprised me in some way; a
What's something great that you've learned or that's happened to you since starting your blog? Everything. Every minute of it's been pretty much a boon to me. I started writing the site when, comparatively speaking to today, there wasn't a lot of food blogs out there. And there certainly weren't the amazing connections now facilitated by social media. So when you hit "post" and the words went up on the screen, it felt like you were publishing in a bubble.
Then, one day you find out there's a whole world of like-minded people talking out there, and there's more of them than you could have imagined; folks that get excited about why we eat what we eat when we eat it, and who want to talk about all the gossip that come along with. I've been regularly astonished by the connections and opportunities that blogging has afforded. I wouldn't be doing the work I do now without it.
What's the usual process for developing one of your posts? The jumping off point changes every time. Sometimes it's the recipe, sometimes it's an ingredient or the history that's attached to it. What is on my blog is the food we eat - I don't "cook for the site" per se, in the sense of making something for the sake of a post. The recipes featured there are directly pulled from whatever it is that's inspiring or interesting. They are the meals we'd have even if I wasn't writing about them. When reading the posts, I hope people feel as though they are in my kitchen, at my table, as that's really how I treat the blog.
What are your favorite ingredients and tools? My favored ingredients go through phases, usually dictated by what's in season, and I'll admit some school girl-style crushes when I go mad over something and it's all I'll eat for a while. That said, a shortlist of the regulars would be: quality butter, vinegars and citrus fruit, peppery olive oils, nuts both ground and whole, all sorts of grains and legumes, fresh herbs … okay, so that list isn't short. In all really, these are solid basics that can bring unexpected character to a straightforward meal.
As far as tools go, I like having a range of dishers (ice cream scoops) on hand, in various sizes - the ones that are spring loaded to clear the bowl. They're the best for portioning cookie dough, muffin and cake batters, for making evenly-sized pancakes, and, of course, serving ice cream.
What are your favorite food and cooking resources? So many places. The farmer's market, the restaurants we love, the people we know, and I've an admitted magazine addiction. There's a shelf in my kitchen where I stash the books I use the most; surveying that selection you'll see Tartine Bread by Chad Robertson, My Bread by Jim Lahey, and Artisan Bread in Five Minutes a Day by Zoe François and Jeff Hertzberg (we bake a lot of bread). There's also the Canal House books, which are always spot on in their selection of recipes. The Zuni Cafe Cookbook by Judy Rogers is always around because it's a classic for good reason; it is filled with the sort of things we want to eat and I love how she writes. I adore David Lebovitz's books when it comes to sweets. I find enormous inspiration in the books
from Jeffrey Alford and Naomi Duguid; I could live in their pages. I could go on for a while on this one.
What photography equipment do you use? Up until January 2010 I used a point and shoot camera set to manual. Since then I've moved over to a digital SLR, but nothing terribly fancy.
Where else can we find your work? I am a core contributor to UPPERCASE magazine, a quarterly out of Calgary, Alberta. I usually write the food column, but now and again you'll find me writing on other topics as well. I've also written for Parenting.com, Style at Home magazine's website and CafeMom's The Stir. My Flickr and Twitter accounts are linked off of my site.
What food blogs do you follow? A lot of the blogs I read have been mentioned here by others already, so I apologize if I'm redundant! I should say, I consider all of these people to be friends, but their merits stand alone without that affection. Like many, I cook quite a bit from The Wednesday Chef , Orangette , and 101 Cookbooks ; Luisa, Molly and Heidi each have clear voices in their writing and their recipes are beautifully chosen. I really, really like what Giao does on her site, kiss my spatula, and the same goes for Jess at Sweet Amandine. Keiko's Nordljus is pretty much the prettiest thing ever.
All photos by Tara O'Brady/SevenSpoons.net
Do you know a blog or blogger who deserves to be featured in this space? Email a nomination — including a link to the site and a few sentences on why they're worthy of love — to siteswelove@saveur.com.