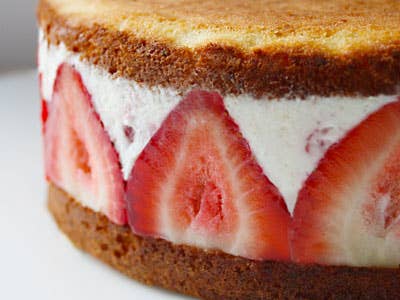 Culture
Sites We Love: She Simmers
Gorgeous photos? Check. Engaging writing? Check. Seriously inspiring recipes, tips, and culinary curiosity? Check, check, and check. The best food blogs all seem to have a lot in common — but what separates them out are the strong personalities behind them. In our Sites We Love series, we sit down with some of our favorite bloggers to find out how they do it — and why it's as much fun for them as it is for us.
Thai food is easy. Really! Especially when you have Leela Punyaratabandhu as your guide. Her authentic recipes for popular dishes like lightning-quick Pad See-Ew and steamed sticky rice finally pull back the curtain on the Thai kitchen.
We love She Simmers because she teaches us things we never see in English-language cookbooks. She isn't afraid to tell the world that a lot of Thai people use canned curry paste, and she celebrates the complex cuisine of her birth country without being overly reverent (hello, pineapple jam pinwheels). Here's what Leela told us about her site:
Proprietor: Leela Punyaratabandhu
Live since: November 2008
Posting rate: Approximately one post per week
Geographic location: I spend most of my time in Chicago and Bangkok, but I do travel quite a bit.
Why is the site called She Simmers? I like to cook at home, but I don't always have time to make everything from scratch. A good compromise for me is to make various simmer sauces in advance. The contents of my refrigerator consist mostly of fresh produce in the vegetable crisper and assorted simmer sauces in glass jars. With the simmer sauces already made, a home-cooked meal on a weeknight takes less than 15 minutes. Over time, I've become known among those who know me as "she who simmers." Most of the dishes I feature on my blog reflect that no-frills attitude; I cook and eat very, very simply.
What's your favorite post? In general, I enjoy sharing what I have learned in my interactions with different people whom I admire or find to be interesting. So I like all my interview posts a bit more than others. If I have to pick one post from those interview posts, it would be the one wherein I interviewed M.L. Sirichalerm "Chef McDang" Svasti. The post covers much information on Thai food history and culture that is relatively unknown to a lot of people.
What's something great that you've learned or that's happened to you since starting your blog? I've learned that what you sometimes take for granted can edify others in ways you don't anticipate. Most of my readers are non-Thais who love Thai food, but have never been exposed to Thai home cooking, so they relish even what I regard as the most mundane and insignificant stories of me growing up in a very traditional Thai household in Bangkok. The positive responses from my readers have never ceased to surprise me. It has been a very gratifying and humbling experience.
What's the usual process for developing one of your posts? In an ideal world, I would plan my posts in advance. But it has often been a spontaneous affair. Usually, I make a dish which I feel like eating, set aside a portion of it for the photographs, write down a recipe, then store it in my draft folder until I feel like writing about it.
What are your favorite ingredients and tools? I adore the combination of lemongrass, kaffir lime, and galangal. Whoever first put these ingredients together in the same dish sure was a genius. In terms of tools, I can't live without my paring knife, Chinese cleaver, and my granite mortar and pestle.
What are your favorite food and cooking resources? My mother, in whose memory I created this blog, gave me a huge collection of cookbooks which she'd collected since she was a teenager. She had tested most of the recipes in those books, and her comments and notes in the margins are priceless. I am also an avid reader of international food magazines of which SAVEUR—at a risk of sounding like a sycophant—is easily ranked at the top. [Hooray! —Ed.]
What photography equipment do you use? I have been using a Canon XSi for the past one and a half years. It's not a super-fancy camera, but it has served me well.
What food blogs do you follow? I follow a lot of food blogs, but I pay more attention to ones that teach you how to cook or bake as opposed to simply giving you the recipes. Ideas in Food, Joe Pastry, The Quenelle, and David Lebovitz are among those I follow very closely.
All photos are (C) 2008-2011 by shesimmers.com
Do you know a blog or blogger who deserves to be featured in this space? Email a nomination — including a link to the site and a few sentences on why they're worthy of love — to siteswelove@saveur.com.