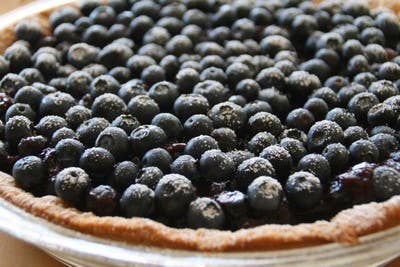 Culture
Sites We Love: Shockingly Delicious
Gorgeous photos? Check. Engaging writing? Check. Seriously inspiring recipes, tips, and culinary curiosity? Check, check, and check. The best food blogs all seem to have a lot in common — but what separates them out are the strong personalities behind them. In our Sites We Love series, we sit down with some of our favorite bloggers to find out how they do it — and why it's as much fun for them as it is for us.
This week's site we love is Shockingly Delicious, written by newspaper editor and mom of two, Dorothy Reinhold. We love her uncomplicated, family-friendly takes on weeknight dishes like grilled chicken marinated with fresh lemongrass or tangy grilled corn with Cotija cheese. But it's her fresh blueberry pie recipe that we're completely obsessed with—it's bursting with juicy, raw berries bound together with a bit of compote. Here's what Dorothy had to say about her site:
Blog Name: Shockingly Delicious
Posting rate: 2-3 posts per week
Geographic location: Malibu, California
Why is the site called Shockingly Delicious? At our house, when something tastes so fantastic we can't stay away from it, we call it "shockingly delicious" or "scary good." That's the kind of food I'm going for on my blog.
** What's something great that you've learned or that's happened to you since starting your blog?** I spent 25 years as a newspaper reporter/editor before taking some time off to raise my family. Blogging has reconnected me to those roots - the (self-imposed) deadlines, the challenge of telling someone else's story, the chance to turn a creative phrase in writing about a cherished recipe. Becoming a writer/reporter again was an unexpected but happy result for me!
What's the usual process for developing one of your posts? I usually have posts in all states of development - working on it in my mind, working ahead on an upcoming holiday or seasonal idea, posts where I've shot the photos but haven't written a word, posts where I've written the recipe and copy but haven't shot it yet. The usual chaos!
What are your favorite ingredients and tools? I am currently addicted to truffles, so anything truffled is getting a workout in my kitchen - truffle salt, truffle honey, truffle oil. I love berries and fresh fruits and vegetables, so summer is my favorite time of year because of the abundance and variety available. I am loyal to a couple of little tools - mundane things, really - without which I couldn't make dinner: my workhorse wooden spoon, small offset spatula, 12-inch skillet and those "spoonula" things (I have 6 of these!). I use these items every day, sometimes several times a day.
What are your favorite food and cooking resources? Surfas, which is a foodie temple in Culver City, CA., Penzey's Spices, and although I have a collection (hoard?) of 400+ cookbooks, I am a voracious reader of anything on the Internet.
What photography equipment do you use? A Canon Rebel XTi. My most commonly used lens is a Tamron 18-200mm (f3.5-6.3). Just saying that makes it sound like I know what I am doing, but the truth is the photography is my biggest hurdle!
Where else can we find your work? In addition to my website, I also write a weekly food column called Malibu Taste for Malibu.Patch.com, and one for Gourmetrecipe.com. I write a food column called Tried and True for the San Gabriel Valley Newspaper Group, which has a handful of daily papers throughout Southern California, and my recipes have appeared in Sunset and Taste of Home magazines. I also develop recipes and do social media for greens-grower San Miguel Produce and their Cut 'n Clean Greens and Jade brands.