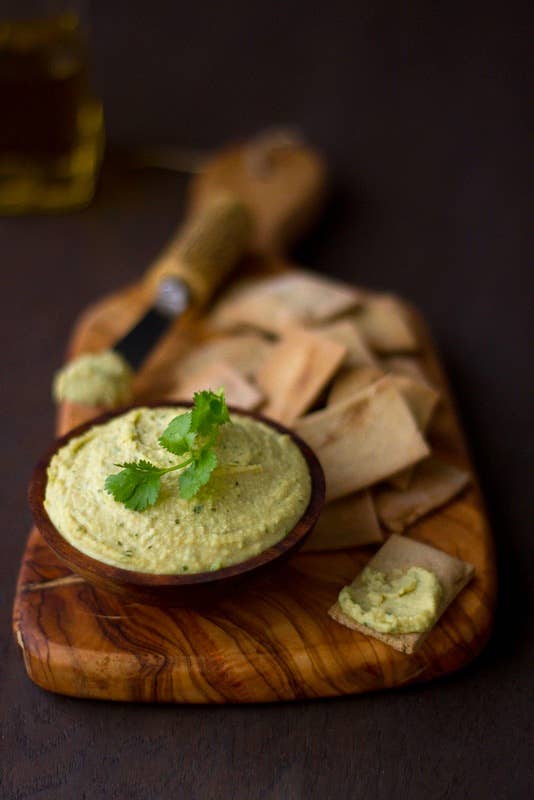 Culture
Sites We Love: Sinfully Spicy
Gorgeous photos? Check. Engaging writing? Check. Seriously inspiring recipes, tips, and culinary curiosity? Check, check, and check. The best food blogs all seem to have a lot in common—but what separates them out are the strong personalities behind them. In our Sites We Love series, we sit down with some of our favorite bloggers to find out how they do it—and why it's as much fun for them as it is for us.
Today's site we love is Sinfully Spicy, where Las Vegas-based blogger and food photographer Tanvi Srivastava explores deeply-spiced, complex cuisine with a heavy focus on her native northern India. Her recipes range from ricotta ice cream with roasted strawberries to authentic, slow-simmered Indian curries. Here's what Tanvi has to say about her site:
Posting rate: Normally, about three to four posts a month. Lately, I have been busy with a couple of things so the posting rate has been sporadic.
Geographic location: Las Vegas, USA
Why is the site called Sinfully Spicy? Some people like to call it evocative, some like to call it catchy, the site name was the result of brain storming sessions between me and the husband. There are hardly any meals in our home which are not given the essential Indian tadka (spice tempering) and so we always knew that the blog name had to contain the word 'spicy'.
At my husband's suggestion, prefixing this with 'sinfully' seemed to make sense, since we are self-proclaimed the biggest spice lovers out there. There we had it, a site to showcase my fathomless love for Indian food, spices, fruit extracts, edible oils, and anything and everything which infuses aroma into food. One of my smaller goals with this blog is to share how Indian spices do not necessarily make food fiery, but lend depth of flavor and unite individual entities in a dish into one.
What's been your most popular post? There are quite a few. Strawberry Nutella thumbprint cookies has been pinned over 4k times on Pinterest. Many readers wrote back that they tried Gobi Manchurian (fried cauliflower in spicy sauce) and revoked their former distaste for cauliflower. Lots of people commented that Bhuna Murgh (slow-cooked chicken with spices) is a new favorite way to cook chicken for their family. Indian Mava Minicakes with Pistachios and Saffron is another post which gets lots of hits each day—readers tell me that these cakes remind them of original ones available at the bakery in city of Pune, India.
What's your favorite post? All my work is close to my heart but if I have to pick, Jal Jeera (Indian mint and tamarind cooler) is my favorite. It is one of those posts where I struggled the most as far as beverage shooting and styling were concerned. I read up lots of material on the internet and tried for good two to three days before I could get some decent pictures for the blog.
Another one would be Murgh Kalimirch (Indian black pepper chicken). I tweaked my family's recipe completely, and when my mother tried my recipe back in India, she said that it was quick and even tastier than hers. That made me a very very happy girl.
What's something great that you've learned or that's happened to you since starting your blog? Blogging has opened door to understanding and appreciating world cuisine. My mom cooked (and still does) traditional Indian fare at home and I could survive on nothing but Indian food for my entire life. Growing up, we hardly ate at restaurants except for street food on weekends. It may sound weird, but before I started bloggin, I did not know the difference between pasta and noodles!! When I cooked angel hair pasta for the first time in my kitchen, I prepared it sort of an Indo-Chinese way, adding soy sauce and turmeric to it—it tasted weird and my husband had a good laugh. Three years down the line and now if he sees a food item on restaurant menus which he does not know, he turns around and asks me what it is. That's where blogging has taken me.
Secondly, blogging has opened an opportunity for food styling & photography. I am not professionally trained and a very slow learner. I look at food blogs, You Tube tutorials, equipment manuals, portfolios of professional food photographers etc. and boy, it's been such a curve.
What's the usual process for developing one of your posts? It depends on seasonal produce, cooking time in hand, and mostly what we are craving. I never cook for the sole purpose of blogging. I blog whatever food gets cooked in our kitchen. On weekends, we go for grocery shopping and I plan what dishes I will make during the week, and I pick up one to two recipes amongst them which could make their way to the blog. I test recipes at least two times before I decide to shoot them. The composition of the post depends upon the dish, ingredients, and time of the year. I do not plan extensively but couple of hours before photographing any dish, color theme, backgrounds, pots and flatware, fabric, etc. are are flying in my mind. Moody, dark food shots are my favorite. Composing the post takes up to two to three days before publishing.
What are your favorite ingredients and tools? Ingredient-wise, ghee (Indian clarified butter) is one of my most favorite things. I wish I could eat it by the spoonful! I add it to everything and anything possible in my daily cooking—lentils, rice, meats, flatbreads, vegetables, sauces, and when I can't, at the end of the day, I mix a small teaspoon of sugar with it and eat it for dessert. That's how much I love it.
Equipment-wise, it has to be sets of mortar and pestle and masaldaan (Indian spice box). My mom gifted me these tools at the time of wedding, and these are two things I would go crazy without. They are lifeline in my kitchen: I use mortar and pestle for making all kinds of wet pastes with chillies, garlic, shallots, ginger, cilantro, and I coarsely dry grind whole spices while cooking; as the name suggests, masaldaan is one stop box for all the daily spices in Indian cooking—turmeric, cumin, garam masala, red chili, coriander, amchoor (dry mango powder), and more.
What is one thing that sets your site apart from others? Fresh, from scratch, wholesome cooking. Growing up in a family where spices were hand-ground on stone each single day, I have always believed that cooking authentic food requires time, patience, and many steps. Indian food is big on flavor thanks to these rules. I am a die-hard fan of traditional cooking techniques and recipes. I will never ask my readers to buy a certain spice mix powder or canned sauce from the store in order to simplify steps in the recipe and make it look easy. This doesn't mean that I have anything against them but it is not the way things are executed in my kitchen. 'It takes whatever it takes' has always been my cooking mantra.
You will hardly find shortcut ingredients or methods on Sinfully Spicy. I try my best to suggest substitutes when writing down recipes but when there are none, I'm blatant about it. Over the years, I have come across a lot of readers who have tried out and loved these recipes. This following of readers gives me direction to move forward and fortifies my confidence in what I do.