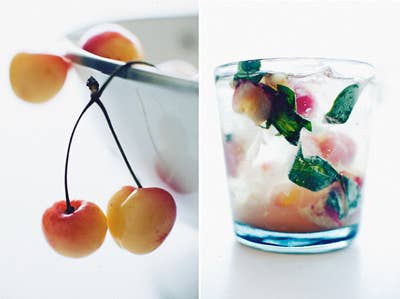 Culture
Sites We Love: Sprouted Kitchen
Gorgeous photos? Check. Engaging writing? Check. Seriously inspiring recipes, tips, and culinary curiosity? Check, check, and check. The best food blogs all seem to have a lot in common — but what separates them out are the strong personalities behind them. In our Sites We Love series, we sit down with some of our favorite bloggers to find out how they do it — and why it's as much fun for them as it is for us.
Today's site we love is Sprouted Kitchen, where Sara Forte and her photographer husband Hugh chronicle their artful take on whole foods. The site's recipes make the most of seasonal, organic, and local ingredients, inspiring readers to eat simple, healthy foods that don't sacrifice any of their beauty or flavor. Here's what Sara has to say about her site:
Posting rate: Usually once a week. With both of us having other jobs and working on a cookbook, we've been having a tough time keeping up, but we're always trying to be better.
Geographic location: Dana Point, CA
Why is the site called Sprouted Kitchen? Before I knew food blogging was a "thing", I wanted to have my own little restaurant with a lot of salads and healthy things, and I dreamed of calling it the Sprouted Kitchen. I don't know if I still want that, but it seemed appropriate to call the blog that name, since I was already attached to it.
What's been your most popular post? It has definitely been our engagement announcement, and a second place with the post where we announced we were writing a cookbook. As far as food related posts, it has been the Roasted Tomato Soup and the recent Lentil Meatballs that were pretty popular. I get stuck feeling like I have to be uber-creative, but people really just want practical.
What's your favorite post? As much as this is "my passion", it is a project I work on with my husband, and his joy in this, directly affects mine. I could tell that he was excited about his images for the Ginger Cakes with White Peaches and Blackberry Coulis. Hugh created some really gorgeous images that he was excited to share, and that makes me so happy. The recipe? I can't say it's my best, but I love when he is happy.
Non food-related. I really appreciated how much love and support I got from the post where we announced our engagement. I think people had been following my story...our story, they felt invested in us in a way, and were so vocal in congratulations. I don't think I've ever been as happy as I was that week, and the response on the blog played a significant role in my overall elation.
What's something great that you've learned or that's happened to you since starting your blog? I've learned that people love to read authentic writing, just as much as I enjoy writing it. I have learned that by being sincere and natural, you end up connecting with people you may have otherwise never met. I've started some special relationships from the site, and don't think I would have gotten there without writing so intentionally.
What's the usual process for developing one of your posts? Be prepared to be unimpressed! I can't say there is a ton of forethought that goes in to them. I usually think about what to make they day before we are planning to shoot/write a post. We get a CSA basket, and I'm always thinking about how to use the surplus of vegetables in the basket, so that surplus is often my inspiration. Sometimes I use torn pages from magazines or other blogs as a starting point and go from there. I take notes as I cook and Hugh shoots, and I write the recipe and post afterwards. It's all fairly last minute, but it's our process now, so I can't imagine doing it differently.
What are your favorite ingredients and tools? I love Meyer lemons, good olive oil, fresh herbs, miso, pistachios, shallots and a whole gamut of fresh vegetables ( I think it's be tough to find a recipe of mine that doesn't include at least one of those things!). As far as tools, I have a strong affection for my food processor, microplane zester, chef's knife and cast iron skillet.
What are your favorite food and cooking resources? I think I find most inspiration on food blogs and a few magazines. I really enjoy Food & Wine, Sunset, and Whole Living as far as magazines go. I have always been inspired by Heidi Swanson of 101cookbooks.com and the Super Natural Everyday book series. A sweet friend sent me Yotam Ottelenghi's book Plenty, and so far I've just been studying the photos, but am excited to try more of his recipes.
Where else can we find your work? Our cookbook, The Sprouted Kitchen: A Tastier Take on Whole Foods is on pre-order on Amazon currently, available in early September, so the heart of my work is there! Hugh's work can also be found on his professional portfolio. I have contributed recipes to Sunset, Better Homes and Gardens, the Kitchn, and the local paper's food section.
What food blogs do you follow? I follow quite a few, and while my list may sound long, there are SO many talented people in this circle. Some I like for their writing specifically and others for their approach to cooking or photography. Seems obvious to say 101 Cookbooks, but I am a big fan of Heidi's. I really enjoy Happyolks, Not Without Salt, The First Mess, My New Roots, Orangette, Seven Spoons, Green Kitchen Stories, The Year in Food and my sister at The Stone Cold Fox, as I am ever amazed at her talents in fashion design.
Do you know a blog or blogger who deserves to be featured in this space? Email a nomination — including a link to the site and a few sentences on why they're worthy of love — to siteswelove@saveur.com.