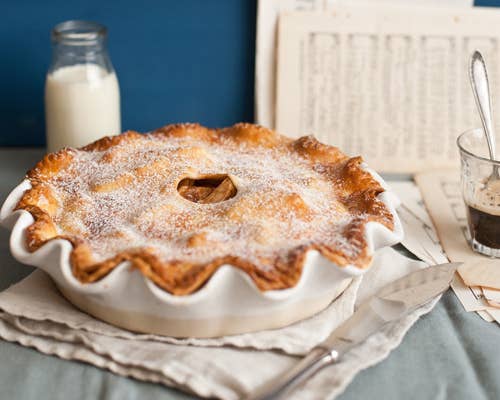 Culture
Sites We Love: The Kitchen Finesse
Gorgeous photos? Check. Engaging writing? Check. Seriously inspiring recipes, tips, and culinary curiosity? Check, check, and check. The best food blogs all seem to have a lot in common—but what separates them out are the strong personalities behind them. In our Sites We Love series, we sit down with some of our favorite bloggers to find out how they do it—and why it's as much fun for them as it is for us.
Today's site we love is The Kitchen Finesse, where home cook and professional food photographer Veronika Studer-Tuske shares simple, elegant recipes and stunning photos from her home studio in Switzerland. Here's what Veronika has to say about her site:
Posting rate: 3 to 6 posts per month. Lately my 1-year-old daughter occupies me all day. Usually if I cook something interesting or have a story to tell, it finds its way to the blog.
Geographic location: Safenwil, Switzerland
What's been your most popular post? The spring onion pesto. It is good to know that people out there love pasta and Italian cuisine just as much I do. Pasta is never boring. You can spice it up with so many things from vegetable to meat, sweet to salty, spicy to hot. It is really up to the season and to your liking. Honestly, I could have pasta every day of the week.
What's your favorite post? Peach tart with nutmeg custard. It turned out excellent. I can still taste it in my mouth—the runny caramel, the sweet custard and the juicy peaches were a really good combination. I had so much to do that day, running here and there, cleaning the house, packing for holiday, and in the afternoon, I was really craving something sweet. To calm the sweet tooth I just cooked up what I found in the fridge, and it turned out to be the best tart I have ever had. The other is the Rhubarb Tonka bean meringue pie that I baked for a cook. Having to cook for a professional cook is very exciting and scary at the same time. I spent a whole day planning the menu, and she liked the dessert so much that she even asked for the recipe.
Credit: Veronika Studer-Tuske
What's something great that you've learned or that's happened to you since starting your blog? First of all, I have learned about a lot of great people from all over the world, and happily I can call some of them friends, even though we have never met in person. I read about cooking techniques every day, as well as places, ingredients, and spices I have never heard of before. Lately I've been mesmerized by Indian cuisine and vegan cooking; there are so many interesting vegetable ingredients and exotic spices to work with.
What's the usual process for developing one of your posts? Usually something just pops in my mind that starts the whole process. It can be either a childhood favorite or a brand new recipe. The food reflects my mood of that day, and I write a short story or intro about it. I try to photograph the ingredients, as well as the cooked food, to show the whole story and development of the meal.
What are your favorite ingredients and tools? I love butter, butter and butter. I am crazy about the creamy texture and salty-milky taste. More specifically, I love French butter. French butters have a different smell that really get to me. As for kitchen tools, the whisk is my all-time favorite. Isn't it sexy to whip cream with a whisk?
What are your favorite food and cooking resources? I am lucky to live in Switzerland, out in the green, where I have access to local produce at the farmers market. I prefer to buy organic food; it makes me feel better about myself. I am thrilled that France (Colmar) is also just a 45 minutes drive from our village, which means lots of French butter, Foie gras, and other delicacies. As for books and inspirations, I am crazy about Donna Hay, the Australian Gourmet Traveller, SAVEUR, and The Flavour Thesaurus. If I need ideas, I just browse through the pages of a book or magazine, and they immediately get me going again.
Credit: Veronika Studer-Tuske
What photography equipment do you use? I use a Nikon D800; I just upgraded from a D700. I need a good camera for my work, and I love it so much. It really became a member of the family.
Where else can we find your work? I have a portfolio website. I also photograph for a Hungarian magazine, and my work can be found on Getty Images and soon on Stockfood as well. I created a quarterly digital food magazine with a graphic designer friend of mine called The Spoon. I am currently busy photographing the holiday issue.
Do you know a blog or blogger who deserves to be featured in this space? Email a nomination—including a link to the site and a few sentences on why they're worthy of love—to__siteswelove@saveur.com.